---
The Lost Key To The Scriptures - Alvin Boyd Kuhn
---
---
THE LOST KEY TO THE SCRIPTURES
By
ALVIN BOYD KUHN, PhD

THREE FATEFUL WORDS

The rehabilitation of the lost meaning of the sacred books of old properly begins with the revelation of the cryptic connotation of three words in the Bible whose true interpretation will in a flash work a miracle of re-enlightenment in all minds and will in one vivid moment of new realization transform the entire structure of religion and theology. The whole rationale of religious conception, so far as it is based on the authority of Bible literature, will undergo a complete and astonishing reorientation when the great light released by the proper esoteric sense of these three words is turned upon the mystifying problem of sane exegesis. The discovery of this meaning, hidden for twenty centuries, will inaugurate a new era in all world religion.

And what are these three words that carry such vital significance? They are the dead, death, and to die. In essence they are the one word—death. It will fall with a stroke of amazement and incredulity upon minds of limited intelligence to be told that these words can possibly have, or could for twenty-five centuries have had, any other meaning in the Scriptures than the one commonly attached to them. What, it will be asked, can "death" possibly mean other than the demise of the physical person which ensues when the impalpable life energy, or soul, detaches itself from the vehicle of flesh? Who else can be the "dead" but those who have lived in body and are now gone across the great divide? What can "to die" mean if not to undergo the separation of the body and the spirit? Surely there can be concealed no mystery here, no hidden sense that could conceivably elude general intelligence.

Yet it is our obligation to announce, in the face of this universal supposition, that these simple words have all the time borne a connotation different from the one commonly supposed to be their standard and established acceptation. And it becomes our privilege, on the strength of tested scholarship, to proclaim that they bear a meaning not only different from the one generally conceived, but one precisely opposite to that universally attributed to them. Incredible as it may seem, when used in their theological reference, these words bear a meaning that at one stroke turns the picture of all exegetical significance almost completely upside down! For "to die" means, for the soul, to live here on earth; "death" means the soul's life here in the flesh; and the dead is a term denoting those alive here in the mortal body! Could any assertion appear to be more preposterous? Evidence for these assertions, and plenty of it, the reader will be demanding. As to that, the quantity of evidence available to demonstrate the correctness of the pronouncement is almost limitless.

---
End of Three Fateful Words

---
---
The Lost Keys to the Scriptures - Alvin Boyd Kuhn

---
---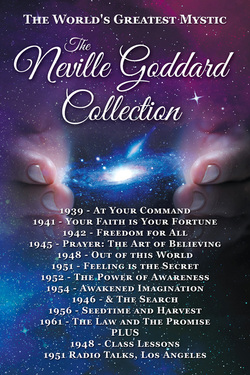 The Neville Goddard Collection - Awakened Imagination and the Search, Freedom For All, At Your Command, Feeling is The Secret, The Law and the Promise, Prayer, The Art of Believing, Your Faith is Your Fortune
---