---
Man The Master - Eugene Del Mar
---
---
---
MAN THE MASTER
BY
EUGENE DEL MAR
Copyright, 1920 by Eugene Del Mar

THE THOUGHT REALM
FREEDOM OF THOUGHT
Sweep up the debris of decaying faiths;
Sweep down the cobwebs of worn-out beliefs,
And throw your soul wide open to the light
Of Reason and Knowledge. Tune your ear
To all the wondrous music of the stars
And to the voice of Nature, and your heart
Shall turn to truth and goodness, as the plant
Turns to the sun. A thousand unseen hands
Reach down to help you to their peace-crowned heights,
And all the forces of the firmament
Shall fortify your strength. Be not afraid
To thrust aside half-truths and grasp the whole.
—ELLA WHEELER WILCOX
MAN has been provided with a wonderful instrument whereby he may create and possess the objects of his desire. He has potential powers that have hardly been stirred into activity. He has unsuspected depths of energy that have barely been tapped. Why is it that ages have been permitted to pass by, and these powers and energies been practically neglected? What is the hidden wonder that might revolutionize the life of man? Why has it not already fulfilled its purpose? Can it be that man has knowledge of this in­strument, and yet permits it to remain undeveloped?
The existence of an instrument having such tremendous powers cannot but be admitted. The only question unsettled is as to the extent to which these powers may be exercised. The instrument has been used from time imme­morial, and the powers have been exercised to some extent; but man has nev­er understood their real significance or the grandeur of his creative abilities.
A vast difference between the present age and the preceding ones is that a larger degree of intelligence has become more widely diffused, and the knowledge and wisdom of the few have become the property of the many. Some of the mysteries and miracles of bygone ages are now mere common­places, and children prattle of many things that wise men formerly regarded as treasures of wisdom.
In that respect, and particularly in relation to material and physical mat­ters, the world has made tremendous strides. It has acquired vast stores of knowledge, albeit its stock of wisdom has not increased proportionately. Ra­ther has modern knowledge been used to buttress and support ancient wis­dom, thereby opening up the avenues of its appropriation to the average intel­lect.
What has been the instrument of this transformation whereby "the man of the street" has gained access to knowledge and wisdom that formerly was monopolized by the few wise of bygone days? There is but one possible an­swer to this question; but one instrument that could have achieved such tre­mendous results. The human mind has been the instrument; and the Freedom of the Universe is accorded to man to the degree that he gives freedom to his thought.
It is man's thought that has transformed the world. It is man's greater freedom of thought that has opened up to him visions of powers so vast that no one may measure their limits. When man shall think for himself with ab­solute freedom of thought and expression, he will exercise these powers to a degree that now he can but scarcely imagine.
There is a law of inertia that inclines man to do nothing unless he is ob­liged to act, and one of progress that compels him to move on or perish. Nature permits no permanent resting-place; and growth or decay are its constant alternatives. Between the impulses generated by the operation of these oppos­ing tendencies, man has had alternative spurts of progress and spasms of de­cay.
Under these contending influences, with desires and impulses that must eventually make for growth whatever their temporary trend, man has made great strides. He has gained knowledge, and rested while he appropriated it for greater use. He has developed wisdom, and used it for attaining higher planes.
Compared with other forms of life, man's existence on earth is quite re­cent. In terms of world growth, man's transition from an arboreal and climbing animal to a walking and thinking one is but an affair of yesterday. Man's body has not yet responded entirely to his changed mode of living. It is still painful for man to stand constantly on his hind legs, but far more difficult is it for him to exercise intensely his thinking-machine.
Man has always found it necessary to perform his own physical activi­ties. In the nature of things, he was obliged to do his own eating, drinking, breathing, walking, talking, and sleeping. But there have always been a self­chosen few who were ready and willing—for a consideration—to do anoth­er's thinking for him. This enabled the latter to devote himself more com­pletely to his physical and material welfare, and always man has more or less willingly accepted the exaction of these most ancient of income and inherit­ance taxes.
America afforded the first historical opportunity for freedom of mental expression, without which thought loses its vitality. The American Revolu­tion, with its world-wide influences, was followed by an unexampled free­dom of thought and expression. The outbursts of intellectual activity that attended and followed the American and French Revolutions are still reverbe­rating, and, until the present period, they have seldom been exceeded in their passionate vehemence.
There was no general freedom of thought and expression during the Republics of either Greece or Rome, though to the few was accorded a wide latitude, while there was a considerable degree of religious tolerance. During the dissolution of the Roman Empire, and until the discovery of America, the Dark Ages intervened with their unparalleled repressions and general slavery of body, mind, and soul. So low did mankind fall that it required a New Con­tinent to break the fetters of feudalism, religious enslavement, and social de­gradation.
Liberty and slavery, expression and repression, or ebb and flow, is the law of nature; and contraction and expansion alternate in the mental world as in the material. The spirit of intellectual freedom that lately penetrated the less illumined regions of civilized humanity stirred up thoughts and expres­sions that were revolutionary, in that they demanded a liberty as complete as the slavery that had repressed them.
What advantage will man take of his new opportunities? Will he con­tinue repeating worn-out platitudes, following old paths, and accepting tradi­tional limitations and conventional habits of thought; or will he blaze new trails, and open up fresh avenues of approach to higher realms of freedom and understanding? Will he keep to the winding paths that continually circle into each other, or will he dare to scale the seemingly perilous heights that open up a wondrous vista of his creative powers?
There are at least a few daring souls who will scorn the lower paths of "safety first," and will follow their inspirations through whatever perils they may lead. There are some who will soar to heights of vision or penetrate to depths of understanding as yet unknown, and start new traditions of human glory and effulgence.
These are the souls who will vitalize the accumulated knowledge and wisdom, but will reject limitations and restrictions; who will disregard cus­tom, habit, and tradition when these involve repression or negation; who will place themselves in harmony with divine law, and thereby attract from the manifested world or call from unseen spheres of activity whatever they may require.
This is an era of mental consciousness, and it will be superseded by one of spiritual realization. All manifested life—all growth and development— comes from the unseen; all of nature's products are conversions from the in­visible world; and all of man's handiwork first existed in his brain before they took form. The invisible takes on visibility through compulsion of Law, which man may manipulate to suit his purpose through his ability to furnish to the Law that upon which he desires it to act.
When man dares to believe himself a creator, the Law will accept him at his higher estimation, and respond accordingly. When man claims boldly his divine inheritance, he will enter into its possession. When man divests himself of inherited and acquired limitations, knows himself to be divine, and places himself in harmony with the Law, all that he shall desire will be his, and both the visible and invisible will pay tribute to their lord and master.
THE CREATIVE POWER OF THOUGHT
As dew is drawn upward, in rain to descend,
Your thoughts drift away and in destiny blend.
You cannot escape them; or petty, or great,
Or evil, or noble, they fashion your fate.
Somewhere on some planet, sometime and somehow,
Your life will reflect all the thoughts of your now.
The law is unerring; no blood can atone;
The structure you rear you must live in alone.
—ELLA WHEELER WILCOX.
THE wonders of the universe are revealed increasingly as one delves more and more into the world of matter. One senses in it intelligence, purpose, order, and logic; one cognizes in it all of the processes that one is accustomed to associate with intelligence. Not the imperfect human intelligence, with its illogical logic and its unreasoning reason, but a logic and reasoning that are perfect and inexorable. The invariable sequence of cause and result demonstrates an invariable Principle, the workings of an Infinite Mind.
But the term Infinite is an admission of ignorance; it is a negative word signifying that which is not finite. Through what term of positive significance may one understand the workings of Infinite Mind? We know of Infinite Mind through the results of its activities, and we recognize that thought is its instrument that produces these results.
What, then, is thought? It is the directed activity of the Infinite Mind, operating through the mental and physical instrumentalities that have been developed for that purpose. It is expressed or pressed out mentally, and mani­fested physically. It is the basis of all physical activity, which is nothing less than thought in motion.
Thought is the one universal power; unconscious in itself, but taking on the consciousness that is impressed upon it. It may seem to act regardless of anything and everything; but when the Infinite is its inspiration it is regardful of all to the utmost limit. Under the auspices of the Infinite thought is imper­sonal and impartial, and it always works to the best advantage of all, and for the perfect harmony of the Universe.
In order that thought be used for personal motives or purposes, it must be directed by personality. How it shall respond depends upon that which im­pels it. Thought always works with exactness and according to Principle. However, it is the man behind the thought, as well as the gun, who deter­mines the aim and the record. The thought, like the gun, may be quite all right, but the thinker, like the gunner, may be ignorant of the use of his tool or weapon.
It would be a mistake to trust a fine tool to a coarse hand. The man who can best handle a pick and shovel would probably be a failure as a watch­maker or jeweler, and vice versa. One must use the instrument most suited to his development if he would secure the best results. So it is with thought.
While it is quite easy to say: "Take up thy bed and walk," "Thy faith has made thee whole," the power of these words depends upon the realization and the life that actuates them. It is comparatively easy for one to concentrate and visualize upon an object of desire, and to go through the forms prescribed for attracting it to him, but the return will be dependent upon the plane and character of the inspiring thought.
Thought may have physical, mental, or spiritual support, or a combina­tion of two or all of these; and it is the aggregate or algebraic sum of their in­spirations that determines the value of one's thought. Mere chattering of words and stringing out of formulas are of little value; there is a premium on wisdom, not on ignorance.
Is abstract thought sufficient to influence environment according to one's desires? May one think passively, and thereby draw to him the things he wishes? As one understands more and more how to use thought forces, less and less physical effort is required, leading to the logical conclusion that when one uses thought perfectly no physical exertion will be necessary.
But who has reached this degree of perfect understanding? Has anyone come in contact with such a person? Assuredly one who does not know him­self to be a success has not reached this plane. One who indulges in negative and destructive thoughts, one who believes himself to be a failure or depen­dent upon others, surely cannot have acquired this power.
Certainly only one who is master of himself, one who has attained to self-control, may control environment with the least physical activity. One may secure physical health through mental peace and poise, for he may make direct connection with the Infinite, and no one but himself is concerned. But as long as environment is regarded as being outside of oneself, control of it requires contact and activity.
Thought attracts through inspiring more effective physical power and activity, by inducing a greater interest, an increased intensity of application, an optimism, a hope, an expectation, faith. Thought concentrates effort, makes one more alert, more able to recognize opportunity, and it gives direc­tion and decision. Thought magnetizes, focuses, adjusts, intensifies, and makes all physical activity more effective. Thought is the mainspring, the in­spiration, and the substance of all physical activity.
The object of concentration and visualization is to change results, and to entitle one to something he is not then receiving. The Law always brings to each one exactly what he is entitled to by reason of the causes he has set in operation. Inevitably, one receives the logical result of his thought and act.
The Infinite has no criterion of one's desires other than his thoughts. If one thinks negatively and destructively, with doubt and fear, with indecision and hesitation, how is it possible for the Infinite to interpret his desires diffe­rently, even if he imagines that his desires are other than what his thought in­dicates? If one thinks discord and disease, how can the Infinite assume that he desires health or harmony?
In terms of the Infinite, that which one really desires is exactly what he needs for tests, incentives, and lessons, in order that he may think to better advantage, and that he may regain the pathway of Truth from which he has strayed.
It is through specialization by concentration, visualization, etc., that one changes the factors of attraction, thereby bringing new factors into the field of attraction, and obliterating or blotting out old ones. Through focusing one's attention on certain specified desirable ideals and things one forgets the undesirable. By intense application along positive lines, one escapes from negative thought influences. When one turns on the light of Truth the dark­ness of error is dissipated.
The thought most effective to inspire intellectual conviction is that one is master of his world, and the thought that causes higher spiritual realization is the recognition of one's identity with the Infinite, the Universal Spirit, God. When one realizes that he is an eternal Soul, endowed with the poten­tiality of all power to the extent permitted by his refinement of intellect and understanding, and that the Universal Life infill him to the extent that he may direct and control it, his thought becomes most distinctly creative.
He becomes a stronger magnet; his thoughts are one-pointed; his highly attuned vibrations command the respect and homage of all lesser vibrations; and there is attracted to him exactly what his life requires, which he then knows to be also exactly what he wants. He is then in harmony with life it­self. All that he needs comes to him. It always did, but now he is conscious that his needs and wants are in complete harmony, and he realizes his unity and identity with the Universal Life.
Whatever comes to one is the result of his own thought; whether it be discords, inharmonious and disease, or health, harmony and happiness. Each has paid or will pay in full for whatever he receives, whether he is willing to do so or not. There is no chance in this, but inexorable and infallible Law, the embodiment of Infinite love and justice.
One's chief difficulty lies in the fact that usually he is unconscious of the causes he has set in motion. Even after the correlated results reach him, he seldom recognizes in them the causes that produced them. Even when he professes willingness to accept the results of the causes he has put into opera­tion, he wonders when the unpleasant results will cease, and perhaps feels that the results have already been more than sufficient to cover the whole cat­egory of causes. However, it is all worked out with infinite precision, for no one may receive one iota more or less than he deserves.
The purpose of concentration and realization is to put backbone into one's thought, to inflate him, with the laughing-gas of optimism; all for the purpose of securing what he thinks he requires, rather than that which infinite love and wisdom decrees for him. However, one's desires must be fulfilled in order that he may graduate from them. One kills a desire by extracting from it the personality of it, or that which appeals to his personality. Then one passes on to higher inspirations.
Until one is master of the self, until he has secured self-control, one must act physically as well as think mentally, in order that he may attract to him that which he desires; he must think and he must act. The purpose of ex­istence is to spiritualize the body that it may shine forth in spiritual glory.
This is accomplished through the greater refinement and grandeur of the mind in its ideals and aspirations, clearer-cut formulations of its ideas giv­ing definite and purposeful activity to the body. Then one's physical envi­ronment expands, he relates himself more inclusively to the vast material world, he recognizes the simplicity and harmony of its relationships, and his spiritual realization of Unity renders him a pliant instrument of the Infinite energy.
Then man lives the One Life; his spiritual, mental, and physical activi­ties are in concert and accord; and he becomes a creator of conditions, cir­cumstances, situations, and environment. He has become magnetized toward the point of saturation. He is master of the self, and therefore of all else.
CONSCIOUS AND UNCONSCIOUS
Would man but grasp with focused powers of mind
The subtle laws that rule the finer realm,
Abandoning the lesser aims that blind,
The grosser joys that dull and overwhelm,
This dawning century would bring to light
The deepest truths for which we vainly grope;
Would open up new worlds to human sight,
In large fulfillment of our highest hope!
—ANGELA MORGAN.
THE intellect understands through contrast, comparison, and relation. In
order to do this more readily, it reduces all diversities to dualities, and thus limits its functions and simplifies its activities. It contrasts, compares, and relates the visible and invisible, the formed and formless, the conscious and unconscious; each "pair of opposites" representing both a unit in funda­mentals and a diversity in appearance, but for intellectual purposes a duality.
Fundamentally, there is that which is always conscious; but the term conscious is used generally to signify the fundamental conscious of which the senses are aware, while the word unconscious denotes the conscious of which the senses are not aware. The term unconscious includes both that which is usually designated as the subconscious and also as the super-conscious as­pects of the mind.
It may seem presumptuous to some that the finite should predicate a purpose to the Infinite; but as there is only One Mind, to the activities of which the human mind merely gives expression, it might almost seem as though it was both one's obligation and duty to read the Infinite in the light of the finite as well as the reverse. In the world of appearance one finds a use and purpose even in the slightest activities and the least intimate relations. Is it possible that the One Mind in its entirety has less logic, sequence, or reason than is discoverable by the human mind, its instrument of expression?
The purpose of creation or existence would seem to be that Spirit and form each may realize fully the other; that the body shall manifest fully the Spirit that is of its essence; and that the mind, as their connecting-link, shall realize this identity completely. This is accomplished through their interme­diary, the mind, opening itself inwardly to the world of Spirit, and outwardly to the world of form, and in this manner forming an avenue over which the two realms may become acquainted.
As man conquers the outer world, as his environment extends, and he comes into harmony with a wider range of vibrations, he becomes capable of greater Soul-unfoldment or the inclusion of more of the realm of Spirit. Each conquest of the outer world makes possible the reception of spiritual power enabling a still greater conquest; and, by a constant succession of such ac­tions and reactions, man more and more completely realizes his dominion of his Universe.
The instrument that mind uses for this purpose is thought, which may be conscious or unconscious; the former being at the circumference, and dealing outwardly with environment, and the latter being at the centre, and dealing inwardly with the Spirit. Conscious thought is the product of evolu­tion; it is intellectual; it interprets sensation and appearance; and it uses rea­son, logic, analogy, experience, mistakes, etc., as factors in its development. It is the thought-river of present living.
The unconscious in its subconscious aspect is also of evolutionary de­velopment, while the super-conscious represents the Self, the Eternal Soul, the God Within. The subconscious is the realm of habits, customs, emotions, automatism, and vital adjustment. It is the thought-ocean of past existence. The disposition of the conscious is to be radical; that of the subconscious to be conservative; and there is a constant tendency to conflict between the two. If left uninfluenced by the conscious the subconscious will always prevail, and life's forms are thereby enabled to maintain an existence, or to vegetate, with a minimum of effort or exertion.
But mere existence, vegetation, stand-patism, is not the purpose of exis­tence; and, as its purpose must be sub-served, forms that do not progress are destined to decay and perish. We are not here to be the servants and slaves of evolutionary development, but rather as accelerators of the divine purpose; which, whether we voluntarily aid it or not, must ultimately prevail. There is an inner urge that may not forever be denied.
It is the purpose of Life that the conscious should dominate and direct the steady progress of growth, development, and unfoldment; and that it should co-operate with the subconscious, so that what has been attained and achieved shall be made habitual, automatic, and readily responsive only to continually higher inspirations of conscious thought.
If not directed or controlled, the subconscious tendencies will prevail, and one will be bound fast by tradition, convention, and conservatism— habit-bound, thought-bound, sectarian, and superstitious. Yes; and be proud of his servitude! Instead of living Life, he will have permitted Life to live him, frozen and crystallized at a low average of human attainment!
Control of the subconscious involves thinking for oneself, which seems to most people to be the most unusual and tiresome thing there is. Why go to this trouble and exertion, when the priests, doctors, lawyers, politicians, and all the many other pillars of society are willing to do it for us, at the usual rate? It is much easier to leave one's thinking to others. It has been left to them, speaking generally, and a sorry mess they have made of it. What has been the result?
The result has been a world bound by tradition and convention, by ha­bits and customs, all inherited readymade, and cut on such a pattern that no amount of mere patching will make it fit the thought-form of humanity of the present day. The result has been that the individual has become the slave of his environment, when he might command and control it. He has become thought-blind, quoting the dead wisdom of others, when he might be alive with the wisdom of his own.
What has been the fundamental error in the racial traditional and con­ventional thought? The belief in the duality of Principle, of God and Devil, of Good and Evil, of Heaven and Hell, of a divided and discordant Universe, and therefore a divided, discordant, and fighting world; separated and divided by sectarianism, sin, sickness, poverty, and death! Fear everywhere; and yet there is no reason or ground for fear in Truth, but only in that which represents falsity and error!
We see the results of these causes; how may they be changed? Only by the change of causes. Keep to the old conventional and traditional thoughts, and the world must continue to breed and perpetuate disease, old age, pover­ty, death, and ever-consuming fear. There is no possible escape from these results unless new causes are substituted. Man receives only that for which he bids, and if his thoughts are based on falsity inevitably his life will show forth the fruits of falsity.
It is necessary to change from negative and destructive thoughts to af­firmative and constructive ones, to accept Unity as the basis rather than Dual­ity, to establish one's thought-foundation in Truth, and not in falsity. By con­scious thought of the Truth, impressing the subconscious with the dominant thought of Unity—that God is One, God is All, and God is Good—not mere­ly in Being, but also in manifestation. Then the subconscious will carry these thoughts to their logical conclusions, and, coming back, will report, express, and lead the life into channels of health, harmony, and happiness.
The conscious thought should be formulated in clear, definite, exact, and explicit statements of Truth; above all, in living the Truth through the expression and manifestation of Faith and Love! Indefinite, cloudy, and am­biguous statements are of but slight value; for the results will evidence all of the imperfections of the cause. The subconscious requires decision and com­mand if it is to resign its leadership in favor of the conscious. Either the conscious is master, or it is the slave!
When the conscious knows, and knowingly expresses itself with force and power, the subconscious accepts its leadership, and there is an harmonious cooperation between them in the exalted atmosphere of Unity, and in the realization of Faith and Love. Then the subconscious ocean backs up the conscious river of thought, and a mighty power is exerted through a body that is inspired by a mind that knows that it knows, and is openly receptive to the influence of the Spirit.
The conscious thought of Truth may in an instant shatter a lifetime of subconscious thought of error. But it must represent a spiritualized realization as well as an intellectual conviction, if it is to strike deep enough for this. One may have trod the road of error all his life, and yet in a moment take the path of Truth. But he must turn his back resolutely on the darkness of falsity, and as resolutely face the light of Truth.
One has but to seek the Truth in order to find it, for it is always seeking him. The flood of the light of Truth will continue to illumine his path if he will but be true to it. One must think for himself along the higher peaks of Truth, stand on his own thought-feet, and cast off the clouds of falsities and the miasmas of error that have enveloped him.
Life is a constant search for God or Good, and attainment denotes its finding in constantly greater degree. This is accomplished through transmuting the Good of Being into the Good of Existence, turning the Infinite into the finite, and discerning the identity of the God within and the God without. The conscious thought, through spiritual realization, comes to know the Uni­ty or Oneness of the spiritual, mental, and physical aspects of Life, and mani­fests in the physical the glorious attributes of the Spirit. Then one takes control of his life, comes into conscious dominion of his world of thought and act, and has answered the purpose that inspired his existence.
WHY THE INTELLECT?
It takes great courage to train
To modern service your ancestral brain,
To lift the weight of unnumbered years
Of dead men's habits, methods, and ideas;
To hold that back with one hand, and sustain
With the other the weak steps of a new thought.
It takes great strength to bring one's life up square
With his accepted thought, and hold it there,
Resisting the inertia that drags it back
From new attempts to the old habit's track.
It is so easy to drift back, to sink;
So hard to live abreast of what you think.
—CHARLOTTE PERKINS STETSON.
IT would hardly occur to the average person to question the value of the in­tellect, or that it answers an essential and useful purpose. But some of our Higher Thought exponents, noting the many errors and mistakes to which the intellect is liable, have voiced a doubt as to its essential value and purpose. Their idea seems to be to penetrate deeper than intellect, and ignore it in fa­vour of spiritual realization. Hence the question: Why the intellect?
Fundamentally, it seems evident that this is a Universe of necessity, that nothing happens by chance or accident, and that there is an essential pur­pose in all faculties and functions. When one of these tends to become use­less it at once commences to decay, and when it has become absolutely use­less it disappears. Faculties and functions originate for use, and disappear when they become useless; intellect has originated, and persists, hence it must have some present use. What is its purpose, and may it be dispensed with?
Life is essentially One. Man is essentially One; but he expresses in three aspects of soul, mind, and body. The harmonious man is he who lives the three aspects of his life in mutual agreement, and this can be only when the soul dominates the mind, which in turn controls his body. The control must be from the higher or more fundamental aspects. Spiritual Life, the Life of Harmony, the One Life, may be depicted as follows:
---

Here the current of life flows without interruption or opposition from the spiritual into the mental, and thence into the physical, the positive pole of each higher plane contacting the negative pole of the next lower.

When the Soul flung itself into the material realm, it made the physical body the foundation of its evolutionary or manifested life, governed by sen­sory suggestions or incitements. At first the reactions to these were almost, if not wholly, physical reflexes ; but in time mentality functioned more and more until, with increasing complexity of life-forms, what is known as intel­lect was developed. Over vast periods of time intellect has received practical­ly all of its suggestions, information, guidance, and knowledge from the sen­sory side of life, and it has believed in and accepted as facts only those expe­riences that could be weighed and tested in the laboratory of the senses.

The "Children of The Light" had lost their spiritual guidance, and the intellect, or recognized guide of human life, had come to accept its conclu­sion wholly from sense impressions. The higher planes of life were governed by the lower, and the mental life was subordinated to the physical. In general this is the present condition of human life, which may be represented somewhat aptly as follows:


Here the mental is receiving its impulses to thought and action from sense impressions and suggestions, while it points its positive pole toward the similar pole of the spiritual aspect of life, refusing to accept spiritual sugges­tions, and seeking to bring the higher aspect of life to its own lower level. Not only this; but the mind is both conscious and subconscious, and includes both intellect or reason and emotion or feeling, and the suggestions of the physical affect the feelings before they reach the intellect; so that the guides to intel­lect are not only sense impressions, but emotions that have been influenced by these, represented as follows:


Each atom or aggregation of atoms, and each life or aspect of life, has both its positive and negative poles; the positive representing the out flowing or giving out activities, and the negative representing the inflowing or recep­tive. The similar poles of two entities cannot come together in harmony any more than the "business ends" of two fire-hoses can meet while water is be­ing forced through them. Only dissimilar poles may unite harmoniously. As entities ordinarily approach one another each with its positive pole foremost, it is evident that the secret of harmony is to be found in control of polarity.
Intellect makes its many mistakes because the basis of its activities has been its habitual acceptance of sense impressions, and of emotional impulses colored by them. Such a basis leads inevitably to a consciousness of duality and separation. These sense illusions delude the mind, with the inevitable re­sult of discord and inharmony. While the intellect must relate itself to the physical world through sense impressions, it can interpret these, truly only to the degree of its spiritual unfoldment. In his false pride, man has sought to dominate the spiritual with the intellectual, and has insisted upon a polarity that rejects spiritual guidance and illumination.
The result of this false polarity has been the continued acceptance through long ages of assumed facts and ideas that are essentially erroneous, and yet ring true from man's false standpoint. Almost every conception now held generally by mankind is based on a misconception of fact and truth, and is the cause of discord and inharmony.
The Spiritual Renaissance now in progress may be said to have first manifested definitely some fifty years ago, when it became time for the Children of The Light to unfold more generally to an understanding of their true origin and destiny, and to a controlling realization of their essential im­mortality. Little by little this understanding and realization have developed, until now there are multitudes who see The Light sufficiently to realize their past errors, and to be ready and willing to follow the Path.
In all this history is but repeating itself; only a higher turn has been reached in the spiral of life, and the movement is more popular and wide­spread than at any past epoch. And the impulse is similar—to go into the si­lence; to avoid the outer noise and conflict; to introspect and meditate.
All this is normal to the unfolding of the spiritual vision, is essentially constructive in character, and is conducive to the result sought. But in their dawning consciousness of how intellect has heretofore misled them, many have made the sad mistake of condemning and deprecating the intellect, and have sought to ignore this essential aspect of life. While the intellect divides the spiritual from the physical, it also connects them, and is the moderator and transmitter of power. One of its functions is to translate spiritual vibra­tion into terms of voltage power that the physical body is capable of receiving without disintegration. The body is unable to assimilate direct spiritual power without the intervention of the mentality as a moderator.
The consummation of the Spiritual Life must be a conscious harmony of all aspects of life, based on the realization of the soul as the fundamental inspiration, with mind as its interpreter to the body. This consciousness must include the recognition of the intellect as an essential factor of life, and the knowledge that the body is the ultimate instrument of spirit, designed and fit to shine resplendent in spiritual glory. The one obstacle to this consummation is the insistent and wrongful polarity of intellect in relation to the soul.
In the nature of things, the soul may only invade premises that are re­ceptive to its influences and character; and it may not intrude on the intellect except as it is invited. And the intellect will not extend an invitation until it has been so buffeted and battered by unpleasant experiences that it is humi­liated and its pride humbled in the recognition that its conclusions have been false because of its dependence at face value on delusive and illusive sense impressions. In meekness and sadness of mind, and with bruised and injured body, it then opens itself to the influences of the soul, and the spiritual ra­diance then enters to comfort and console. The intellect has reversed its po­larity, at the same time reversing the polarity of the physical, and a New Birth ensues, opening up a realm of happiness and harmony theretofore undreamed of.
The secret of the spiritual life, therefore, is not to depreciate, deprecate, or destroy the intellect; but to so cultivate, refine, and elevate its character that it resolutely turns its face away from physical guidance and domination, and opens its countenance to the sunshine of spiritual regard. Then the intel­lect ceases to build a false and fanciful spiritual world founded on intellectual ideas that are based on its assumed knowledge of physical facts; and in the place of conceptions of separation and incompleteness adopts ideals that are universal and all-inclusive.
Then the spiritualized intellect interprets seeming separation in terms of unity; it rests secure on the eminently solid foundation of intangible and in­visible Reality instead of the insecure and unsteady impressions of the senses. It substitutes wisdom for knowledge, and penetrates the disguises of appear­ance, so that they no longer delude and mislead; it visions the ideal in the ac­tual and the spiritual in the physical, which it now unites rather than sepa­rates; it identifies the physical with its spiritual source, and thus closes the gap in the chasm of life; and it finds its true function in bringing together the trinity of life into One Harmonious Whole.
KEEP YOUR BALANCE
It matters not how straight the gate,
How charged with punishment the scroll;
I am the master of my fate,
I am the captain of my soul.
—WILLIAM ERNEST HENLEY.
IT is quite natural to look back with contempt upon that which one believes he has outgrown. Coming into possession of a greater power puts the lesser to shame. That which was positive and resolute by reason of its superiority has become negative and hesitant in its relation to that which now dominates it. It no longer stimulates or attracts. When intellectual methods prove more compelling than physical ones the latter are apt to be looked upon disdainful­ly. When, through intellectual processes, a physical weakling masters a phys­ical giant the suggestion is likely to come that one may dispense altogether with the physical.
Spiritual power is so much superior to intellectual that, as one unfolds the former and comes to realize its significance, he is prone to deprecate the intellectual as an instrument of very doubtful value. Some would go further, and condemn it to utter oblivion. And yet man is a triune being—spiritual, mental, and physical. Fundamentally he is spiritual, and primarily physical, with a mental relation that may be made the means of a perfect and harmo­nious adjustment. While mankind functions in this existence, neither the spi­ritual, mental, or physical can be dispensed with without injury to or destruc­tion of the others.
The spiritual mountain-peak affords a magnificent view, but it rests on a physical base, while its intervening mental strata sustain the spiritual heights in right relation. It is true that there have been strong mentalities in weak bodies, but no one would assume this to be the ideal combination. Nor would one seriously contend that mental idiots are the most sublime vehicles for spiritual inspiration.
As man is evidently intended to be physical, mental, and spiritual while manifesting on earth, the ideal life must be the one that manifests physically, expresses mentally, and realizes spiritually to the fullest extent of its three­fold possibilities. When one commences to really think, or to think rightly, surely his physical instrument is not affected detrimentally. As his mind de­velops his body does not necessarily decay and wither. The contrary is of the essence of Higher Thought conceptions.
In the course of time each of us unfolds to a deeper or higher spirit rea­lization; but is it necessary that the intellect be killed in the process of un- foldment? Must one decry the intellect because of the discovery of a higher source of power? The development of mental powers does not necessitate the degradation of its physical dwelling; why should the discovery of the spiritual life structure impel us to tear out its mental floors and staircases?
It is true that there are various and even obvious reasons why one should look askance upon the intellect. The art of thinking has never been taught generally. Most people do not think, but merely register what has been impressed upon them. Their think-tanks are lacking in motive power, and mental inertia and phonographic records seem to be the normal and prefera­ble condition. Why exert creative effort when one's mental disc will express his thought-impressions with automatic exactness? Why, indeed?
Then, again, the intellect is deceptive, and leads one into experiences, results, karma, and the like! Well, well, well! Think what a life one would have without any of these interesting ingredients! Could it be called life, exis­tence, or manifestation? What would be the name, nature, or significance of it? Can one imagine, much less portray, describe, or understand it? Of course the intellect is an imperfect instrument; is any instrument perfect, or even used perfectly except in the hands of a master?
It is almost always overlooked that methods and processes become in­verted on each successive plane of power. It is essential to the harmonious and simultaneous working on two planes of power that the analogies between the two be understood, so that one may at the same time exercise contrasting methods on the different planes. Mental processes do not follow physical me­thods, nor do spiritual processes follow mental ones.
It is sometimes said that the intellect deceives and deludes, that it is the cause of deception and delusion, and that the physical world is nothing but an illusion and a sham. And whence come such proclamations? Do they emanate from a perfect intellect claiming self-deception and self-delusion, or from an imperfect and immature intellect admitting its impotence? Is it a clarity of vi­sion that realizes only clouds, or is it a cloudy vision that despairs of realizing clarity? Does it come from one who uses thought to proclaim the uselessness of thought? If so, what dependence should be placed upon that which is self- condemnatory?
Universal principles are all constructive, and in human existence progress is always by way of addition. There is no Principle of Decay, al­though decay is one of the facts of progress. But such decay comes not by way of intentional destruction, but as an incident of construction. As the in­tellect develops, the body becomes mentalized, and lets go of the distinctively animal peculiarities, such as claws, horns, and tusks, mane and tail, roar and howl. Similarly with spiritual realization, the intellect synthesizes and attains to mellowness, sweetness, and ripeness. Gradually it lets go of all that is in­consistent with the higher attributes.
The physical world is illusive in the sense that it is subject to the law of change, is a moving picture, and impermanent. But it is not an illusion to those who understand that it is a moving picture, and who move harmonious­ly with it. To such as keep in exact time with its vibrations, it does not even seem to move. That it is difficult to keep step with world or cosmic move­ments is no reason to condemn the world; for the illusion is not in the world itself, but in the immature mind whose vibrations are ill-attuned.
It is claimed by many that the present difficulty with the world is that it is too intellectual; that if it would only stop thinking, or if the power to think were destroyed, the Millennium would be upon us, and happiness become universal! Truly a strange idea; that, after sons of development from a purely animal life through the agency of thought, we should destroy our liberator in order that greater progress be made!
The fact is quite the contrary. At no time in human history has the world been governed by intellect. It has always been the victim of human emotions. In the history of humanity a few Thinkers have served as miles­tones of human progress, and almost invariably they have been denounced and condemned by their contemporaries. The saviours and sages of the world have been execrated and executed with almost unfailing regularity. It has al­ways been a fact, and perhaps now more than at any previous time, that noth­ing arouses the fears of mankind as does a Thinker!
As in the history of the race, so it is with the individual; almost every act is the result of emotion rather than intellect. In fact, unless the intellect has disciplined itself sternly to the observance of accepted and definite prin­ciples, it is almost impotent in the face of emotion, to which it readily capitu­lates. Emotion is more primary than intellect, and man is essentially an emo­tional animal. It is no more natural for man to use his intellect as his sole guide than it is for him to stand on his feet all the while. Either is equally wearisome.
It is no more appropriate to compare intellect and intuition to the detri­ment of the former, than it is to compare emotion and intuition for the same purpose. There is no antagonism between intellect and intuition; in fact, the latter—at least in its ordinary aspect—may be regarded as a sublimated form of intellect. Intuition represents the individual memory as compared with the personal memory of the intellect; comparatively speaking, intuition is of the subjective and psychic, and intellect of the conscious and physical.
It is true that there is a direct cognition through the super-conscious, on the spiritual plane; but this character of intuition—if it may be so termed—is not a possession of the many. Doubtless this is what many believe they pos­sess; but, unless one confesses the utter uselessness of his God-given facul­ties, it is plainly evident that most of these claims are ill-founded. And if one is quite incapable of passing upon such claims of others, the latter must be equally incapable of placing a right estimate upon their own development or unfoldment.
When the intellect becomes conscious that there are planes of under­standing to which its functions do not apply, when it comprehends the trans­lation of intellectual into spiritual methods and their interrelation, and when emotion and intellect are related rightly, and act and react harmoniously, then the intellect becomes ripened and mellowed, and has become harmonized in­to spiritual use. It would seem to be folly to destroy or even impair an imper­fect instrument when it is open to perfection for the most sublime service.
The ideal life is that wherein the spiritual controls the intellectual- emotional, which in turn directs the physical, each higher realm imposing its characteristics upon the lower. Development is indicated by the extent that former voluntary activities have become automatic, so that one's starting- point is always in advance of what it was previously. In this manner physical methods are replaced by mental, and these by spiritual. But man will function on all three planes as long as he manifests in form; and transformation and transmutation rather than destruction are the methods of development.
The chronic difficulty with the intellect is that its polarities are wrongly directed. It is usually positive or outgiving to the spiritual, so that it is impervious to the latter's influence, and negative to the physical, which imposes its terms of animal propensities. As one unfolds and becomes responsive to subt­ler spiritual influences, the intellect gradually becomes positive to the animal plane, and negative to the spiritual, which thereupon floods the mentality with its essence of cosmic memory and direct cognition.
Everything has its threefold aspects. Everything spiritual has mental and physical characteristics. Every activity is a threefold one. Each plane has its own methods and processes. If any problem is to be solved, any harmony obtained, or any result achieved, appropriate attention must be given to each of its several planes. No one ever graduates completely from anything, only from a particular form or aspect. That which one rejects, ultimately he must accept; that which he excludes now, he must include later.
Keep your balance! Do not deprecate anything! Do not deny anything! Make the best use you can of what you have. Perfect the imperfect; ripen the green fruit. Harmonize body, intellect-emotion, and spirit. The intellect is a mighty instrument, but it requires delicate adjustment and direction if it is to do its perfect work. When it is directed by animal propensities it tends to di­vide, to separate, and to invite discords. When spiritual influences dominate the intellect becomes the passive instrument of divine service. Keep the bal­ance!
---
---
Man The Master - Eugene Del Mar

---
---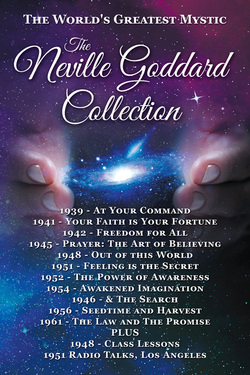 The Neville Goddard Collection - Awakened Imagination and the Search, Freedom For All, At Your Command, Feeling is The Secret, The Law and the Promise, Prayer, The Art of Believing, Your Faith is Your Fortune
---