---
Man The Master - Eugene Del Mar
---
---
---
MAN THE MASTER
BY
EUGENE DEL MAR
Copyright, 1920 by Eugene Del Mar
THE SPIRITUAL REALM
SEEKING THE KINGDOM
I am important to the perfect plan, And I assist the Purpose.
As the sun Completes the projects by the Cause begun,
So God's intentions are worked out by man.
We are the means to some majestic end,
Through us must come the universal good.
In us the forces of the Maker blend,
On us depends the larger brotherhood.
—ELLA WHEELER WILCOX.
THERE is a Kingdom of Light which man is ever seeking. While he is conscious of darkness, intuitively he feels that there must be a realm where darkness does not exist. He flees from the darkness and he pursues the light. The light is ahead of him and the darkness behind; and the light attracts him with its warmth while the darkness repels him with its chill.
As one ascends a mountain he reaches a finer atmosphere and senses a clearer light, and as one's mind develops his thought-atmosphere becomes finer and a clearer vision opens before him. One's body is lightened and re­fined as his thoughts ascend in quality, and one's thoughts rise in purity and ideality as he reaches the grander heights of spiritual unfoldment.
Man is on his journey from the outer realm of Unconscious Light to the inner kingdom of Conscious Light. The entrance to the latter is through a la­byrinth, the keys of which are physical health, mental harmony, and spiritual realization. In each of the courts of the labyrinth there are many points of vantage, where one may obtain a clear view of the road over which he has passed; and the knowledge so obtained relieves him from the necessity of again traversing it, and enables him to avoid the obstacles and obstructions that had hindered his progress.
Everything that man can do consciously has already been done for him unconsciously. The light of the Infinite Intelligence radiates always in one's direction, but it does not force itself upon his attention. Its entire absorption is in Being. The Infinite Intelligence offers itself; but it is at one's option to ac­cept or reject, and therein lies the privilege and duty of existence. One is able increasingly to accept its offers only as he grows physically, develops men­tally, and unfolds spiritually, these being the steps whereby the truths of Be­ing of which he has been unconscious are converted into facts of conscious existence.
Being is ever perfect, but existence is always imperfect; and one's faul­ty understanding and guidance results in an inharmonious relation between the finite and the Infinite. The inflow of the Infinite Energy is restricted by the shape and capacity of the conduit through which it flows, and it must take the form and dimensions of the receptacle that it occupies. It is only to the degree that there is unobstructed entrance and free exit that existence mani­fests the perfection of Being.
Each appropriates from the Infinite through his intellectual recognition and spiritual realization. He has been provided with the means whereby to reach conviction on each of these planes, and he controls for use only that which he knows he possesses. On the intellectual plane, physical holding is the evidence of possession; on the spiritual plane it is an interior realization of the oneness with the Infinite which suffices to place at one's disposition the resources of that realm. But one must know; and knowing precludes doubt, uncertainty, and fear.
The road to the Kingdom of Conscious Light lies along the avenues of recognition and realization. One must recognize that the mental controls the physical, and that the spiritual dominates the mental. Without this under­standing he will be unable to place the appropriate emphasis on the various aspects of life, or relate them rightly. One must comprehend that the life that is expressing through his mentality and manifesting through his physical form is the One Life; and that continually it will function more perfectly as he directs the activities of his life in accord with its inherent harmonies, and without the introduction of the inharmonies of false beliefs.
The purpose of existence seems to be that each and every aspect of life shall attain to its fullest realization of the Light that is inherent in the Univer­sal Life itself. This is acquired through gradual mental development and its corresponding physical growth, each higher form of life assuming the texture and refinement enabling it consciously to express more nearly the Perfection that is of its very essence.
If each and every aspect of the Infinite had always possessed the con­sciousness that inheres in the Infinite as an entity, manifestly there would have been no reason or necessity for individual existence. But to this end it was evidently essential that the consciousness should develop through expe­rience with matter, that appearance should appeal to the senses, and that the mind should traverse its maze of delusions and illusions. As this seems to have been the method ordained, apparently there was no other way whereby the individual should gradually acquire that realization which the Universal always possessed.
It was this process that was symbolized by the mythical expulsion from heaven—the projection of aspects of the Light into utter darkness, that they might find for themselves consciously that which theretofore had been pro­vided for them unconsciously. It meant that thereafter the individual was to live by "the sweat of his brow," that it must seek in order to find, ask in order to receive, and knock that things might be opened to it. The Infinite provided the opportunity of individual existence, but made it incumbent upon the indi­vidual to use his own faculties in order to find the Light. That the search might not end too soon, the Light was hidden deep within, where one would least expect to find it.
In its physical aspect, individual life could at first recognize only the merest circumference of existence. It had to commence with the most ob­vious, and it was obliged to develop its thinking capacity and to grow the fa­culties that could make use of thought as an instrument. This process has proved to be a tedious one, and long-drawn-out—so much so that after sons of time consumed in it, humanity in general still looks upon the circumfe­rence as being the centre, the temporary as the permanent, and the actual as the real.
Spirit is essentially fluidic, imponderable, and etheric; but in its con­densed form as matter Spirit becomes inert, inflexible, and crystallized. It may no longer be recognized as Spirit, any more than ice can be discerned as steam. In essence it is unchanged, but in appearance it is altered completely. Form may be thought of as paralysed Spirit, as spiritual vibrations that are so reduced in activity as to come within the range of human vision and mental recognition. These slower vibrations are not only capable of being inspired by the faster ones, but that they should be so acted upon is an essential requi­site of their very existence.
It is in this manner that the Kingdom of Conscious Light is entered. The journey of the Spirit into matter in the lowering of its vibrations is for temporary purposes only. The duration of the journey may be indefinite, but necessarily is of limited duration. Having reached the lowest rung of the lad­der of Spirit, there is nothing else for it to do but to ascend. There is no direc­tion for it to take other than to retrace its steps. The very nature of Spirit compels it to again take up that which previously it had relinquished.
Spirit lost nothing in resolving itself into form which would permit of its being used as an instrument by its finer qualities and more rapid intensi­ties. The lesser vibrations were merely unconscious of that of which the Uni­versal Spirit as such was ever and always supremely conscious. It was a wondrous conception, worthy of Infinite Intelligence; and its divine origin is a sure guarantee of its successful fulfillment. There can be no doubt that man may be inspired by the Spirit, and realize his oneness with it so fully as to en­sure his admission to the Kingdom of Conscious Light.
There is but one instrumentality whereby this may be accomplished. The Universal Spirit may not co-operate directly with its paralysed aspects, for this would at once remove paralysis and obliterate form. No more could the sun environ and contact the earth without raising it to the vibrations of the sun itself and destroying it as a habitation for man. No more could steam per­vade ice without dissolving it. It was essential that there should be some me­diator, interpreter, modifier, or translator of vibratory intensities; so that Spi­rit in form might become receptive to ethereal Spirit without dissolution of form.
This office was given to the mind, which uses thought as its agent. The mind opens inwardly to the realm of invisible Spirit and outwardly to that of visible form, and that which it receives from Spirit it translates into such quality of vibrations as the form is capable of receiving without injury to it­self. As the physical aspect is purified and refined it is capable of assimilating the higher vibrations, to which it becomes receptive as the thought directing it is elevated and exalted.
These are the processes whereby unconscious realization is converted into consciousness. These are the methods whereby intellectual conviction is translated into spiritual realization. These are the means whereby one devel­ops mentally and unfolds spiritually. These are the instruments that have been divinely contrived to facilitate and secure entrance to the Kingdom of Con­scious Light. These are the agencies whereby the Soul of man becomes con­scious of its eternal oneness with the Universal Spirit.
THE MAN BEHIND THE MASK
We gaze upon a mask.
Behind the screen Lies the reality in the unseen.
We view this inner life made manifest,
As in the world objective 'tis expressed
In terms of matter—phrased in time and space ;
We see it veiled, but never face to face.
Our inmost selves are seldom realized,
They are subconscious and unrecognized,
Except in those rare moments when we press
Up spirit heights,
whose visions limitless
Are gleams of Universal Consciousness.
—JAMES A. EDGERTON.
WHAT is usually designated a man is a mask, behind which the Univer­sal Life masquerades in one of its myriad forms. Chameleon-like at any one time this mask may present a different appearance to each of many observers. At one moment it may suggest a tragedy, and at the next a come­dy, either by reason of a change in itself or in the observer.
The Universal Life is ever seeking expression through form, and the appearance of the mask conforms to the mentality that serves as the bridge between the spiritual and its physical counterpart. It is the mentality that pro­vides the cast in which every feature is outlined, and one's mask takes on the general aspect of his fundamental thoughts.
As each mask makes its entrance into the drama of human activities, it finds itself surrounded on every side by other masks. From start to finish of existence it is engaged in penetrating the masks of others, seeking to interp­ret, explain, and uncover disguises. This is a dominating feature of the game of life, and in the infinitude of variation one's interest need never flag.
No one mask is exactly like any other; and in its constant change of ap­pearance each mask serves effectually to prevent its possessor from being understood or interpreted rightly by the uninitiated. Looking upon the mask as the Reality, the multitude are readily deluded by the masks that surround them. Often one is as easily deceived by his own mask as by that of another.
Since masks delude and appearances deceive, there is a premium on wisdom, clear vision, or right interpretation. That which is but of little value is recognized easily. That which everyone understands is of the very slightest value. As value increases, recognition becomes less easy, and the masks more misleading. That which is most precious is guarded from recognition with the greatest of care; and many are the snares, misdirection's, false clues, mislead­ing, and distractions to dissuade one from penetrating the mask, or tempt him to abandon his search for the hidden treasure.
Through countless ages Universal Life has sought to unfold into the in­dividualized realization of itself through form; mind is the agency it has em­ployed for this purpose.
One of the functions of mind is to distribute the Universal Life in terms that physical form is capable of receiving and retaining. Mind is the modera­tor and transmute that accommodates spiritual energy to the limitations of physical form: it is the necessary bridge to connect the worlds of spirit and form.
In the unduplicated aggregates of individual experiences, each human life presents an intricate geometrical design, every line and curve of which is delineated somewhere in the structure of the mask. Each mask has been in the process of fashioning for sons of time; and, while the patterns are infinite in variety, they are governed by invariable and immutable principle.
The principal thought-ingredients that have contributed to the delinea­tion of the human masks of today are those of habit, custom, tradition, con­vention, and superstition; these forming combinations of such intricacy and variety as to account readily for all possible contrasts of personality.
Thought seeks to embody itself in form; first in the body of the thinker, and then in his environment. Thought attracts to itself the material necessary for its embodiment, and then fashions it in its own image and likeness—in its interpretation, in visibility of that which previously was invisible. It may fa­shion its interpretations after some visible form, or from the seeming void it may conjure up some new combination of primary factors. Inevitably thought takes on form, if only within the physical confines of the thinker. It fashions the mask that conceals the man; it builds the home in which he lives.
The home that each one fashions for himself is a mask to others be­cause the latter also wear masks, and interpret those that surround them in the image and likeness of their own. Their vision is masked exactly as are their features and forms. Are their features masked in selfishness, greed, or cruelty, then their vision is directed along these channels of interpretation. To them other masks seem similarly distorted, for they bring to the surface of others the similitude of their own thoughts. Similarly, if their features are masked in altruism, generosity, or kindness.
A mirror reflects a true picture to the degree that its surface is clear, smooth, and unsullied, as it has behind it that which quickens its receptivity, as it is open, straightforward, and on the level. If it is curved, concavely or convexly, or crooked, or if its surface is distorted, or spotted, or marred in any way, the picture it reflects takes on the imperfections of the mirror. That which is pictured may be perfect in appearance, but the mirror reports it in its own language and interpretation.
The mask is Man's mirror. On a wave-tossed Soul the reflected pictures are blurred and indistinct. With emotions violent and uncontrolled, enthu­siasm is misdirected, and energy lashes itself into a wild frenzy. With thought contradictory and chaotic, actions become inconsistent and erratic. Unless spiritually controlled, mind and body run amuck, and the mask pictures life as crippled and distorted.
The Soul seeks freedom of expression in form. The Soul uses the mind as its invisible medium, and the mind makes the body its visible counterpart. The Soul unfolds through the mind as the latter becomes receptive through its greater development, and the mind develops with the body's growth in re­finement of texture. Each acts and reacts upon the others, and the Soul finds increasing freedom as the mind becomes receptive to it, and as it in turn finds freer circulation through its physical body. A mask serves to reveal to the de­gree that the Soul has found freedom, and it conceals to the extent that its Soul still remains enslaved.
The Soul that is free, though seemingly enmeshed, sees through or be­hind the masks of others; and freed Souls recognize each other despite the masks that effectually hide them from others. The freed Soul differentiates between masks and realities, and it looks beneath the surface-waves of the ocean of life to the calm depths below. The freed Soul may tear off the fetters that bind another, put aside the veil that obscures the other's vision, and ena­ble the other's mind and body to bear the effulgence of the Soul that is await­ing its deliverance to freedom.
The Soul becomes free as it realizes or makes real the Truth in thought and act. It shines ever more effulgent through mind and body as its ideals be­come more grand and lofty, as its ideas are made more clear and definite, and as its acts are as clear and definite as its thoughts, and grand and lofty as its ideals. As gradually it realizes in feeling, becomes conscious in thought, and acts physically in accord with the fundamental truth of identity with its Source, the mists of doubt clear away, the clouds of fear dissolve, the mias­mas of selfishness fade away, and the sunshine of clear vision penetrates the masks of error that seem to environ others.
In its identity with Universal Spirit, the Soul is all-inclusive; and its es­cape from or through the bondage of mind and body is facilitated by the ac­ceptance of that which previously it had rejected or not included. As Soul ex­pands in realization through its mind becoming more receptive to spiritual ideals, and as mind expands in consciousness through its body accepting higher mental guidance, it includes more and more, and becomes increasingly universal. Through the realization of inclusion and identity comes love, sym­pathy, understanding, and spiritual vision.
One of the great lessons of life is the necessity of including at some time that which one now rejects. The Soul will not accept exclusion as a fi­nality, and that which is forbidden to it becomes a magnet of irresistible at­traction. The Soul must know all, and it can know only through identity or in­clusion. One attracts only that which belongs to him and comes for purposes of inclusion and identity. It comes as the result of one's contact with the Prin­ciple of Attraction, which cannot but function with infallible accuracy.
"The Man Behind the Mask" is the Soul, identified with its Source, in­dividualized Spirit, in the image and likeness of the Infinite; but lacking that individual realization and consciousness of itself that may accompany only the possession of mind and body. The Man behind the mask is drawn inevita­bly to incarnate in form until mind and body shine as effulgent as Soul itself. Then, its purpose having been fulfilled, the mask dissolves.
The mask is the screen behind and within which the Soul houses itself for the purpose of protection and the concealment of vulnerable points of at­tack. The Man is never what the mask seems to be, or what it assumes to be, nor even what it thinks it is, although "what it thinks, it is."
It is quite true that "things are seldom what they seem." One preaches to others in order to convince himself. He professes a virtue to cover a vice. He parades his strength in one direction to cover his weakness in another. He accuses another to divert suspicion from himself. The short of stature stretches himself tall, and the tall bows himself short. The man of courage as­sumes meekness, and the coward bullies. The wise avows ignorance, and the ignorant assumes wisdom. As the mask is an artificial make-up, fashioned largely to deceive and delude for protective purposes, it has ceased to know itself for what it really is.
Modern life has added greatly to the intricacy of human masks. Until recently physiognomy, phrenology, palmistry, astrology, and kindred arts, sufficed to afford a peep behind the masks. These agencies have become quite inadequate to cope with present-day conditions, and we now have a new Science of Mind, as formulated in psychology and psycho-analysis, to teach us to read masks and unravel the mysteries of conscious and unconscious mask-building.
Without the mask Man would be invisible; but without the Man there could be no mask. The Man creates his mask, wears it, changes it, and finally discards it. But the Man never changes. The mask is the clothing, the home, the residence of the Man, which he is forever patching and altering to suit his changing fancy. It may seem that the Man is changing, but it is only his cov­ering that is being fashioned differently to meet his changing thought- seasons.
As Man is a deathless Soul, identified with Universal Spirit, one can do little or nothing for Man himself. But the mask is Man's creation, and, being impermanent, ever-changing, illusive, and delusive, it is that which requires his never-ceasing attention. It is as the mask is guided by strong and con­trolled emotions, and by clear and definite thought, that the Soul qualities are realized, and Man enters on the enjoyment of self-revelation.
The profoundest study for man is Man, and his deepest satisfaction is to watch his own self-revelation; after seeing himself as a worm or caterpillar, crawling on the earth, to witness his gradual metamorphosis into a butterfly or Spiritual Being, with gorgeous habiliments, disclosing from beneath his disguise the indisputable proofs of his divine origin. This is the Man behind the mask, a Being of infinite glory, but environed by forests of ignorance that obscure his vision, by rivers of doubt that benumb his faculties, and by clouds of fear that stifle his energies. Ignorance, doubt, and fear were the principal factors that served to fashion his mask, but these are merely the primitive as­pects of wisdom, faith, and courage.
As the texture of the mask clarifies and refines, gradually it loses its grossness of materiality, assumes the delicacy and constituency of thought, and is finally dissolved and dissipated in the sunshine of spiritual understand­ing. Then the mask fades away, and there is disclosed in his true colors of spiritual glory the Being that previously had been The Man Behind The Mask!
THE CALL OF THE SOUL
But you must act.
And therein lies the way
Of freedom from the Furies.
You must burn The substance of your being.
If you stay The impetus of life, you will not learn
The simples of salvation. If you scoff,
You will perceive. You cannot love the staff
You have not scorned. You cannot weigh the act
You have not lived, the fear you did not prove.
Your soul was made to focus' and extract
Through action every hatred, every love.
Pour out yourself if you would know release
From what the Furies do to wreck your peace.
—EDGAR LEE MASTERS.
LIFE is to be lived; and to be lived life must act. To act, life must press it­self through its mental and physical instruments; life must be expressed.
There is an inner urge that will not be denied. The Soul of man— individualized God—is ever seeking its Source, the Universal Spirit. It is reaching out for cosmic consciousness. It is expanding toward its own com­pleteness. The dewdrop is absorbing into itself the ocean of life!
The Soul of man resents every suggestion of limitation, exclusion, or rejection. It must know all, and nothing less will satisfy it. This is its insistent demand. For a while this demand may be ignored, thwarted, denied, and si­lenced, but in its eternal persistence the Soul never forgets. At some time or another its demand will receive full satisfaction.
The Soul is aware of its absolute freedom, and it will never cease to in­sist that its mentality shall reach a complete consciousness of this reality. This is the evident purpose of manifested life, and both physical sensation and spiritual realization are in a conspiracy to accomplish this result.
Health, harmony, and happiness are attendant upon free expression of the Spirit, the realization of power, the fact of self-determination and domi­nion. Freedom and consciousness of power go hand in hand; so do slavery and the sense of weakness. Existence, or the expression of life in form, evi­dences the divine purpose that eventually each and every aspect of the Uni­versal shall attain to consciousness of the Universal in its completeness. To do this it is evidently necessary that its mentality be gradually attuned to the higher harmonies of the Universal.
Nothing may be expressed that has not previously been impressed. Nothing can come out that has not already been put in. Involution always pre­cedes evolution, and evolutionary life did not commence until after involu­tion had been completed. The Universe involved all of itself into each and every atom of itself, leaving it to the evolutionary elements of time and space to evolve them into complete fulfillment of its purpose.
Upon life's most primary form was conferred the most limited poten­tiality of universal expression. With increased complexity of form came a proportionately greater possibility of expression. With the advent of the hu­man form came a potentiality that seems to admit of almost infinite expan­sion. The human instruments of mind and body apparently permit of unli­mited realization of the Universal.
The body requires experience, the intellect knowledge, the emotions feeling, and the mind understanding, that they may mentally express and physically manifest more and more of the complete freedom which is of the essence of the Universal.
What is the means of growth of the primary forms of life? What enables them to become more complex? Getting in touch with more and more of that which is outside of their own forms: by experience. Why does the in­tellect develop with the complexity of the physical form? Because of its in­crease of knowledge through thinking on its widened scope of experiences. Why does the Soul unfold more and more in the mind of man? Because of its deeper understanding of the meaning and significance of Life, through the wisdom distilled from its knowledge.
The Soul, operating through its mind and body, must go out on the plane of manifestation and there find more of the Universal. To the degree that this is really absorbed or appropriated is it recognized by the Universal, the God Within; until life in form becomes cognizant of Life itself, the indi­vidual realizes the Universal, and man becomes divine. At present man's mental consciousness of freedom is only partial, and to the extent that it is lacking in completeness has he the sense of limitation and slavery, with their attendant discords, inharmonies, and lack of ease.
The savage or wild man is the most healthy, and has the minimum of disease; and he is least conscious of restraint or bondage. Disease increases with the extension of the sense of restriction, and as the most highly civilized man of the present day is also the most constrained by convention, limited by tradition, and bound by precedent, it is not surprising that he is most lacking in ease. The natural life is the life of freedom, while the artificial life is one of slavery. Wild animals are healthy; tamed animals are diseased; man is an an­imal!
The Soul is seeking freedom and self-determination, but its thought binds and enslaves it at every turn in its holding to conceptions that have been handed down through the ages. As one divests himself of these enslav­ing conceptions, and reaches a fuller consciousness of freedom, more health is expressed; and with full realization of freedom, and therefore of power, complete health would be attained. It is for this purpose that humanity now seeks to free itself from the chains with which it has long since bound itself.
When one pursues an occupation in which he is interested he possesses a sense of freedom and power and has health. The great tragedy of humanity is that few people find congenial employment; and their sense of limitation and restriction manifests itself in bodily disease and social disorder.
The great social problem of the day is to bring about the consciousness of freedom to the mass of humanity through affording it physical activities that carry with them the sense of freedom and power.
To the extent that expression is life, repression is death. By use life gains in power, which is destroyed either by misuse or disuse. Use accom­panies the sense of power and freedom, misuse that of weakness, and disuse that of slavery. Misuse and disuse are the results of the acceptance of either compulsory limitation from without (through law, custom, or habit) or by vo­luntary restraint from within (by reason of tradition, convention, or precedent); and both are prolific causes of disease.
Mankind is still dominated by primary conceptions that date from ages long past. Its religious injunctions, its repressive statute laws, its teachings, and its general beliefs, are expressed almost entirely in negations. The human race is still basing its conceptions of life on what it should not do, with prac­tically no knowledge of what is best for it to do. Its vision is continually turned toward the darkness of negations, so that it can see but dimly the great light of affirmative truth.
That which man thinks and feels and desires to express, but which he represses because of prohibition from without or inhibition from within, reg­isters itself upon his physical from in terms of discord and inharmony corres­ponding with his consciousness of limitation or slavery. This is a fact that the science of psycho-analysis reveals to an astonishing degree. When the sense of limitation is removed the inharmony disappears.
A negative command has no vitality. No one may live negatively; no one can accomplish anything by not doing something else. A negative com­mand expresses but comparatively little wisdom, and anyone can advise what not to do. No responsibility attends on such a command. "Do nothing" is an easy counsel to give, and its capacity of guidance is of a very limited charac­ter. Life compels activity and expression, and if man is not guided affirma­tively he will learn only through a degree of unpleasant experience that would otherwise be quite unnecessary.
In the journey that Life makes clothed in the forms of existence it is es­sential that it include all that it contacts. Life itself is inclusive, and it de­mands for its mentality completeness of understanding and realization. As it must have this eventually, whatever it rejects on one step of its climb must thereafter be accepted at that or some higher elevation. That which has been excluded may perhaps be transformed in its physical aspect before it is finally included; but the mentality must include the wisdom that is of its essence, and, therefore, in some form must contact that from which this wisdom may be extracted.
No one has graduated from an experience until he has extracted from it the wisdom that is of its essence. No one has extracted that wisdom fully who still feels any bitterness concerning it. No relationship has terminated entirely until the sense of harmony covers its exit. One's environment will not expand farther while he is still unequal to its present area. It is as one includes what he has previously excluded that he overcomes his existing sense of limitation, and expands farther toward the Universal.
When one realizes the power of his own thought he is obliged to con­cede power to racial thought or to the habitual thought of others. Anyone who presumes to think differently from the general average of the community not only meets with adverse invisible influence, but also with many visible ex­pressions of disapproval. It is of the nature of racial thought to bring every­thing to its own level; and individual thought has this weight to carry in as­cending to the higher realms.
The world thought now concedes to some considerable degree that mental or spiritual healing is a fact, with the result that the use of thought for therapeutic purposes meets with only partial resistance from that source. This leaves the individual thought largely unimpaired by the general thought cur­rent of the race. But fewer people accept the fact that poverty is a disease, and therefore there is greater general resistance to this truth than to the use of thought force for therapeutic purposes. As the use of individual thought for this purpose meets with greater general resistance, it is therefore less effec­tive.
Old age is a settled conviction with the race, and it very grudgingly ac­cepts any thought that this may be overcome. The belief that it may be alle­viated is coming somewhat into vogue, and it is gradually dawning upon the human mind that faces with wrinkled lines may be the outward showing of dying thoughts that have been retained long after all their youthfulness has departed. Holding tight to the dying thoughts and dead conceptions of life, healthy and vital thoughts are denied admission; and nature is ever suggesting oblivion to that which has decayed and become useless.
In the race mind, the possibility of overcoming death is an utter absur­dity. One who openly proclaims this for himself almost surely defeats his own purpose and renders it a practical impossibility; for he thereby precipi­tates upon himself the practically unanimous ridicule and hatred of racial thought. One may accept the idea of a slight extension of the usual span of life as possible, or even probable; one may push off "old age" perhaps for decades; but to live forever! Perhaps it is an absurdity to proclaim the possibility of eternal life here, when few are able even to have health, harmo­ny, or happiness at the present moment.
The race is now gradually accepting the previously rejected conception of mental or spiritual healing; and in due course of time, first the individual and then the race will advance toward the acceptance of the greater concep­tions that a fuller understanding of Life will force upon them and experience will necessitate and confirm. With the expression and dissemination of the Truth will come its more general acceptance, and the more resistance it has overcome the quicker will it be grasped by humanity in general. The law of the individual and of the race is the same: the individual includes the past ex­perience of the race, together with the aspirations which, after being given living expression, will guide the future of the race.
Love is the ultimate law of Life: the consciousness of harmony through affirmative, positive, and constructive thoughts. The higher ideal does not de­stroy or reject the lower, but appropriates and includes it. It disposes of a negative, not by denying it, but by expression of the more inclusive affirma­tive. It is neither necessary nor advisable to prohibit prohibition or inhibit inhibition. Simply install the new in place of the old, the constructive in place of the destructive, the affirmative in place of the negative, and the greater good in the place of the lesser good. The darkness of the lesser will fade away in the light of the greater.
Before beginning, and without an end,
As space eternal and as surety sure,
Is fixed a Power divine which moves to good,
Only its laws endure.
—Light of Asia.
VOLUNTARY SELF-DISCIPLINE
It is so with dreams, and with men that dream--
None ever knows what there is in store
Till he follows the path of the luring gleam,
Or whether it leads to peace or war;
For without the dream there is never a deed
That is worth the hour it costs to do--
And the man with the vision is this day's need--
For men may be false, but the dream is true!
—Baltimore Sun.
THE lower forms of life are automatic in their responses to environment. They exercise no choice, and have no individuality. Each unit is identical with every other, and the instinct of self-preservation impels an automatic ac­ceptance of the pleasurable and a subconscious rejection of the painful. In the most primary forms of life pleasure and happiness are identical, and all else is to be avoided.
In his responses to sense impressions primitive man is closely allied to the animals. He reacts automatically, seeking pleasure always, and ever avoiding pain. He is willing to risk pain only in his pursuit of a more than compensating pleasure, and it is only in his futile search for pleasure that he at first learns the lessons of life.
In the average life, pleasure and sleep are somewhat analogous. While they last they permit one to float along in the stream of life with the least amount of conscious or intelligent effort. They are conservative of previously acquired knowledge, but keep one immune to a deeper understanding.
The automatic subconscious rejection of all that is painful impels one to live with the least conscious exertion. These reactions are related to the past rather than the future. They denote the recurrent suggestions of previously acquired mental habits. It is only to the degree that conscious thought inter­feres with such habits that man grows, develops, and unfolds.
It is man's contact with environment in his pursuit of pleasure that brings to him suggestions of pain and suffering; and his efforts to avoid these leads him to the acquisition of greater knowledge than he can derive from pleasure alone. It is human nature to accept pleasure without question, but pain always invites investigation in one's desire to end it, or avoid its repeti­tion.
At first man seeks to avoid pain in the belief that it is in the nature of an unnecessary or unwarranted punishment, probably inflicted by some malevo­lent force, and something that stands in the way of his orderly progress and development. He discerns in it no possible advantage, and is concerned only with escaping from it.
With a deeper understanding he recognizes that pain and suffering are necessary incidents of growth and development, that they are not punishment inflicted by a malevolent outside power, but are rather rewards—or kindly hints, tests, warnings, or guides. While no less anxious to avoid pain and suffering, he realizes that their causes must be removed, rather than that they be acted on directly.
Man is moved to self-discipline by the reactions of thoughts and acts of his that are out of harmony with universal law. If he runs counter to the life- currents of health, happiness, or prosperity, he is disciplined by the results of the causes he has thereby set in motion. If he fails to observe physical or mental laws, there will be reactions that will discipline him, or cause him pain and suffering that will at least suggest to him that he must regulate his life differently.
In order to overcome the effects of his non-observance of the laws that govern life, one will deprive himself of something that he regards as confer­ring pleasure, he will forgo some physical gratification, or he will purposely do that which is unpleasant or distasteful to him. He will fast, or take medi­cine, or deprive himself of smoking, or absent himself from other accustomed physical or mental delights. He will purposely seek that which is painful in order to alleviate or overcome a previously acquired pain.
On the animal plane one does not seek mental or physical pain except for the purpose of meeting that which is already painful, or substituting a lesser pain for a greater one. One may voluntarily forgo a gratification when convinced that it will result in suffering that is more intense than the tempo­rary pleasure it will afford. Taking the cause and result into consideration, he realizes that altogether no pleasure will be secured.
In time, however, it becomes evident that discipline, in itself, has its beneficial use and purpose, and that it is well for one to do many things not pleasurable in themselves. Not only may one counteract or overcome greater pains, but he may thereby lay the foundation for pleasures of a character that are permanent, and which constitute the essentials of happiness.
The elements of happiness are those traits of character that afford an abiding gratification, irrespective of immediate pleasure or pain. They tran­scend temporary sensations, and are independent of present feelings. These elements are cultivated through the agency of pain and suffering, and the dis­cipline resulting from the necessary purposeful rejection of pleasure or accep­tance of pain.
After one has come to realize the beneficent purpose of the discipline resorted to in order to alleviate pain and suffering, it begins to dawn upon him that perhaps he may secure the advantages of discipline without waiting for it to be imposed upon him by undesirable circumstances. Is it necessary to wait until pain and suffering impel or practically compel discipline before one may secure its advantages?
A little voluntary self-discipline for its own sake soon convinces one that its practice will serve to avoid many of the pains and sufferings that for­merly compelled unwilling self-discipline. It will have become a preventive rather than a cure. It may not be entirely a physical pleasure, but the spiritual recompense makes amends for any physical deprivation.
One may discipline himself either by voluntarily forgoing some physi­cal or mental pleasure, or by accepting some physical or mental pain. Through this method he will gain greater conscious control of his emotions and feelings, a more definite direction of his thoughts, and a more effective regulation of his physical activities. It will give him a fuller consciousness of his ability to shape his life according to his own desires, and a deeper realiza­tion of his inherent divinity.
Wisdom seems to consist largely in an understanding of one's ability to do consciously, purposely, and beneficially, exactly that which universal law impels him to do under adverse conditions, and to which he responds grud­gingly, unwillingly, and in the belief that he is being forced to do, by what is an intentional punishment or deprivation. All of God's laws tend finally to convince man that, whatever in his ignorance he may look upon as essentially evil, in his wisdom he realizes to be fundamentally good.
Wisdom, therefore, consists in conscious harmony with universal law rather than in opposition to it; in recognizing the essential good in seeming evil; in loving obedience rather than hateful resistance; in the recognition that at the heart or root of every activity there is an all-inclusive love. With this realization self-discipline is no longer regarded as a deprivation or a hardship, but as an avenue to a deeper wisdom and a greater happiness. Spiritual reali­zation more than compensates for physical privation, and soul happiness do­minates physical pain; while voluntary self-discipline has become an instru­ment to elevate one to the higher realms of spiritual attainment.
THE SPIRITUAL LIFE
Great truths are dearly bought. The common truth,
Such as men give and take from day to day.
Comes in the common walk of easy life,
Blown by the careless wind, across our way.
Great truths are greatly won, not found by chance,
Nor wafted on the breath of summer dream;
But grasped in the great struggle of the soul.
Hard buffeting with adverse wind and stream.
—H. BONAR.
THE life that functions in spiritual realization is the life of love, which is the conscious recognition of mutuality, harmony, correspondence, unity.
This is a universe of love; and God or Good pervades all space, all time, and all life. The universe is permeated with a kindly motive, and all the principles of nature or of God are inherently beneficent. All experiences and environments are the manifestations of love. There is no principle of evil; and there are no dual principles. There is no deity separated from or outside of the Universe, and no distant space reserved as a future heaven. Heaven and hell are conditions of mind, and each of us makes his own heaven and hell, here and now.
There is but One Life, inseparable and indivisible. Ignoring the body, deprecating the material, or mutilating the physical, is a denial of God and a defamation of the spirit. And whoever is "living in the clouds," and neglect­ing his physical life and the needs of his material existence, is frittering away his spiritual opportunities.
All that is is spiritual; and all that exists is the manifestation of the spi­ritual. All is spirit, visible or invisible; all is God, manifest or unmanifest. To deny either the invisible or the visible is to deny both; to immolate the one is to immolate both; to defame the part defames The Whole.
Being and manifestation are one. There are not two separate lives, one the spiritual, and the other the physical. There is but One Life; and while that life is fundamentally spiritual, it is also primarily material. The One Life is both manifest and unmanifest, visible and invisible, tangible and intangible, material and immaterial, physical and spiritual. To deny, ignore, or degrade the manifestation of life is to deny, ignore, or degrade all life.
One of the necessities of the spiritual life is prayer. Not the service of forms. Not the observances of a special hour and place. Not necessarily the prayer of words, but the prayer of thought and act. A life of unceasing prayer! Not offerings to an imaginary Being whom one cannot possibly assist, but to one's fellow-beings who are in need of his ministrations. The spiritual life re­cognizes the eternal present, and the necessity of living the life here and now.
The spiritual life voices a religion of love and of humanity. Now is the time to live the spiritual life, and here the place to live it. There will never be a greater opportunity than is afforded now for a life of love or a manifestation of the spiritual life. Man's duty is to man; his highest duty is to the self. The individualized self is an inseparable portion of the Universal Self that consti­tutes God, Infinite Spirit, the Universe. To degrade the self—the soul, unma­nifest or manifest—is to degrade God.
The spiritual life is the life of principle, the life that takes as its guide that which is eternal and unchanging. It manifests a consistency of thought and act, a comprehension of the grandeur of the Self, and an understanding of its inherent godhood. The spiritual life reflects the knowledge that every dis­regard of principle inevitably provokes discord and inharmony, and that en­during happiness may be attained only through the observance of principle.
The spiritual life, above all, means a life of integrity. It means the ful­fillment of obligations, the payment of just debts, the faithful discharge of all duties. Forms and observances bear no direct or even necessary relation to the spiritual life. Motives and actions alone constitute its vitality.
The one who cheats, who steals, who lies, or who hates, does not live the spiritual life. Nor does one who lacks in honesty, in fair dealing, in tolera­tion, in love, in integrity. He may be a church member of the highest stand­ing, his intense respectability may be beyond dispute, and his reputation may be the highest, but he is not living a spiritual life.
The spiritual life involves a vital recognition of the principles of equit­able exchange—that one receives as he gives, and reaps what he sows. Such a consciousness demands and compels full payment of whatever is received. To live the spiritual life involves a gladness and a joyfulness in paying one's debts and fulfilling one's obligations.
If one is unwilling to discharge his just debts, to give full return for what he receives, to pay the price of what he has bargained for—if he is not disposed to transfer that which he has expressly or implicitly agreed to ex­change for what he receives—is it likely that he will willingly give to others what is more important, more valuable, more beneficial? If he will not pay in material wealth, will he render compensation in the spiritual wealth that is far more valuable?
Is it possible to do this? Does he not close himself to the consciousness of the spirit when he degrades himself on the material plane? Can he lead a life of beauty in the realm of cause while he manifests a life of ugliness in the realm of effect? Is it possible to lead a life of spiritual integrity while violat­ing the principles of material integrity? Are there two contrasting sets of principles?
The spiritual life requires no outward authority. The soul is its own au­thority. It links itself to no special observances; it requires no church or or­ganization; it demands no holy book or sacred scripture. All these have their use, and they all have their place as the agents of growth and development. And all of these instruments are possessed of beauty and value as one dis­cerns in them their spiritual significance, and discovers beneath the form and the word the underlying essentials.
The life of principle, the life of equitable exchange, the life that gladly gives it full measure of return, is possible to all. The life of integrity of thought and action is at the command of each. No great learning is necessary, no highly developed intellectual faculties. No; the higher the truths the more simple they are, and the easier are they to follow after one has vitally ab­sorbed their significance. It is the confused or ignorant who are mysterious, and it is lack of wisdom or knowledge that is reflected in clouded and ob­scured expression of the truth.
It is not always sufficient to "love your neighbor as yourself." That is not a complete statement of the requirement. When one degrades the self— when one degrades either the spiritual or the physical from its high estate— and then "loves his neighbor as himself," he is simply hating his neighbor as he hates the self. One must elevate and glorify the self, and then only may he elevate and glorify his neighbor. One cannot raise others except as he raises the self.
The man who lives the spiritual life is a man of character. He holds his head erect in his godhood, whatever others may say or do. He recognizes love only in what has the appearance of abuse or calumny. He is unmoved by the anger or passion of others. He recognizes God and love in all life and all of life's manifestations. He pays his debts, whether they are spiritual, moral, mental, physical, financial, or otherwise. He cheerfully gives full compensa­tion for what he receives. He faces the world fearlessly. Discharging his obli­gations as he progresses, he is nowise in arrears. He senses the spiritual and the material as one, and infuses into the physical a consciousness of the spirit that inherently pervades it.
Such a one is living a life of integrity to high ideals. And this is the spi­ritual life.
---
---
---
Man The Master - Eugene Del Mar

---
---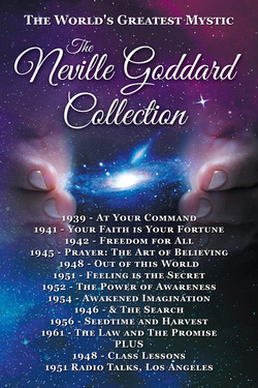 The Neville Goddard Collection - Awakened Imagination and the Search, Freedom For All, At Your Command, Feeling is The Secret, The Law and the Promise, Prayer, The Art of Believing, Your Faith is Your Fortune
---