---
Man The Master - Eugene Del Mar
---
---
---
MAN THE MASTER
BY
EUGENE DEL MAR
Copyright, 1920 by Eugene Del Mar
THE COMING RACE
INVOLUTION AND EVOLUTION
What is all science, then,
But pure religion, seeking everywhere
The true commandments, and through many forms
The eternal power that binds all worlds in one?
It is man's age-long struggle to draw near
His Maker, learn His thoughts, discern His law--
A boundless task, in whose infinitude,
As in the unfolding light and law of love,
Abides our hope, and our eternal joy.
—ALFRED NOYES: Watchers of the Skies.
A CONCEPTION of that which is relative involves the assumption of an Absolute; back of that which is temporary must be an abiding perma­nence. Appearance is something that must be explained. It cannot be unders­tood merely by denying it. One may deny that it is other than appearance, but the denial that a horse is a cow sheds no light of knowledge upon either.
There is that which is invisible, and also that which is visible; this merely signifying that one may vision some things and not others. But many things that were long regarded as invisible have since become visible by means of the telescope, microscope, X-rays, etc. In fact, much of that which is visible to man must be quite invisible to most other forms of life; and, pos­sibly, vice versa.
Everything that is now visible must at some time have come from the invisible; and as the visible world has, in course of time, brought from the in­visible forms of successively increasing beauty and usefulness, it is a justifia­ble assumption that the invisible realms are far more extensive than the visi­ble, and that they may be relied upon to meet all possible demands of a de­veloping human imagination and realization.
In other words, the invisible is the inexhaustible realm of the Infinite, awaiting translation of its content as called upon by the creative power of human thought; creation involving no more than the translation of the invisi­ble into visibility.
Being, Infinite Life, Infinite Mind, constitutes all there is. Seeking ex­pression, it idealizes or realizes, and a mental image is created. In turn this image is translated into a physical counterpart. In this manner Infinite Life has individualized itself, and forms are created through which Being may find expression to the degree that the constitution of each form will permit.
By the lowering of some of its vibratory activities the Infinite created the seeming differences whereby we distinguished the spiritual from the men­tal, and this from the physical; but Spirit all, only of different rates of motion. However, so radical are the differences in activity between the spiritual, men­tal, and physical, that all three occupy the same space at the same time, the finer elements interpenetrating the coarser to the fullest extent that the latter will permit.
In individualizing itself, the Infinite provided that each individual as­pect should be Infinite in its privileges, and its ability to be immune from that which it was unwilling to accept; the spiritual might not invade the mental, or the mental take possession of the physical, without desire or consent, ex­pressed or implied.
As the physical forms of life sought to afford increasing expression of the mental, they outgrew their primary simplicity; and by division, addition, subtraction, and multiplication, grew more and more complicated, and of in­creasing diversity in appearance and function. As each new factor was added, this differentiation was increased in geometrical rate, so that in the course of time the Infinite Life has acquired what would seem to be an infinite variety of forms for use and expression.
With unfailing patience, persistence, and ingenuity, new faculties and functions have made their appearance in the multitudinous forms of life on this planet; and Infinite Life has developed ever-increasing types of con­sciousness. With the advent of the human form came self-consciousness of its own powers and privileges, and finally self-realization of its oneness and identity with Infinite Life itself.
This is the process whereby it is suggested that the Infinite involved in­to human form, that it might thereby express itself, conferring upon each as­pect of itself the ultimate power and privilege of realizing its complete identi­ty with the Infinite itself. Each soul might reach the understanding that it in­cluded all of the qualities and attributes of Universal Spirit, as each drop of the ocean contains within itself all that the ocean may comprehend.
It is God, Universal Spirit, Infinite Life, that was involved or turned in­to mental and physical realms for purposes of its own; and it is God, Univer­sal Spirit, Infinite Life, that is being evolved through the process we call evo­lution. The forms are temporary, but the life is permanent; the forms are God's instruments, and God is making use of them; and the forms are ever progressive and responsive to the never-changing divinity that animates them.
Principle is ever affirmative and constructive; its process is that of addi­tion; it always gives the greater in taking away the lesser; its object is growth, and the tendency of life's forms is ever toward greater variety and complexi­ty. This tendency carries with it a greater command over a more extensive environment, and it confers a constantly increasing ability to realize a more extensive harmony or happiness in existence.
This process of evolution has been recognized for thousands of years; it lies at the root of the ancient religions of the East; it was accepted by the classical writers of antiquity and also by modern scientists long before Charles Darwin brought a new light to the modern world by his discovery of the marvelous and curious methods whereby Infinite Life had guided itself through the intricate mazes of form.
An understanding of the real meaning and significance of evolution ne­cessitates its ready acceptance by the reasoning and impartial mind, It is only necessary to conceive of it clearly to accept it unhesitatingly. It does not con­cern itself either with origin or destiny, but is the conception of a continuous progressive change according to certain laws and by means of forces resident in life itself. It is a law of continuity, a causal relation throughout nature, the general tendency of which is always onward and upward.
As a matter of fact, no other method of growth is known. As a law of continuity, evolution is not only thoroughly established, but it is a necessary truth, like the axioms of geometry, and far more certain even than the law of gravitation. To Darwin must be accorded the honor of having given the first scientific presentation of facts that demonstrated clearly to the modern world the truth of the ancient doctrine of evolution.
Evolution is an established truth, and does not—cannot!—conflict with any other truth. Some of the inferences and deductions made by Darwin have received interpretations other than those given by him; but the fact of evolu­tion in every line of thought and activity is now so apparent and so conclu­sively established that there seems no possible escape from its continued gen­eral acceptance.
To Darwin should be given the credit of being the greatest spiritual teacher of his age! He opened the eyes of the world to the infinite grandeur of God, to a final revelation of the unity of the world, to one magnificent gene­ralization that comprehended and explained everything by one great end—a spectacle so splendid and a plot so intricate and yet so transcendently simple as to be almost beyond the imagination of man.
Truth has no fear of error; it is error that ever trembles in the face of truth! And in the new searchlight of evolution religion took on another aspect in the minds of man. Man was awakened from his spiritual sleep, and it was but a few years after the appearance of Darwin's Origin of Species that the Western world began to awaken from its spiritual lethargy of the centuries, and to pour new vitality into the dogmas and creeds that had long bound hu­manity in their grasp.
The spirit of violent protest with which the new light was met led to a short intermediate period of contest and opposition, before new constructive religious interpretations began to infiltrate into human consciousness; and on the intelligent and substantial foundation of evolution was established the constructive spiritual conceptions of today, interpretations of Christianity suitable and satisfactory to an intelligent and reasoning humanity.
God has neither ascended nor descended; but the Infinite is revealed in­creasingly as the progressive changes of forms permit of its evolution. Nor has Man, the Soul, individualized God, either ascended or descended. But man's form, the habitation of the Soul, has ascended as it offered to the Soul increasingly greater comfort and opportunity to express itself in ever- enhanced beauty and power.
The present physical form of man preserves numerous and practically conclusive evidences of the many stages of development through which it has passed in its journey through the ages; it demonstrates that physical man is now inclusive of all of its previous forms, faculties, and functions; and in the light of his most ancient lineage, and the truth of evolution, there opens up before him the prospect of a future as transcendently glorious compared to his present status as that is in contrast with its comparative ancient simplicity and poverty.
Man ascends to God only as God expresses through him; and man be­comes spiritual as the Universal Spirit is manifested in his thoughts and activ­ities. And God will continue to evolve through man until man, 'in His image and likeness,' shall assume a beauty of form and character, a simplicity of truth and bearing, and a depth of understanding and wisdom, that now seems possible only to the Infinite.
THE PURPOSE AND PROCESS OF LIFE
"I know not how my work may seem to others"--
So wrote our mightiest mind—"but to myself
I seem a child that, wandering all day long
Upon the sea-shore, gathers here a shell,
And there a pebble, colored by the wave,
While the great ocean of truth, from sky to sky,
Stretches before him, boundless, unexplored."
—NEWTON, in ALFRED NOYES' Watcher of the Skies.
IT is a transparent fact that the Universe is animated by, or constitutes, an Infinite Intelligence. The Universe is ever consistent and logical, and its purpose may be assumed from the result of its activities. That is how human purpose is predicated, and one is justified in assuming that the infinite pur­pose may be revealed in the same manner.
Life presses itself out through its mental and physical instruments; it incarnates or clothes itself in mind and flesh. As life so expresses itself, it broadens its mental receptivity to more of life, and its physical form is enabled to contact more and more of environment. It is through these conti­nual actions and reactions that life's agencies of expression reach an increas­ing conscious recognition of life itself.
Physical forms change progressively as they accommodate themselves to a wider environment, this orderly development being recognized as evolu­tion. There is inherent in life that which compels its expressions to follow a logical and consistent process of development from within, by way of reac­tion to impulses from without, these being the result of inevitable contact with environment.
The process of development is logical and consistent by virtue of the fundamental principle of Oneness or Unity, whereby the invisible and the vis­ible are ever in correspondence, cause and result are allied and identical, and action and reaction are always in exact equilibrium. When applied to human existence, this Principle of Unity is designated the law of karma.
Life involves and incarnates itself in form, which develops through evolution. This denotes the process whereby life, which was previously in­volved into form, is gradually evolved or turned out through a series of phys­ical forms of increasing complexity. The progressively developed character
of these forms is directed and controlled by the principle of cause and effect, or The Law.
The infinite purpose of life would seem to be continuous physical growth, accomplished through mental development, or the pressing out of the life through its mentality into objectivity. From the human point of view the evident purpose of life is conscious harmony or happiness, and the infinite purpose may be translated similarly.
As evolution progresses, and physical forms contact a more inclusive environment, they come into relation with a wider range of vibrations; they give out and receive in great volume, they become conscious of finer and greater harmonies; and the size of their cup of happiness increases according­ly. Growth is through expression, and expression promotes harmony and happiness; so that the human purpose of happiness is the finite translation of the infinite purpose of growth.
Physical forms emerge into visibility; pass through stages of immaturi­ty, maturity, and decay; and then return to the invisible. They are forever subject to the law of change; and their maximum of expression is preceded by birth and followed by death, each with its minimum of expression. Until the advent of the human form, life was quite arbitrary in its limitations and auto­matic in its requirements. Life has not yet entirely surrendered its self direction, but has conferred it upon man to the extent that the latter is pre­pared to use it.
Life seems very simple in its general outlines—a vast reservoir of per­fection, infinitely serene in its complete realization of itself, seeking to awa­ken within each atom of itself the same complete realization, and impelling each drop of the ocean of life to encompass the whole ocean. For this purpose it slows down some of its invisible vibrations to the point of visibility and then induces them to vision the ideals of the invisible just as—for a sort of analogy—all the past history of man is registered in him before his birth, and all of the history of civilization is exemplified in man's growth from birth to maturity.
In its eagerness to serve the infinite purpose, life is ever seeking to in­fuse itself into the mind of man, that he may realize the vastness of the power at his command; while man, doubting ever, is loath to believe that there is such a power, and skeptical as to his ability to use it if it does exist. Man is ever fearful of letting go of the inferior, and thereby refuses acceptance of the superior.
Life offers itself to man in ever-increasing quantity and quality, for use in expanding his mind and increasing the quality of his thought; while, at the same time, the visible world calls to man to liberate this power in construc­tive activities. But man is disposed to be inert; bound by precedent, con­strained by tradition, and enslaved by habit. The one who accepts life's offer with faith and courage avoids all of these restraints and finds freedom.
At all times environment is seeking to afford man more and more op­portunities of finding himself through the exercises and tests that it brings to him. When he fails to understand its purpose, it puts on another aspect, as though to say: "Well, if you could not penetrate my other disguise, how about this one?" Intelligent, and not to be outdone by physical man, environment even has its own evolutionary process, so that it may keep pace with the progress of man himself! And yet man insistently and persistently rejects the advances of environment as inimical and dangerous, and makes an enemy of his best friend!
This is a cosmos we live in, not a chaos; an infinite harmony, not an in­fernal discord. Not only do "all things work together for good," but they are all good. An infinite harmony knows nothing of discord; an Universal Good has no knowledge of evil. Involution, incarnation, evolution, and karma are processes whereby the Universal Good is directing its infinite qualities into finite channels, and conferring upon the exclusive human drop the inclusive consciousness of the ocean of life in which it lives.
The conception is even more wondrous; for all of this is worked out through the agency of an enabling principle that never makes a mistake, but is always exact with a precision that is quite beyond comprehension. This is The Law, or the principle of cause and effect, or cause and result. It never tires, fails, or gives a preference; but, on the contrary, is always fair, just, im­personal, and impartial. It is the working partner of the principle of attraction, with which it collaborates in intimate association.
Even all of these wonderful arrangements would be useless to man were it not that he has been endowed with the power to direct the workings of the universal machinery. Man knows only that of which he is conscious, and it was necessary that he relate himself consciously with the universal activi­ties. That power was given to man when there was conferred upon him the ability to think, for it is thought that translates the universal unconscious per­fection into human consciousness.
The law, the principle of cause and effect, the principle of attraction, and all minor principles, are ever and always affirmative and constructive; and when man's thought works with principle, his life manifests in affirma­tive and constructive terms and conditions. The negative and destructive atti­tudes of mind are not working with principle, but with the temporary aspect of appearance, which is ever a delusion or illusion to the unprincipled attitude of mind. Not that appearance is in itself a delusion or illusion; but it deceives the unwary and misleads the ignorant. And yet good is of its essence and pur­pose!
If adverse appearance were for the fell purpose of defeating man, and the power of the Universal were behind it, defeat would be assured. If it were the instrument of hate, and the Infinite were guiding the instrument, man would certainly be overcome. But it is nothing of the sort. There is nothing adverse in appearance itself; the only adverse factor is the thought that gives one that attitude of mind. One does not know what appearance is except as he pictures it; and it is only as he mentally relates it adversely to himself that it takes on that appearance.
In the light of principle, appearance is never adverse, but always bears a friendly aspect. It reacts to one's action; it mirrors one's own conception. It comes to test and exercise one's mental and physical make-up, to confirm his strength, and to reveal his weakness, that he may exert his physical power and improve his mental discernment. Appearance serves to mask and conceal from the ignorant that which it unmasks and reveals to the wise; and the wise are those who discern its correspondence with constructive principle.
There is no escape from any of these universal activities, nor would it be advisable to attempt to evade or ignore them. They are all the servants of man, and responsive to him to the minutest detail. They are the gifts of God, whereby the Infinite has placed its powers at the disposition of man; and if they do not react to his liking, it is because of his own actions being in corres­pondence with, and the cause of, that which he dislikes. Change the cause, think constructively, follow principle rather than appearance, and doubt will be replaced by faith and fear by courage.
While the conscious activities of the mind have the power of direction, life has provided that in default of such leadership the subconscious faculties shall control. One may direct consciously as much or as little as he pleases; he may guide himself or be guided. If he does not direct himself consciously, and thereby control his subconscious functions, these will follow the direc­tion of some other influence, which may perhaps be unfriendly and injurious.
The conscious activities of the mind have not only the power of direc­tion, but that is their function and duty. The subconscious is a reservoir of sensations, memories, habits, and emotions; and it can readily be understood that such a menagerie demands the constant supervision of a courageous and determined master if it is to operate in harmonious accord. If left to their own varied impulses, or to the uncertain restraining influence of a strange keeper, an outbreak might very reasonably be expected.
Without the magnetic influence of the conscious mind, with its silent thought and spoken word, these subconscious sensations, memories, habits, and emotions might constitute a sort of mob consciousness, irresponsive to any suggestions of law and order. But when conscious thought concentrates itself on the subconscious menagerie the animals become tame, and act to­gether with every appearance of being a permanently happy family.
When one has kept conscious control over his subconscious menagerie long enough to have domesticated its members so that they have no further disposition toward discord or inharmony, his conscious direction having been actuated by the affirmative and constructive qualities of principle, then his conscious and subconscious faculties enter into a co-operative working agreement, and he may safely trust to their continued harmonious accord.
A well-constructed mechanism is peculiarly sensitive and responsive to intelligent control. Its operating tendencies are so carefully balanced that but slight effort is required to start great forces into activity. Simply pulling a lever or touching a button releases great energies for constructive purposes. Such a machine is the Universe, teeming with energy that but awaits the command of the conscious mind, and ready to be harnessed and directed along creative lines.
So wondrous a machine as the Universe requires considerable wisdom for its successful, conscious manipulation. This demands an understanding of the simplicity of its working principles, a practical knowledge of its activities, an attitude of mind in accord with such understanding and knowledge, a faith that does not permit appearance to discourage it, and a love that carries with it a consciousness of harmonious accord. To the degree that one consciously possesses and uses these qualities may he with purpose direct the universal machinery to minister to his individual happiness.
INDIVIDUAL CONSCIOUSNESS
If at this moment by the lifting of a finger
I could create an universe
I would consider such a transaction absurd.
The universe as it is satisfies me,
And I find in it not a grain of dust too little or too much.
I am overwhelmed with wonder and admiration at the scheme of things.
Not an atom that is not of infinite value to every other atom!
Not a soul that is not of infinite value to every other soul!
I ask nothing of life—only to be part of it;
Any part so that it be vital,
And so that I stand in true relation to all that is!
—VICTOR E. SOUTHWORTH.
THE vast majority of mankind are immersed in the worm-of-the-dust con­sciousness, regarding themselves as the victims of heredity and environ­ment. With the worm-of-the-dust consciousness in possession, one is con­vinced of his own weakness and impotence. He knows that he is good for nothing except to be a slave of a master, to accept with submission whatever happens to come his way, and to be willing to beg, borrow, or steal in order that he may maintain a mere existence. He enjoys being a miserable creature, and kisses the foot that crushes him.
Of comparatively late years, a new power has come into the world. Millions of people, each of whom was fully conscious of his weakness as a separate strand, came to realize that a million strands, each of which might snap at the slightest tension, could be woven together into a cable that would stand a tremendous strain. And then mass-consciousness came into existence! Labor unions, trade associations, and the like, have since sprung up in every direction, and the despair of vast multitudes has been converted into hope and expectation.
The great body of workers have benefited greatly from their mass con­sciousness. They have secured shorter hours, better pay, safer working condi­tions, and many advantages that previously they had never enjoyed. Their physical conditions have been improved, and time and opportunity gained to their general advantage. The mass consciousness of the employees was a ne­cessary weapon with which to meet the class consciousness of the employers. Mass force was pitted against class force, resulting in a better balance of forces, and a more equitable division of the combined results of "capital and labor."
The labor organizations and mass consciousness admittedly are con­fessions of individual weakness. Each member of the union feels that his safety lies in numbers, and that the strength of the union depends upon the proportion of available labor that it includes. Personally, each member is still a worm-of-the-dust, and he depends upon the power of the mass to change existing laws, circumstances, and environment in his favour. He par­ticipates in the results of this mass power exactly as all others do who are in the union, and because of his identity with it.
When there arises in one's consciousness an understanding of his pow­er—irrespective of mass help or hindrance—to convert obstacles into oppor­tunities, to transform failure into success, to guide and direct his own life, by himself and for himself, he has entered into the individual consciousness, and he is no longer content with dependence upon mob, mass, or class. He has risen out of the sea of mass turbulence into the open air of individual respon­sibility. He has come to realize the power of thought, and he has ceased to be dependent upon the mass, from which he has made his declaration of inde­pendence.
In gathering his forces to a focus he has converted himself into a po­werful magnet, with ability to attract to himself that which he desires. He has entered a higher plane of consciousness, bearing the relation to his former condition somewhat akin to that between human intuition and animal instinct. Now he must think for himself, and in return there comes to him the reward of his own thinking. He has separated himself from the mass. He has allied himself with the higher thought.
He has entered a new realm of consciousness, with which it is neces­sary for him to become acclimated. He breathes a more rarefied atmosphere, and at first he is apt to catch his breath. As yet, he has not changed his mo­tives, his purposes, or his ideals; he has merely taken on a new point of view, to which he is far from being adjusted completely. He notes the great material returns that have been secured by many who had been residing in this realm, and he seeks new methods whereby to satisfy the old desires.
Individual consciousness first interprets itself on the animal plane, sel­fishly. Its first and primary needs are physical and material, and the individu­al invokes the power of thought for these ends. Food, clothing, shelter, or po­sition has been insufficient or unsatisfactory, and his new powers are concen­trated on securing for himself that which formerly he lacked. He is thinking of himself alone, and cares not from whence his supply comes, nor how his appropriation of it may affect others.
He concentrates on what he wishes, and it comes; he visualizes his wants, and they manifest! As yet he is merely using his new-found powers to gratify his own animal appetites. Yes; but how tremendous an advance from his previous admission of personal slavery and subservience. What a trans­formation from the worm of the dust or the mass consciousness! What a splendid position to assume! Yes; and how far more glorious it is to graduate from it! For there are far higher planes of consciousness, and not a few have attained to them.
Thought is the power that moves the world. Thought creates! It does not make something out of nothing; but ever and always old forms are disap­pearing into the unseen, from which new forms are as constantly emerging. Thought makes visible the invisible; it gives form to that which, to the human eye, was previously formless. All energy, all power, all life is invisible; only its manifestations in form may be seen by one's so-called physical senses.
Thought makes the mould into which reality pours and is given form. The thought-mould is invisible, and the substance which fills it is invisible; but quick, presto, change!—and form emerges. Oxygen and hydrogen are in­visible gases; they combine and—lo and behold—water, the elixir of life. Man creates to the extent that he understands the laws of mind, and to the de­gree of his wisdom in manipulating the power of thought.
All known planes of existence are but way-stations to higher realms. The law of existence is eternal progress. Individual consciousness has many aspects, commencing with a personal assertiveness that is in striking contrast to its previous self-depreciation and complete dependence on others. It first uses its new instruments as weapons of offence and defense. But the law of compensation decrees that the higher the plane of living the quicker do re­sults follow causes, and the clearer becomes the relation between action and reaction.
In time it is borne in on the individual that there is something higher and grander than this aspect of individual consciousness, that it does not in­duce harmony and happiness, that it ensures neither health of body nor peace of mind, that it fails to elevate character or satisfy the cravings of the soul.
There comes a tune when this phase of individual consciousness spells failure instead of success, and becomes an effective bar to one's spiritual progress. The material and intellectual have ceased to satisfy, and the vision is directed to that which is real, permanent, and abiding.
And then a glorious transmutation takes place, and one enters the realm of God-consciousness—the realization of the God within. There is no loss in this; there is only gain. The physical and mental powers are enhanced and in­tensified; and one's ability to secure his physical and material desires are vastly increased. One now possesses greater power to acquire what he wants, and secures deeper satisfaction from that which he creates and attracts to himself.
With God-consciousness he has secured a wider vision; he realizes the Fatherhood of God and the Brotherhood of Man; he thinks in terms of inclu- sive-ness instead of separateness; his relations are now with the universal; he uses no weapons of offence or defense; he becomes a partner of the divine; he gives to the universal freely and wisely; and to the full measure and over­flowing the universal reacts harmoniously and abundantly.
Each plane of consciousness is best in its time and place; each answers its purpose of preparation for a higher one. No one may miss any of the steps introductory to the plane he now occupies, from which in turn he must gradu­ate. It is probable that mass consciousness will long remain predominant, but each day individual consciousness is making great numbers of converts. While God-consciousness is reserved for the comparative few, so great are its powers, that the influence of its tens of thousands will be profound through­out the confines of human existence.
One who lives in the individual consciousness is but a fraction of an individual, after all. No man may live by himself or to himself. He may exist that way, and he may die that way; but he cannot live that way. The individu­al consciousness pervades the intellectual realm, and dominates by personal will power. God-consciousness is on the deeper mental plane, and rules by virtue of spiritual power and the Universal Will. Individual consciousness dominates resistance, meets and overcomes its enemies; while God- consciousness harmonizes, and finds only friendly co-operation.
This is the Era of the Brotherhood of Man! This is the Age of the League Idea! The higher thought first represents individual consciousness, and later God-consciousness; and, as these develop, the higher-thought people are coming together more and more closely into centres, associations, alliances, and leagues. The same tendency may be observed of all other pro­gressive lines of thought.
The time has come when the progressive minds in all fields should not only come together within their own particular line of thought or activity, but should take to heart the fact that there is now in progress a great World Movement, the wondrous possibilities of which will become apparent only as each and all of its aspects—religious, economic, scientific, philosophic, so­cial, etc.—are brought together in a luminous and all-embracing League of Humanity.
CONSCIOUS EVOLUTION
This flesh is but the symbol and the shrine
Of an immense and unimagined beauty,
Not mortal but divine.
This flesh is but the visible outshowing
Of a portentous and a mighty thing,
Whereof, each mortal knowing,
Becomes a King!
—ANGELA MORGAN.
THROUGHOUT endless time and space, the universal has expressed itself mentally and manifested physically. Always and ever is the invisible be­ing translated into visibility, and the intangible given material form. There is at the heart of the universe not only an intelligence that keeps it in incessant motion, but a wisdom that impels its creations ever to assume forms, facul­ties, and functions increasingly in accord with the spirit that animates them.
While external change is inevitable and universal, it may be doubted if an entirely new problem is ever presented. Each problem serves but to exem­plify eternal principles, which clothe themselves—as do their human inter­preters—in the fashion of the day. Evolutionary activities curve themselves spirally about central principles, and there may be extracted from the past much that may guide to the solution of any present-day problem.
Nor is this true merely of human history, for fundamental principles lie entwined at the heart of every problem. It was as necessary to growth in the more primary grades of existence as in the human that their higher intelli­gences take the lead in directing their evolutionary tendencies. The develop­ment and expansion of the mineral, vegetable, and animal kingdoms were not haphazard, but according to law as guided by intelligence.
At a time when the mineral kingdom dominated the earth completely, some of its more progressive elements, having aspirations beyond those tolerated by the generally prevailing ideas, established the vegetable kingdom, where versatility and progress were more encouraged and scope given to wider ambitions.
For ages thereafter the extensive resources of this realm sufficed to sa­tisfy more or less completely the ever-expanding desire for expression; but finally some of its denizens became restless, and factions arose that refused flatly to remain rooted to particular spots on the earth's surface. In the course of time they inaugurated the animal kingdom.
With free locomotion and a vast physical world to conquer, the pros­pect that loomed up before the animal consciousness was fascinating in the extreme. The bolder spirits soon took it into their heads to master and control the new realm, and, noting how the mountains dominated by their very size, they puffed themselves into such vast shapes as the mammoths, mastodons and whales. It was plainly evident that they had just enough brains to find for these disturbing factors obscure resting-places where they were not likely to be disturbed.
What next happened might readily have been predicted. Those who ap­preciated best the humour of the situation found the most appropriate places for their grey matter and started it working overtime. The big brutes had bulky frames, monumental supports, and ponderous heads; so the smaller an­imals cultivated lithe figures, rasping extensors, and a climbing disposition that soon enabled them, with a considerable degree of complacency, to look down upon the heavy aristocracy of their day.
Not many years passed, as time was then computed, when a strange disturbance threatened. The conservatives took the position that four supports were necessary to any well-balanced body, while the liberals maintained the stand that two feet should be the mathematical limit. The discussion was tempestuous, and, while many questioned the claims of their liberal friends, the human kingdom was started on its career. In this new realm the animal stood upright, developed his hands, cultivated an opposable thumb, spoke his thoughts, and was inspired by a new vision.
Prior to this stepping-stone in growth and development, the life-force functioning on all these planes of existence, working under compulsory edu­cation laws, determined the succeeding progressive steps to be taken by all organisms. It pushed them on inevitably toward their higher destiny. Those that were left behind contributed to the support of the ones that went forward; and the continued existence of each of the earlier realms remained absolutely essential to the welfare of the later ones. Upon those forms not destined to as­sume greater responsibilities or to meet more intricate problems was con­ferred an instinct that sufficed fully to solve every necessary problem of their continued existence.
Those upon whom the higher destiny was conferred were no longer to be guided by that instinct, which had theretofore guaranteed their racial self­preservation within narrow limits of individual growth. By way of substitu­tion there was offered for appropriation the mental kingdom of conscious rea­son, inductive and deductive, and this opened up a vista of unending individ­ual development. Henceforth man was to be free to determine his own fate, and to be his own master to the extent of his conformity to law.
To man was now given the dominion of the earth, and the powers of the Universe were placed at his disposal. Life had been guided and assisted until it reached the human plane of mental expression and physical manifestation, and now it was to be left to man to direct his own development and complete his growth. Life had passed through its universal infancy, childhood, and adolescence, and reached the age of discretion; henceforth it was to be left to its own resources to make its way in the world, and come into the realization of its divine origin and destiny.
Primitive man was a willing slave to his animal propensities, and these remained his predominant traits. He continued to regard physical force as the universal solvent of his many problems. He idealized this into his God, whom he clothed with attributes inspiring fear and terror, and this conception was made use of to compel the submission of his fellow-men.
Until the present era, the political and religious powers of the day have not permitted man to think for himself. The free use of his reason, that great instrument of human emancipation, has always been denied to him. He has been obliged to accept the mental food that was offered to him.
There has never yet been an "Age of Reason" on earth, and reason has not failed, for racially it has never been employed in its freedom or fullness.
The Great War has broadened the mental vision of the masses of man­kind as never before, and they are thinking deeply. Not that all new thinking is an improvement on the old. Indeed, much of it is superficial, and the prod­uct of ignorance or hatred. But somewhere at the heart of the present whirl­pool of contending thoughts lies the secret of the next great forward step in man's evolutionary development. That secret will be revealed when man is prepared to make practical use of it, and it will offer itself as the willing ser­vant of the race.
Although human reason superseded animal instinct, the latter was merely relegated to inactivity, and the time has now come when these two wondrous faculties are to conjoin on the higher realm of intuition. On this realm, the unerring certainty of instinct is combined with the unlimited expansiveness of reason. But the realm of intuition may not be taken by storm, and its development by the individual follows an evolutionary process. Al­ways one must long be a follower before he may become a leader; he must serve before he may be served.
Many years have passed since man's appearance on earth, but in the in­finite stretches of universal existence time has but slight significance. Man has already made great strides toward the goal that is now seen to be his. He has traveled long and far, but the road ahead is endless. Although man has but little more than commenced his journey his advance guard has already re­legated the physical to the realm of effect. He is demonstrating the truth that all physical forms are but embodiments of mental causes, and that on the mental plane is to be found the origin of all that is manifested physically.
Man now is approaching a still higher realm of understanding, where he will discard the mental in favour of the spiritual as the primary source of power, and he will depend upon his higher intuitive faculties as never before. With this understanding will come a vast increment of power, and a vision of achievement that heretofore he has been unable to accept as within the bounds of possibility. Then it will be revealed to him that his destined role is that of the conscious creator of his existence, which eventually shall be mani­fested on earth in such exalted terms of power and harmony as he has never yet dared to dream of in his wildest hopes or expectations.
THE COMING RACE
Truth is eternal, but her effluence
With endless change is fitted to the hour;
Her mirror is turned forward to reflect
The promise of the future, not the past.
He who would win the name of truly great
Must understand his own age and the next,
And make the present ready to fulfill Its prophecy, and with the future merge,
Gently and peacefully, as wave with wave.
—JAMES RUSSELL LOWELL.
THE problems of individual life are not so difficult of solution as the gen­eral belief would seem to indicate. There are short cuts and easy me­thods. Not that one may secure something for nothing, or that any result may be obtained without good and sufficient cause; but man is not obliged forever to tread the worn-out paths of useless endeavour, or laboriously work out each problem as though it has never before arisen. In an age of electric lights and X-rays, tallow-candle methods may be relegated to oblivion.
The prevailing method of mastering a situation is to meet it on its own plane, to offset it by more force than it presents, to be strenuous in activity and laborious in method. It being assumed that results are proportioned to the physical labor and mental exertion expended, much effort is wasted in fruit­less activities.
While there is ever an exact relation between cause and result, neither the vitality of the physical effort nor the productivity of the mental exertion bears any definite relation to the difficulty that one overcomes, or the amount of force that he exerts. The artisan works more and accomplishes less than does the artist, while the greatest creative works of man have been executed practically without conscious labor or effort.
As long as man regards himself merely as a physical being, and de­pends upon brute strength, he remains an animal, and a rather insignificant one at that. Only when he becomes conscious that he is a mental being does he dominate the animal kingdom and other recognized forms of life. Then his powers of reason and logic, his will, determination, and energy, all combine to make him the master of his environment.
Man stubbornly insists upon being bound by appearance and expe­rience, and consequently he remains profoundly ignorant of his wondrous powers of mind and spirit. Appearance and experience are most useful in gauging the confessed limitations of the past. They serve also as hindrances to the more complete use of the higher powers that have been conferred upon man, but which at present he hardly more than discerns. While conservatism holds fast to the conquests previously made by liberalism, certainly it is not an agent of progress.
Without a mind, man could neither control nor operate his body, which is absolutely without vitality or power of its own. It is an instrument of the mind, whose orders it obeys. While brute force is often resorted to, it has long been recognized as the crudest expression of mental power. The average in­telligence of the world still functions on the plane of the conscious mind, re­garding the physical as the realm of cause, and brute force as its most potent instrument.
At one time man was the sport of the elements, the creature of circums­tances, and the slave of environment. He was a self-acknowledged "worm of the dust." That crude plane of understanding has been passed by the devel­oped man, who has come to recognize the power of thought in the affairs of his life. It is realized generally in the progressive philosophies of the day that it is one's thought—with his attendant attitude of mind—that determines his physical and material environment, attracts what comes to him, and keeps away that which it repels.
The results of man's substitution of a mental basis for a physical one, his acceptance that the mind is the realm of physical causation, has been tre­mendous. His understanding of the conscious and subconscious aspects of mind has opened up still another world to him. It is now realized that genius is potential generally, and may be developed intelligently. Many have already made use of the new knowledge, and demonstrated wondrous mastery of the physical body and material environment.
This is but a promise of what man's future is to be. He has yet to come to an intimate knowledge of the super-conscious aspect of mind. He is des­tined to as great a future revelation in his understanding of life as his past in reference to material objects. His increment of wisdom will be as extraordi­nary as has been his advance in thought in working out the wondrous inven­tions of modern days.
Man's substitution of a spiritual basis for a mental one will result in a progress even greater than followed his previous acceptance of a mental ba­sis. Man is a spiritual being, and he may wield spiritual powers, making di­rect use of the energy that thought but indirectly contacts. Spiritual direction releases powers far transcending those to which thought may relate itself.
The greater powers may be exercised only by one who understands their rightful use, and comprehends the results of their misuse. The price of spiritual power is self-control, the result of wise direction of thought power when illumined by spiritual ideals. One could hardly expect to be invested with power until he knew how to control or regulate it for constructive pur­poses, and one may exercise outwardly only that which he already possesses inwardly. Self-control is certainly a small price to pay for spiritual dominion.
The mental realm is one of analysis, differentiation, separation, contest, conflict, and opposition. It is the amphitheatre for attraction and repulsion. To the mental victor belongs the physical spoils, and the victor is one who wields his thought weapons to the greatest advantage.
Wonderful as are the methods of the thought realm, they are crude as compared with those of the spiritual. With the spiritual lever in control one accomplishes with far greater ease, for he operates in harmonious accord with the higher laws, which with the least friction turn the wheels of mental and physical activities. There is an easy way of solving difficult problems; there is a simple method of dissolving the perplexities of appearance! Its basis is spiritual realization.
Fundamentally, life is spiritual. Being expresses itself mentally and manifests physically. Physical existence is a fact, and it must be accepted as a necessity of soul unfoldment. It is the avenue of approach to one's conscious realization of innate divinity. Physical existence consists of a continuous se­ries of experiences; and existence and experience are identical, and equally necessary.
Life manifests in individual forms environed by other forms; and that which is seemingly without, and is related to any particular form, constitutes its environment. Manifested life and its environment act and react on each other, and each one that partakes of any experience gathers such wisdom from it as it provides and to which he is receptive. In this manner each mani­fested form undergoes constant change; and the basic problem of any indi­vidual form of life is to maintain constant harmonious relations with an ever- changing environment.
The tendency of individualized life in general is to manifest itself in in­creasing accord with the ideal of its own plane of existence. As the continued existence of each plane is essential to the support of the next higher one, it is evident that only certain individuals in each group may be permitted to cross the threshold of a higher realm. The mineral, vegetable, and animal king­doms, from which human existence has proceeded, all remain to minister to him, and are essential to his welfare. They constitute the material foundation of his physical existence.
A careful examination of the most variable and plastic forms of the mineral kingdom demonstrates clearly that the ideal of that kingdom was that of vegetation; the ideal form of the vegetable kingdom was evidently the an­imal; and the aspiration of the animal kingdom was the human form. Only the most progressive species were able to make these changes, even under pecu­liarly favourable conditions; and it is more than doubtful if conditions will ever again recur that will permit of similar graduations.
In each successive kingdom of existence the time has been shortened materially for the development of its more progressive forms into a higher realm. It took longest for the mineral kingdom to graduate into the realm of vegetation, and the time since man appeared on earth is very limited as com­pared with the immense intervals that elapsed before that event.
The time is now approaching when a "new" race is about to come into existence, new in the sense that its accepted foundation of thought and basis of action will be in vivid contrast with those now entertained generally by mankind. The results of such a change must be tremendous and far-reaching.
The problem now confronting the progressive individual is how to un­derstand, comprehend, and put into activity those qualities and attributes that will entitle him to enter the new life. In order to do this it will not be neces­sary for him to deny his reason, or to close his eyes to facts. What is essential is a different and loftier interpretation of fundamental conceptions. The basis of this change will be his realization of himself as a spiritual being, with all of its necessary implications, including an inspired thought-consciousness and an illumined physical manifestation.
The Coming Race will neither cease to be physical nor will it dispense with any of its present faculties and functions; but its recognized motive power will be as superior to that which it now realizes, as electric and mag­netic forces are to mechanical and physical ones. The Coming Race will function on a higher plane where, in the light of its greatly increased powers, its present problems will seem comparatively trivia] It will mark a New Era of Human Evolution.
MAN THE MASTER
Higher than India's ye may lift your lot,
Or sink it lower than the worm or gnat;
The end of many myriad lives is this,
The end of myriad that.
—EDWIN ARNOLD: Light of Asia.
INHERENT in the substance of the universe, and constituting its very es­sence, are the principles by virtue of which it lives and moves and has its being. From principle or God emanate the principles or immutable laws which constitute or guarantee the freedom of the universe.
The principles by virtue of which the Infinite has brought forth exis­tence and manifestation from seeing void are those which operate now. It is impossible to conceive of any others. They always produce results in exact correspondence with the causes the Infinite provided for them to work upon. Nothing else is imaginable.
These principles are changeless and ceaseless. Always they accept that which is offered, and transmute it into an exact equivalent. They convert raw material into finished products, and vice versa. They are impersonal, univer­sal, and inevitable. They are neither deceived, bribed nor coerced. They nei­ther punish nor reward. In their dispensation of infinite love and wisdom, they constitute the "Workshop of the Gods."
The only creative agencies man can employ are the principles invoked by the Infinite. There can be no others. The only methods whereby man can secure results through the use of these agencies are those adopted by the Infi­nite. There are no others. The terms upon which results were obtained by the Infinite are those under which man must secure results. God and man are one and inseparable; and, in their very nature, the principles of the universe must respond to man exactly as they do to God.
Man must create as God does. He must make use of the same prin­ciples, and feed to them causes correlated to the results into which they are to be converted. Machinery can produce only as it is furnished with material upon which to work; and to feed a machine with material that will produce previously determined results requires intelligence, acting through thought.
Man thinks; and, thinking, he creates! Man thinks; intellectually, his thought is given form and direction; emotionally, power and intensity are conferred upon it. Man thinks in his brain and in his heart, and creation fol­lows the conjunction of masculine and feminine thought. Man thinks spiri­tually and mentally; spiritually, thought transmutes the invisible into visibili­ty; mentally, thought translates one form into another.
It is a contradiction of thought to suggest a limit to the power of the In­finite. It is unthinkable to place a restriction on the universality or inviolabili­ty of principle. Impossibility has no application to the Infinite, which is the synonym of Omnipresence, Omnipotence, and Omniscience. And God and man are in the same image and likeness!
Man the microcosm is but a replica in miniature of God the microcosm. The One Mind—God, the Infinite—is in complete consciousness of its di­vinity and perfection, with absolute power of selection and initiative. Indi­vidual mind—man—possesses all of the qualities or attributes of the one mind, and through the same agencies unfolds gradually from an utter uncons­ciousness of its divinity and perfection to a more complete realization of it.
This gradual unfoldment of perfection diverts the individual conscious­ness from the personal to the impersonal, from selfishness to altruism, from egotism to egoism, from diversity to unity, and from the recognition of the smaller self to that of the larger Self ; and it opens up a continually increasing conscious appropriation of the content of the conscious, subconscious, and super-conscious realms of the mind.
The freedom of the universe has been conferred upon man in his power of thought and his privileges of initiative and selection. Silently, smoothly, and lovingly, if relentlessly, the universal principle fashions whatever are presented to it, the friction-less spiritual ethers working them out in exact ac­cord with the impulses that man imparts to them.
Upon man has been conferred the powers of God. He can do nothing except as he uses these powers, nor may any limit be ascribed to what it is possible for him to accomplish through their use. He cannot use these con­sciously and to a definite purpose except as he understands them, and has faith in his ability to use them. As his knowledge of principle and faith in the self intensify, man increases in power and freedom; and with perfect know­ledge of principle, and absolute faith in his divinity, man has at his disposi­tion that degree of power which is the synonym of perfect freedom.
The gifts of divinity are at the command of man. Of himself, physical man is utterly impotent; but man—the image and likeness of God—has po­tentially all the powers that he ascribes to God. Fundamentally, man's con­ception of God is his intuitive glorification of the self or soul; it is the univer­sal ideal of the individual idea he represents. Man's increasing realization of his own divinity is always attended by his higher idealization of God.
The universe accepts the individual at his own estimation, and responds to him in kind. It grants its powers as the individual becomes qualified to use them. It reveals its secrets as he becomes receptive to them. It unfolds to man as he unfolds to it. Through wisdom and love, the individual may attain to that understanding and harmony that qualify him to exercise powers which appropriately may be designated as god-like.
In the absolute freedom of man, not even the universe may invade the sanctity of his domain, or compel his acceptance of that which he does not desire. Man is so completely free that he may enslave himself to any extent he pleases. He may hold himself in bondage for as long a time as he wishes. Also, he may free himself when he will. No one ever was or ever will be en­slaved or bound except by himself, and no one ever can free one except him­self. Man's freedom is absolute, even in his complete slavery!
It is through self-control that man attains control of all else. It is in harmony with principle that he dictates results. "Nature is conquered by ob­edience," and man's freedom is measured fundamentally by his disposition and ability to manifest his highest ideals of love and wisdom. It is to the ex­tent that he expresses his divinity that divine powers are placed at his disposi­tion. It is in the degree that he manifests his godhood that he is invested with the power of God.
Man has always been the arbiter of his own fate. He has seldom di­rected it consciously and intelligently. He has permitted the deliberate processes of evolution and natural selection to dictate his exceeding slow rate of progress. He has left it to the compulsions of pain and suffering, and the pressure of adverse circumstances and conditions. In his ignorance, credulity, and superstition, he has bound himself with amazing ingenuity, and has hyp­notized himself to regard his bonds as an inseparable part of himself.
There is no destiny to which man may not aspire and reach. There is no obstacle that he may not overcome and conquer. There is no fate that he may not change and alter. There is no condition he may not meet and transmute. There is no circumstance he cannot circumvent and transcend. There is no problem he cannot analyze and solve. There is no vibration he cannot har­monize and control.
Man is essentially free. He always has freedom of choice and the power of initiative. He can always neutralize a condition or circumstance. Or he can intensify it. Or he may let it work itself out as it will. He is as free to permit himself to be dictated to as he is free to dictate. He can stand secure and erect on his own feet, or stumble on another's. He can stand straight and strong, or he can lean crooked and weak. Man is free to be master or slave, and that which he manifests indicates the choice he has made.
Man, claim your divinity. Know thyself; and know that all that is, and ever will be, is dormant within you, ready and willing to be awakened by your magic touch. With thought definite and exalted, emotion controlled and refined, and energy conserved and responsive to command, man is prepared to meet and to overcome, assimilate, or harmonize with whatever may meet him on the path of life. He has been furnished with the equipment of a con­queror!
Man is divine! He is living in eternity now. Whatever he shall ever ma­nifest, he now is. Whatever he dares to do, he already is. It is through the alc­hemy of thought alone that his being may be expressed and manifested; and, in the full realization of his inheritance as a Child of God, he shall rule as master over his illimitable kingdom of thought!
THE END
---
---
---
Man The Master - Eugene Del Mar

---
---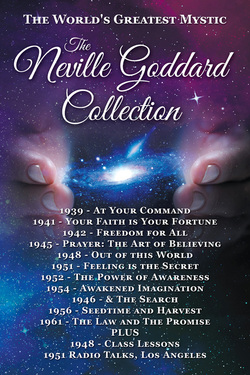 The Neville Goddard Collection - Awakened Imagination and the Search, Freedom For All, At Your Command, Feeling is The Secret, The Law and the Promise, Prayer, The Art of Believing, Your Faith is Your Fortune
---