---
Man The Master - Eugene Del Mar
---
---
---
MAN THE MASTER
BY
EUGENE DEL MAR
Copyright, 1920 by Eugene Del Mar
SELF-DISSECTION
TAKING CONTROL OF LIFE
There's magic in the truth;
And only those who find and follow its laws
Can work its miracles.
There's magic all around us,
In rocks and trees, and in the minds of men,
Deep hidden springs of magic.
He that strikes
The rock aright, may find them where he will.
—ALFRED NOYES: Watchers of the Sky
THE one thing that lives is life. In its universal aspect it is invisible and intangible. The human consciousness cognizes life only after it has assumed form, and it is its changing forms that are usually regarded as life it­self. The Infinite involved itself in form, through which it is now evolving it­self in a process that we call evolution.
There is but One Life, God, The Infinite, Universal Spirit. God must be self-created. God's love is ever the love of self, for there is naught else. As God is the One Life, and is self-created, the One Life must be self-created. In other words, there is, inherent in life and inseparable from it, the fact of eter­nal living. Fundamentally, all evolution is spiritual, being the unfoldment of Spirit through mind and body; but it is in the changing forms that give evi­dence of this unfoldment that is recognized the progress of evolution.
As the evolutionary process is one of unfoldment of the formless Infi­nite through finite forms, or the pressing out of the Universal through indi­vidual avenues of expression, the evident purpose of the process is that life's forms shall become both mentally and physically more and more universal and inclusive. In order to do this, they must acquire increasing touch with a more extensive area of form outside of themselves, and to this end must de­velop the means whereby it may be accomplished.
It is beyond question that the forms of life begin in utmost simplicity, and that the factors of time and space convert the more primary forms into those of increasing complexity and variety. A single cell of apparently com­plete similitude of structure is at the base of all of life's forms, and this is the foundation on which is built every conceivable variety of structure. In fact, complexity is the result of the combination of similarities, exactly as visibili­ty constitutes an aggregate of invisibilities.
It seems evident that life itself knows nothing of different kingdoms or species, or of differentiations of form, faculty, or function. Each form of life obeys the impulse given to it by the One Life, as life finds itself able to un­fold in the terms of the particular texture and complexity of the form. As life unfolds through each form of life, it extends its acquaintance increasingly with the other forms that together constitute the visible universe. It is the de­gree to which life's forms are capacitated to do this that denotes their plane of development.
Each ascending plane of manifested life circles through its various phases at a more elevated spiral of unfoldment. It retraces its steps, but at a higher altitude. The law of life itself pervades every aspect of life; and while these differ in appearance on each plane of existence, problems that arise at one plane repeat themselves at higher ascents on all other planes. Evolutio­nary activities curve themselves about central principles, and serve to exem­plify them. Each higher altitude renders the problems of the lower one more complicated, through the introduction of a new factor, which the more devel­oped form of life is peculiarly adapted to understand and solve.
On each plane of existence there are developed contrasting degrees of development, from the crudest to the finest, from the most ignorant to the most wise. No plane of existence is constant or static, but each is ever incons­tant and in a state of flux. There are differentiations, variety, and contrast on each plane. On every plane each form of life must either grow or decay; it must overcome or perish; it must become fit to persist, or it will be discarded as unfit. These are the alternatives that are forever being presented.
When Universal Spirit first involved itself into those forms of life which are regarded generally as inanimate it imparted to the mineral kingdom that peculiar quality of life best suited to its general characteristics. Life did not manifest itself equally in all the species of this crudest of all kingdoms. On the contrary, there was then sowed the seeds of that conflict that has ever since and even now actuates the visible universe. It gave birth to conservat­ism and liberalism, to the contrasting impulses of standing still or going on, and to the eternal opposition of these two ever-contrasting tendencies.
It also implanted in this kingdom another tendency, and one which has since become more pronounced with each succeeding plane of manifested life. This tendency is to first acquire, and then to graduate from, the limita­tions of that particular kingdom; and when this tendency has been followed successfully it has always been by the few who idealized and realized the highest ideals of their plane, and then dared to live them.
The ideal of the mineral plane was the vegetable kingdom, entrance to which apparently was denied to the hard precious stones or the dense gold and silver; but which was attained after sons of progress only by its more plastic and receptive elements. It was only as the prevailing ideas of the min­eral realm were transcended that the ideals leading it to the vegetable king­dom became practical aspirations. It was only after the best conceptions rela­tive to the mineral kingdom ceased to be its ruling aspirations that it was re­ceptive to the ideals leading to the next higher kingdom.
The vegetable plane was dominated by a contentment with a fixed resi­dence, but in course of time a higher ideal was evolved by those who re­garded this limitation as unwarranted and stifling to ambition. These aspirants refused to be content to remain rooted to one spot; and their persistent activi­ty finally enabled them to cross the boundary into the broader freedom of the animal kingdom, and there inaugurate a new realm of more extensive activi­ties.
When the animals first took possession of their new domain their de­velopment was almost entirely physical. Their mental powers were but very slightly developed. It was therefore inevitable that they should judge by ap­pearance, which always suggests that power and strength are proportioned to size. So those who regarded themselves as destined to control were the gigan­tic forms of mammoths, mastodons, whales, and the like, and these consti­tuted the aristocracy of those antediluvian days.
The animals unable to compete in physical size were obliged to develop keener senses of detection, or climbing propensities, or the capacity of quick locomotion and hasty exit. Later on, the animal kingdom became agitated and convulsed over the momentous question whether the fashion of four feet was to continue to be the standard number of supports for animals, as contrasted with the recently introduced style of only two, and the hind legs at that!
On this question the opposition was in the vast majority, and it was an evident absurdity—for example—to expect a hundred-foot whale to elevate his head above the ground like an Egyptian obelisk. Indeed, the idea was re­garded as supremely ridiculous except by a few of the most idealistic spirits, who gradually were inspired to stand upright, to develop a hand with an op­posable thumb, to speak their thoughts, and thereby to start the human king­dom on its stormy career of adventure.
Up to this point life had invested its various forms with an instinct of automatic response to environment that enabled them successfully to meet the requirements of their existence within narrow and prescribed limitations. Not being able to think for themselves, life thought for and through them; their education was limited strictly to what was necessary to the preservation of their species, but it was complete within this limitation. With the advent of man it was essential that instinct should be held in abeyance, as its necessary limitations were inconsistent with the faculty of reason that had been con­ferred upon him. Reason was necessarily crude in its beginnings, but appar­ently its possession conferred unlimited capacity of development.
Life has now converted its grant of limited power and automatic ad­justment into one that had no inherent limitations. An eternally expanding in­crease of power was opened to man, and he was given the vision and capacity of earthly dominion. Life's forms had at length graduated from their infancy, and instead of a nursery tutelage, with fences of protection that could not be surmounted, the bars of limitation were withdrawn, and man entered the new kingdom of form with complete freedom and unlimited resources.
It was long before man's form suggested the majesty of his new status. For ages he regarded himself as primarily animal, and animal traits pre­dominated, and were idealized. He regarded the material as the realm of cause, and depended upon physical strength for his power and dominion. He even idealized this attribute as his God when he rose to the conception of a power greater than his own; and then clothed this conception with such as­pects of fear and terror as in time enabled the more powerful of his species to bring about the submission and slavery of their fellow-men.
On all planes of life's forms, including the human, the mass were nec­essarily the slower to develop; but their survival in greater number consti­tuted the support of those few who had been able to make more rapid progress. This was as natural as that the peak of a pyramid requires a base of greater bulk than itself. It is only through contrast that there is a higher and a lower, and every vibration assumes corresponding degrees of rise and fall. On each plane there are contrasting rates of progress, depending upon individual elevation and realization of the ideals leading to the next higher plane.
The history of mankind is one of extremely slow and intermittent progress, covering long eras of practically universal slavery to race ignorance and superstition; comprising various forms of subjection of man to man, as unequal individual development enabled some to take unfair advantage of others; of continued strife and contest and fight, the results of selfishness and egotism; and of many diverse and contrasting forms of government and reli­gion, and of legal, economic, and social life. Man was learning about himself in extending his kingdom over the visible world; he was measuring his de­veloping power with his ever-expanding environment.
Through his continually increasing contact with the visible universe man at length came to recognize that he included within himself all that he was conscious of outside of himself, that he was a universal container, and that the powers of the Infinite flowed through him. With every new discovery in the physical world man became invested with more power over that world, until he realized that this power must only be subject to the limitations of his own consciousness, which he had the freedom and privilege of expanding in­definitely!
In time mental power supplanted that of physical force as man's recog­nized realm of cause; but freedom of thought was long forbidden, and seldom indeed has it been conferred on man with any fair degree of freedom, nor even exercised except during periods of revolutionary convulsion. Indeed, there has never yet been a normal "Age of Reason," when men might think and express themselves freely, and without fear of personal harm or danger of social ostracism.
For some time past progressive man has been regarding the mental as the basic realm, and in this consciousness he has made wonderful strides. Realizing thought to be the one instrument whereby the universal energy may be utilized, he has sought to think constructively, and to build into his world of form the beauty and power of his thought creations. Through applied psy­chology he has been enabled to relate his physical self more and more har­moniously with the outside world; and through practical metaphysics he has realized his unity with the Infinite, and thereby opened himself more freely to the inflow of the One Life, that he might make use of it for his more harmo­nious mental and physical adjustments.
When human reason superseded animal instinct the latter was not ex­tinguished, but only held in abeyance, as its continued activity would have been injurious. While human reason was most crude and unreliable in its first stages, still it opened a vista of unlimited progress, which, inevitably, the pos­session of instinct would have stifled. In its higher aspects humanity is now entering its area of intuition, wherein is combined the accuracy of instinct, but divested of its limitations, together with the unlimited scope of reason at its higher phases of development. Intuition denotes the instantaneous inner direction of life invested with the logic of perfected reason.
The realm of spiritual intuition is a higher realm of power than the strictly mental. In the realization of this truth man will place a degree of re­liance on his intuitions that he has never before ventured to do. His reasoning faculties will become more keen, and his thoughts more definite and refined, as his intuitions are cultivated and relied upon, and he will thereby make himself increasingly receptive to the influx of the One Life. The result will be an increasing vital creative impulse that will enable him to convert his ideals into actualities, and render him god-like in his achievements.
Life creates the form of each man in the fashion of his constructive thoughts. One becomes predominantly that which his prevailing thought dic­tates; he determines the mould within himself that life shall fill. With his mentality wide open to the One Life, and increasingly receptive to the divine inflow, his thoughts become more inspired with creative faith and love and wisdom, together with the greater impulse to express these in purposeful thought and constructive action.
Man is divine. He encompasses all of his past, and he has a glorious fu­ture that beckons him on as an inspiration. Man may control the expression of the One Life that pervades his form, and he effects this in proportion as his spiritual life secures control and the God within is given free transit across his mental and physical borders. Then man's dreams become true, his aspirations are converted into facts, his ideals become practical, and his Being is ex­pressed in thought and manifested in forms of ever-increasing wisdom and beauty.
Man's realm has no known boundaries. Life itself is tributary to him to the full extent that he opens himself to it, and it offers itself without limit or reservation. He realizes his inner realm to the degree that he affords it a free channel for intelligent expression and constructive activity. As he becomes increasingly conscious of his dominion and control over life's activities, he opens himself to inner harmonies that offer greater opportunities for broader outer-dominion. As he controls himself he commands the One Life, which reacts to give him dominion over the world of form, of which he now consti­tutes the controlling factor.
The One Life could place but slight trust in the first forms of life, and therefore limited their use and expression of it to immediate touch with the narrowest of environment. As the forms of life reached out for wider influ­ence, their intelligence developed, and the One Life became more generous in its trust and confidence. Finally, with the advent of man, all of these limita­tions were withdrawn, but man's sense of limitation is overcome only as wise use give him the consciousness of freedom from former bondage.
While there are many gradations of ascent to be attained by man, cer­tainly he has now reached an elevation where he can realize some of the heights yet to be attained. His confidence and trust in himself is not only con­tinuously increasing his control of the outside world, but is also expanding similarly his realization that he is the dominant exponent of that One Life which constitutes the Universal Spirit, the Infinite, God. This conviction must lead inevitably to the truth that man has been given the keys to universal do­minion, and that he may exercise complete control of life as he renders him­self freely receptive both to the centre and circumference of life, and lives equally on each of these as the two contrasting poles of the One Life.
EACH A LAW UNTO HIMSELF
Unto each mortal who comes to earth
A ladder is given by God, at birth.
And up this ladder the soul must go,
Step by step, from the valley below;
Step by step, to the centre of space,
On this ladder of lives to the Starting-Place.
Though mine be narrow, and yours be broad,
On my ladder alone can I climb to God.
On your ladder alone can your feet ascend,
For none may borrow, and none may lend.
In useless effort, then, waste no time;
Rebuild your ladder, and climb and climb.
—ELLA WHEELER WILCOX.
HOW is it possible for each person to be a law unto himself? Are there not Eternal Principles whose inexorable rule brooks neither exception nor exemption? Are there not human laws that may be broken only under pe­nalty of fine and imprisonment? Is not each one bound both by Divine Prin­ciple, human law, and his own ignorance?
One may well pause before attempting to reply to the stern implications of slavery and impotence involved in these questions. Surface consideration of them would certainly suggest a negative reply, and the admission that man is the slave of Principle, of law, and of ignorance. If he must obey influences from without, influences that he may not govern or control, influences that he neither directs nor overcomes, then indeed must he not be a slave, and not a law unto himself?
The world-teaching has long been, and still is, that man is a slave; and the acceptance of this teaching has indeed made man a slave. But a slave to what? To himself; to his belief in his own slavery. And as a result of this a slave to whom? To those who have been, and are, interested in being the masters of slaves. To what end? The masters' emolument, power, and domi­nion. The traditional, conventional, and racial belief in man's essential sla­very has fastened the bonds of slavery on mankind so completely that, in his obsession, he has gloried in his bondage and worshipped the powers that en­slaved him.
Fundamentally, to whom is a man a slave when he is a slave to his own belief? Does this involve a contradiction of terms? Is it slavery or freedom to be a slave to oneself? How can one be a slave to himself without his also be­ing the master of himself? Each man creates his own belief; he may change it as he pleases, and, in fact, he has absolute control over it; so that slavery to one's belief is no less than an expression of man's complete freedom to bind himself to whatever extent he may please. And when man, in complete free­dom, shackles himself to suit his chosen manner of thinking, he is simply ex­ercising his privilege of being a law unto himself.
What is it that enslaves man? Is it Eternal Principle, Divine Law, or Truth? These are all indications of the same inevitable sequence of events, and continuity of relationships that enable man to know all that he does know. They are the essentials of a Cosmos, without which chaos would reign supreme. These are the guides, the teachers, and the instructors of man, with­out which there could be no freedom, no purposeful activity, and no assur­ance of desired results.
What are the essentials of the Laws of God? Infinite Love and Infinite Wisdom are of their essence; a Love and a Wisdom that are as broad, as wide, and as deep as the Universe itself! Nothing escapes their notice or at­tention, for they are of the essence of Being, and inhere in its every expres­sion and manifestation. The essence of Truth is freedom, and it is a flat con­tradiction of terms to state that freedom enslaves one. That there is no escape from Eternal Principle constitutes for man his Declaration of Independence, in its guarantee that it will not infringe upon his complete freedom of thought or action.
If one is not bound by the Laws of God, do not the laws of man bind him? Society in its entirety has decreed that none of its units shall contravene certain rules, under penalty of punishment for transgression, when found guilty according to established forms prescribed for that purpose. Speaking generally, these rules have been enacted by society for the common freedom of its members, so that each shall have the same degree of freedom and none shall infringe on the freedom of another. Were man to formulate and execute his laws perfectly, doubtless the result would be perfect equality of freedom of action.
Man's laws are attempts to formulate the Love and Wisdom of Divine Principle, but they fail in these respects to the extent and degree of man's ig­norance. The Divine Principle operates with precision and certainty, and with the perfection of both the Love and Wisdom that animate it. It is impersonal and impartial, and carries no recognition of reward or punishment. It knows only cause and effect. Man's laws are personal and partial, and imperfectly formulated, interpreted, and executed. They do not bind men, but they punish those who exercise their personal freedom beyond the law's limitations.
Does freedom consist in doing whatever one may desire to do when he pleases to do it? This may be the character of license and bondage that one assumes to be freedom, but the exercise of which will sooner or later con­vince him of his error. In following such a course, it is not long before one flings himself against the adamantine walls of Eternal Principle, which is the guardian of freedom, and in that contact realizes that there is no freedom in conflict with Truth.
While Eternal Principle is inviolable, it may be interpreted and formu­lated only within the range of human understanding; and what man knows of Principle he formulates as natural law. Irrespective of the antiquity or univer­sality of its recognition, one can accept such formulations only as he is able to interpret them. That is all he is capable of knowing at the time. When a great teacher enunciates a conception of Truth, another may know its mean­ing or significance only to the extent of his own understanding. Words are not Truth, nor are the interpretations of words. The acceptance of the same words by many persons constitutes neither a unity of thoughts nor a commu­nity of belief. They may classify themselves under one heading, but only to an approximate degree can they think similarly.
Many separated, differing, and antagonistic Christian sects all accept the same words as their common basis. Even those of the same sect are una­ble to agree in thought and belief, for each one is obliged to give an individu­al interpretation to the formulas which they accept in common. Not only that, but as each unfolds spiritually or develops mentally his interpretation changes, and his belief of today is no longer in agreement with that of yester­day. Each reading of one's Bible—or any other book, for that matter—will change his belief, as his understanding expands through the capacity of a deeper interpretation of the same words. It is manifest, therefore, that people do not have the same beliefs even when they adopt the same words.
Man holds fast to words and names, or the symbols to which he is ac­customed. These are the forms to which he relates his conceptions. He at­taches himself to them more tenaciously than to his thoughts, for without change of words or symbols his thoughts may traverse heights and depths of wondrous contrast. But one is not controlled by words or symbols in them­selves, but rather by his interpretation of them. He is not governed from without, but from within. That which is without may give opportunity for, or direction to, his thought; but at the most it offers to man, the thinker, the raw material wherewith to manufacture his finished thought-products.
No one can live Truth as such. No one knows Truth, or takes Truth as his guide, for the "naked" Truth may not be known by man. It must be cov­ered by thought and dressed in words. One may have an understanding of Truth, a formulation and an interpretation of it, but these are of necessity in­dividual. While Truth is universal, one's contact with it is individual. One's mental consciousness and spiritual realization are each individual. Each per­son is individually responsible for living his own life; and this rests upon the fact of individual contact with Truth, individual formulation, and individual interpretation, all depending upon individual choice.
Each one is free to think as he pleases. No one may dictate the thoughts of another to the point of compulsion. One may offer thought-food to anoth­er, but the latter is not obliged to accept that which is proffered. The general acceptance of traditional and conventional beliefs and racial predilections may find one readily responsive to particular suggestions, but this is merely an inclination that he is free either to follow or reject. Irrespective of outward conditions, inwardly man is essentially free.
Man may exercise whatever degree of freedom he pleases. In man's ability to enslave himself lies the essence of his freedom. Otherwise he would be an automaton. He has his choice, and his fate is determined by the wisdom with which he exercises it. But whatever his choice, it is his; he is responsible for it, and must receive its allied result. Were another to choose for him, or were he to permit another to dictate his choice, he would lose the benefit of the lesson contained in its effect. If his choice is a passive one, at some future time he will be obliged to make active choice under somewhat similar condi­tions.
What is it that determines one's decision or choice? It is neither Prin­ciple nor law, for man does not know either; what he knows is his personal interpretation of man's formulation of these, or his interpretation of other in­terpretations. He cannot merely accept another's interpretations as such, for this means nothing to him until he has accepted it in his own thought terms.
Therefore each man, under all circumstances, either consciously or subconsciously, must act on his own understanding; and in that sense, and to that extent, certainly he is ever and always a law unto himself. In the very na­ture of things he must live his own life, bear his own responsibility, receive the results of his own living—whether he regards these as rewards or pu­nishments—and maintain individual relation with the Infinite.
In this Universe of Supreme Love and Divine Wisdom, and therefore of Infinite Justice, it is inconceivable that one should suffer—yes, or be re­warded—for the lack of that which is beyond his comprehension. Responsi­bility must be proportioned to understanding; and while "ignorance of the law is no excuse," the hand of the law lays heavily on the infracted in proportion to the destructive motive and the "malice aforethought" that was involved in its perpetration.
An animal is not held to the height of human responsibility, nor the mere human to the elevation of divine understanding. The hog that has the hog qualities developed to the highest degree will doubtless secure the most exalted hog-happiness. But a human, with an understanding beyond that of the hog-consciousness, may not secure the same harmony while living "like a hog."
By parallel reasoning, one who has reached a height of spiritual realiza­tion may not, in peace and comfort, live solely on the intellectual plane, much less the purely physical. He is called to account. By whom? By himself. Al­ways and ever the variance between understanding and living is the measure of outer disease and unhappiness as well as inner discord and inharmony. And if one is the slave of himself, verily is he master in his own house!
It is this variance that measures the discords of one's life, for each step in his higher understanding invokes an undertaking to translate this increased elevation into terms of living, and to transmute his deeper realization into thoughts that inspire and induce a character of living paralleling the greater influx of the Spirit.
Temporarily, one may escape the pains of growth by the crystallizing of his thoughts, by congealing his thought life, by refrigerating his thought activities, by isolation from thought inspiration, by closing himself, for the time being, to all progress, development, and growth. However, in an age of progress like the present one this form of hibernation is extremely difficult for more than a very limited period; and there are some who—in recognition of this difficulty and in despair of securing complete freedom from change— prefer to make a hasty exit for parts unknown.
Man is completely free within the limitations of his own world, which he fashions by his thought, and which is all that he knows of the Universe. That he is limited in his understanding of the Universe does not limit his freedom, for at no time can he be conscious of a freedom that his world does not permit him to express. One is quite as free within the comparative limits of a single room as within the more extended confines of a continent, if the room is to him all there is of the continent. No one is limited by, or feels the lack of, that which is beyond his comprehension and understanding.
Man is essentially free; he is master of himself. In the exercise of that mastery, no restraints are placed upon him except by himself. His limitations and restrictions are of his own making. While he is living in a Universe go­verned by Principle over which he has no control, he is in no way bound or limited by Principle. On the contrary, it is because of Principle that man pos­sesses complete freedom. The Infinite is utterly void of limitation, and there can be no more slavery in Infinite Principle than in being confined within the limits of the Universe. On its face such "confinement" carries complete free­dom with it.
Man is not bound or enslaved by man's laws; our courts, prisons, hos­pitals, and reformatories all testify to man's freedom. Doubtless human laws have varying degrees of influence on one's choice of thought and act, but they do not take from man his absolute freedom of choice. Nor do customs, habits, traditions, or conventions. Nor do parents, husbands, wives, children, relatives, or friends. These may constitute factors that one permits to influ­ence or direct his choice, but he who determines it is the dictator, and no one and nothing else. Man has been given dominion over himself, and he may not abdicate as the ruler of himself. All else he may forgo, but not that!
Each man is a law unto himself, and he is obliged to assume responsi­bility for his own life. He cannot avoid this by any manner of transfer to another. He cannot escape responsibility by merging his life into another's, or by taking on the responsibilities of another life. His passport through this ex­istence is not transferable; it is identified so that no substitution is possible. It is said that man's hairs are numbered, and certainly man himself is, while man's finger-tips but symbolize his own permanence.
Man cannot nullify his freedom. He could not bind himself unless he were free to do so. Nor could he unbind himself subsequently. He could not remain free unless his choice governed. He is enslaved only by his own thoughts and acts, the results of his own choice and pleasure. But this is free­dom rather than slavery. What other freedom is there? One must receive the effects of causes he has set in operation. That again is his freedom; otherwise he might destroy himself without even knowing that he was in danger. One is not a slave because of the hint of a better way, a warning of danger or an ad­monition. He is not obliged to take the hint, to notice the warning, or to ac­cept the admonition. He is free to ignore them all, and not infrequently does he exercise this freedom to the utmost.
Man's dominion of the world without is measured by his conscious dominion of himself; by his realization of his essential freedom from outside interference. Man's consciousness of freedom measures the extent to which he may exercise his spiritual powers, and the recognition of his freedom is essential to man's higher unfoldment. The extent of this recognition is the measure of freedom that he is capable of exercising. As this recognition ap­proaches its zenith, man's dominion over the earth will be the unquestionable demonstration that he is a law unto himself.
THE VOICE OF AUTHORITY
Let there be many windows to your soul,
That all the glory of the universe
May beautify it. Not the narrow pane
Of one poor creed can catch the radiant rays
That shine from countless sources.
Tear away the blinds of superstition;
let the light Pour through fair windows broad as
Truth itself And high as God.
Why should the spirit peer
Through some priest-curtained orifice, and grope
Along dim corridors of doubt, when all
The splendour from unfathomed seas of space
Might bathe it with the golden waves of love?
—ELLA WHEELER WILCOX.
IN the earlier stages of human development there was much less disposition than there is now toward initiative in individual thinking. There has always been a mental indolence that permitted, and preferred, the acceptance of the thoughts of others. This general disposition naturally resulted in the rise of classes of people, or profession, that assumed to have special thinking facili­ties and exceptional ability to formulate ideas into shape for ready popular consumption.
As these professions developed, it must have become apparent to them that the privilege of thinking for others gave the initiating classes power and influence that enabled them to become the masters of others to their own ad­vantage.
After this dawned upon their minds it was inevitable that their teaching or formulations of ideas should become more and more in line with their own professional interest and emolument. In this manner mankind came to adopt and to perpetuate traditional and conventional ideas, and to have their racial thoughts fashioned for them.
As man has ever been prone to worship, and for countless ages has looked to an Infinite Being as the creator of the world and dispenser of its health, wealth, and happiness, those who were regarded generally as representing God on earth naturally were looked up to as furnishing the thoughts and ideas that were of the greatest value.
After the passage of many centuries we find humanity still prone to look backward for its wisdom, each race and religion finding its inspiration in some long past age, the records of which are most uncertain, and the interpre­tations of them both numerous and conflicting.
These records have always become the property of, if they were not originated by, religious organizations. For one reason or another these have come to be accepted generally, and for ages, as having in their custody the Word of God, or a wisdom the alleged or accepted origin and source of which conferred upon it the highest authority.
It is eminently desirable that mankind should have at its ready disposi­tion the wisdom of the ages. It is not every one who is able or willing to think for himself to the best advantage, and it is indeed well that institutions have preserved for us the wisdom and traditions of past generations. The dis­advantages are that they have interpreted the records, and even altered them to suit their own special interests.
It is said that distance lends enchantment to the view. Time has the same effect. The simplest statement of 2,000 or more years ago, because of its reputed age and origin, is often looked upon with the profoundest defe­rence and most worshipful veneration; whereas, were it of contemporary ori­gin, it might be regarded as a commonplace, unworthy of serious attention.
Some nations worship their ancestors, while others worship the teach­ings of their ancestors. However, there have always been those who were not satisfied with the dictum of generally accepted authority, and here and there, at different intervals, there have appeared a few individuals who by reason of their wisdom and power have converted themselves into "ancestors" to be worshipped by succeeding generations.
The great teachers of any age have almost invariably been those who have declined to accept the authority of tradition, have broken from it, and initiated new traditions. Among these are the Saviours, the Buddhas, and the Christ's of all the great world religions. Their dominant merit lay in their non-conformity. They were the heretics of their day, the free thinkers, the iconoclasts. They defied the traditions of the past, and repudiated the inter­pretations of tradition that had served to degrade and enslave mankind.
There would seem to be good foundation for the belief of the ages in the perennial advent on earth of a spiritual guide—an avatar, a son of God, a
Buddha, or a Christ—who should, at least attempt to sweep away the accu­mulated falsehoods of the past epoch, and to restate Truth in a form more ap­propriate to the later period. History verifies the fact of such recurrences at more or less regular intervals.
Although there is but one Truth, it has myriads of aspects and interpre­tations; and although the same few fundamentals are almost invariably pre­sented and taught by each great World Teacher, a contrasting accent is laid upon each, and their relative values are gauged and appraised differently. When any fundamental Truth has become so misinterpreted as to be produc­tive of discord, rather than harmony, it is necessary that it be newly reinter­preted, and more nearly in consonance with the eternal verities.
All of these interpretations are expressed in words or symbols, and their meaning and significance to any individual depends upon his personal rein­terpretation of them in the light of his own knowledge and understanding. A speaker may express an idea in words, but what it shall mean to the hearer is determined entirely by the latter. If one interprets it in forms or formulas that possess no vitality to him, the spirit of the words will have been lost in transmission.
To the one who thinks deeply it is apparent that there can be but one authority for him. Irrespective of what others may express or teach, it must be reinterpreted by himself, and he realizes that it is his own interpretation that constitutes his guide. It may be that the expression or teaching is so clear and definite as to require but little rearrangement or explanation within one's own mind; or it may be that his prejudices and superstitions do not interfere great­ly with a clear understanding of the spirit of the teaching.
On the other hand, if one has accepted freely the accumulated racial traditions, conventions, and superstitions, even teachings that are of exalted purity and clarity may become obscured, sordid, or contemptible in their in­terpretation. In a muddy vessel even pure water will be fouled; and the mould into which any material is poured determined the form it shall take. It is so with the thoughts that are entertained by the minds of men; it is the within that determines the significance of that which enters from without.
The mechanical radio receiving instrument will accept only such mes­sages as correspond with the vibrations to which it is attuned. The mental ra­dio receives only such vibrations as respond to its own attunement, and it may find in the undertones or minor notes of an exalted teaching the lower vibrations that are related directly to its own lesser development. No one can give his own idea to another. He may offer it, but the one to whom it is of­fered determines what he shall receive.
While each soul has the same potential capacity for understanding and expression, some are far more completely unfolded than others; and each race or religion has accepted as its Great Teacher one whose teachings and life have been recognized as expressing to them their highest ideals. Above all else, these are looked upon as the voice of authority.
Even when admitting and accepting this to its fullest extent, still it is necessary to have reached the same level of understanding as the Great Teacher in order to comprehend him fully. No one can understand that which is beyond his mental reach, nor may one live on a level much above that comprehension. Each can see at any time only that which is permitted by his vision. One may subscribe to something he does not understand, but he can­not live it consciously.
The ultimate authority is in one's own Soul, at its own level of human unfoldment; this being the light that is shed on his path of progress. It is in the terms of this light that he visions whatever comes to him, and, as the ra­diance intensifies, he discerns more clearly, more deeply, more inclusively. This takes place as the mind becomes increasingly illumined with the spirit.
There is no authority outside of one's self. From without may come that which serves to awaken the recognition of the truth within, but each can real­ize it only to the degree that he contacts with the Universal Spirit. Conscious­ly or unconsciously, each is his own authority, even though he may neither desire nor acknowledge it. He cannot avoid responsibility to the Infinite by placing it in the custody of another, or by clinging to accepted traditions of Church or State. No mortal can be free until he accepts full responsibility for his own thoughts.
The present age requires that one think both clearly and freely if he is to dispel the clouds that now hover about him. It demands that inherited con­ceptions and racial beliefs be held to a strict accounting, and that whatever has been outgrown and is no longer of advantage be cast aside. The greater ideal, conception, or condition will hold aloof as long as the lesser is held as a cherished belief.
What the world needs now more than at any previous time is clear, de­finite, and unprejudiced thinking, regardless of inherited traditions, pre­judices, and superstitions. No one is great who merely reflects the popular conceptions. It is indeed seldom that a great man is popular with his contem­poraries, for he thinks not with his time, but ahead of it. He is the seer, the prophet, often the "fool" of his day. In discarding authority he becomes au­thority.
In an article in the American Magazine, entitled "The Seven Greatest Americans," Professor James Harvey Robinson refers to this distinguishing mark of great men as follows :
"The great man is one who in some one or more respects es­capes from the commonplace. He runs great risks, because we are afraid of the exceptional. He is likely to be without honour in his own country and age, as one of the most exceptional and most mi­sunderstood of the world's great men so bitterly reflected. To be maligned by their fellows—called 'heretic,' 'atheist,' or 'red'— shunned, persecuted, burned, or sacrificed, has been the lot of men we now rank as supremely great.
"We seem never to learn the lesson, and are as ready to pu­nish divergence from respectable ways of thinking and doing as ev­er man has been. Dewey says that for one man that thanks God that he is not as other men there are a thousand to thank Him that they are so like their neighbors that no one will notice them. So there is every discouragement to those who find themselves forging ahead of the procession.
"Greatness, in the last analysis, is largely bravery—courage in escaping from old ideas, old standards, and respectable ways of doing things. If you do not dare to differ from your associates and teachers, you will never be great, or your life sublime."
Unless those who are capable of thinking have the courage to think for themselves the near future is full of menace. The old order has passed away, at least in the minds of men, and the vast preponderance of desire and expec­tation is for a new order of society. The ultra-conservative or stand-pat posi­tion is a passive one, and it is about to meet tests and challenges to which it may prove unequal. It is the reasoning and seasoned thinkers of the world who must construct the bridge that will harmonize the conflicting factors that are threatening the destruction of society.
Merely to follow the old forms, the old words, the old interpretations, would be utterly futile. It will be almost useless to appeal to authority, for the present world conditions are essentially a revolt against authority. Man must seek the Kingdom of God within, and there gather that clear inspiration which will enable him to solve the intricate problems now requiring his atten­tion. In doing this, his thoughts and acts will be based upon the authority of his own Soul, and on a clearness of vision that will enable him to combine the good of the past with his new ideals and conceptions. If one would join this band of world saviors he must think for himself!
GETTING THE MOST OUT OF LIFE
Many the creeds that wise men make,
Based on "Mustn't" and towered with "Must"
But the wisest man is the one who will take
A simple religion of love and trust;
For love and trust will carry men through,
Whatever the Fates or the Furies do.
The longer I live, and the more I see
Of the struggle of souls toward the heights above,
The stronger the truth comes home to me
That the Universe rests on the shoulders of love;
A love so limitless, deep, and broad,
That men have renamed it and called it—God.
—ELLA WHEELER WILCOX.
HOW is one to get the most out of life? That is what each one is asking, and at the same time seeking to answer to the best of his ability. The means that will best produce this result are regarded as being the most prac­tical. One relates cause and effect, and assumes constructive successes to be the results of good and sufficient causes of like character. Any invisible cause which accomplishes its expected purpose in the visible is considered to be practical.
It is true that theory must precede method, and thought be prior to ac­tion; but it is not every theory that will work out in practice, nor every thought that will induce the expected result. The theory must be put to work through use before it can be accepted as practical. It would be folly complete­ly to cast aside theories, ideas, and speculations, these being the approaches to higher truths, but it were well to test them through use before accepting them finally as truly representative of what they claim to be.
Practical ideals are those which produce the exterior conditions that they represent interiorly. It is practical use alone that converts an ideal into a fact and a theory into a demonstration. The theory may be old or new, tried or untried, but it becomes practical only when use justifies its pretensions. For ideals to be of acknowledged value in this busy world they must be proven to be workable, and the conversion of theories into facts is at the very heart of all progress.
It would be a great mistake to assume a particular ideal to be impractic­al because it had not already been worked out successfully in practice. There are ideals that have been heralded throughout the ages, and continuously re­jected as impractical, which are today being accepted as practical by hard­headed business men. An ideal remains impractical until it is discovered how to use it rightly, or until one's understanding of it enables him to make right use of it. In fact, the practicality of an ideal depends, not upon itself, but upon its user.
One of the ideals that has been most sparingly accepted in the past is known as the Golden Rule. It does not speak well for the general intelligence of the race that it should have continually rejected the very fundamental of justice, wisdom, and love. In its essence, the truth of the Golden Rule should be evident to every rational mind. It is no more than a special setting of the fundamental principle of action and reaction, from the operation of which there is no possible escape. As this basic truth is essentially beneficent in its operation, so likewise is the Golden Rule. The reason it has not found univer­sal acceptance is simply because personal selfishness and egotism have blinded man to even the simplest truths.
That honesty is the best policy, that it were well to do unto others that which one would have others do unto him, likewise to love one's neighbor as one's self, each and all are injunctions to comply with the fundamental prin­ciple of action and reaction. Not only this, but any falling away from these conceptions is a departure from principle, and the occasion for discord, in­harmony, and disease. As long as the truth remains impractical, it is false­hood alone that will be looked upon as practical; and the reactions of false­hood are found in the individual and social conditions in which humanity is now immersed.
In a discussion of the practicality of ideals it might be well to consider what it is that we are to make practical. What are ideals, and how may they be worked? And wherein do they differ from ideas?
An idea is a mental conception originating in a consideration of the ma­terial or physical world. It may be so related either directly or indirectly, but it originates in one's understanding of the outer world, and it is essentially in­tellectual.
An ideal is the essential truth of an idea; it is the spiritual kernel of the intellectual nut. It is the inner life of which the idea is an outer expression, as the idea is the mental essence of that which is material or physical. As one ascends the thought-mountain of life, his ideals expand with his mental hori­zon, and he realizes more and more fully the essential truth of his mental conception of materiality.
The conversion of an ideal from theory into demonstration requires not only a mental interpretation, but also that this be given a physical form. One must express it, or press it out, into a form that is evident to the senses. For example, the ideal of the Golden Rule is converted to practicality when its in­terpretation is put to use, and thereby shown to be more advantageous than the contrary conception. Unless it confers a greater benefit than that which it supplants it will be regarded as impractical.
The Golden Rule involves the recognition that, as one must reap as he sows, it were well to sow in such manner that he shall reap to his best advan­tage. It embodies the realization that as reaction is always equal to action, one should so direct his action that the inevitable reaction shall be of an agreeable character. It reflects the absolute justice of the Universal, that metes love for love, hate for hate, harmony for harmony, and discord for discord.
Is it not folly to imagine that one may avoid or evade the fundamental principle of the Universe, of the Infinite, of God? Is it not gross ignorance to assume that destructive thought will react constructively? On the other hand, is it not wisdom to think and act in harmony with the unbreakable principle that guides and directs the wondrous activities of all existence?
The Universe is governed by one principle, which obtains on each and every plane, without exception or exemption. The same principle operates on both the spiritual, mental, and physical planes of life. The human formulation of the laws that are said to govern matter are but exemplifications of the one principle that controls not only the physical, but the mental and spiritual also. The law of action and reaction operates mentally as well as physically; in fact, its physical manifestation is merely the outer and material showing of the inner and mental fact. The physical is the form in which thought is ren­dered susceptible to sensuous recognition.
One cannot violate a law physically without at the same time doing so mentally, and vice versa. One may separate the mental and physical in thought, but not in fact. While one may violate a law, which is man's formu­lation of principle, he cannot violate or break principle. In his folly he may break himself against its adamantine walls, but that principle is inviolate is man's safeguard against certain disaster. His freedom is dependent upon the absolute precision of principle, and his health and happiness are consequent upon his harmony with it.
In order that one may live an ideal that has theretofore been regarded by him as but a theory it is essential that he have an understanding of the truth that it serves to clothe; otherwise it is most likely that he will be unable to meet the challenge that it will provoke from old habits of a contrary cha­racter.
It would be easy to accept a new idea and live it but for habits that strive to maintain their ancient hold. It is easy to take on a new idea, but dif­ficult to retain it against the counter-attractions of habits that have long been accorded dominion. These are old friends, stand-bys, and it is easier far to let them direct than it is to initiate new conceptions and lay down new thought- tracks.
It is so much easier to let life live us, to permit our yesterdays to control our today's and fashion our tomorrows, than it is to drop the dead yesterdays and start anew today, freed from the incubus of traditional and conventional thoughts in which we have been accustomed to place our confidence.
Ideals remain impractical simply because of the effort required to think new thoughts, and especially to resist the pleadings of the old ones. A prima­ry ideal that the race has accepted for ages past tends to inhibit conscious thought that is at variance with subconscious habits. This ideal glorifies in­action, portraying Heaven as the acme of happiness, and also as a place where there is no work, no effort, no exertion, no thought.
All ideals may be made practical. All truth may be practised to advan­tage. But the higher the truth, the more wisdom is required to express it in a manner appropriate to average human activities. Truth is perfect, and hu­manity is imperfect—in its understanding, its mentality, and its physical forms. The higher the truth the more difficult is it to convince the intellect that it is the truth, much less to bring about its acceptance as a working basis foreveryday activities.
Of itself an ideal may be but a glorious dream, for it requires the dy­namic power of a spiritual realization to give it beauty of form. The value of the great hundred-foot lens in our largest telescope lies, not in itself, but in the mind that interprets its images. The beauty of an emotion is created in the manner of its expression.
One of the difficulties about initiating new lines of thought lies in the fact that any particular line that one indulges in seems to justify itself, leading to the erroneous conclusion that it is unique in this respect, and that a con­trary conception would not be justified. Every belief justifies itself. If one is suspicious he will find good grounds for suspicion, and when he intensifies this attitude to the saturation point of insanity still will he be justified!
One who is suspicious attracts to himself those who justify suspicion, and repels those whose integrity impel them to seek an atmosphere of trust and confidence. The suspicious man cannot hold to him one who is above suspicion. And, as only the wise will learn other than through pain and long suffering, one who believes in suspicion must poison himself with the virus of suspicion, until his folly is borne in upon him as physically as well as men­tally.
If one's ideal is personal selfishness, he will find full justification in the inevitable reaction of environment. His thought atmosphere will attract to him, and attract him to, his thought correspondences, He will find himself in the clashing of personal selfishness, and he may even die convinced that his course was the only one warranted by conditions and circumstances.
The fact is that, in his materialistic basis of thought and his dualistic conception of life, man has come to regard as practical only those lesser ideals that originate in negative and destructive sources. He has idealized er­ror, not truth. Without realizing it, he has idealized discord, inharmony. dis­ease and death!
This era seems to be one wherein man is destined to be reawakened from his nightmare falsehoods of inherent separation, opposition, contest, and antagonism. The time seems to have come for the overthrow of his false gods of selfishness and greed and the beginning of an age of reason, when man's ideals shall be based on the realization of positive and constructive planes of truth.
Those who have taken unity and oneness as their fundamental concep­tion of life are already putting into practice ideals that have heretofore re­posed in the realm of theory and speculation. To its great astonishment, the world is discovering that truth, honesty, integrity—yes, love itself—is really practical in business! How long—oh, how long—will it be before man re­cognizes generally that this, and this alone, is really practical?
LOOK WITHIN!
Truth is within ourselves; it takes no rise
From outward things, whate'er you may believe.
There is an inmost centre in us all,
Where Truth abides in fullness:
. . . and to know
Rather consists in opening out a way
Whence the imprisoned splendour may escape,
Than in effecting entry for a light
Supposed to be without.
—ROBERT BROWNING.
THIS is indeed a strange world, or else we humans are constituted strange­ly. It is generally accepted that the greatest truths are revealed in seeming inconsistencies, or paradoxes. Apparently our so-called physical senses look on a world of forms outside of ourselves. Certainly the forms are not inside of us; but do our eyes see pictures that are outside or inside? Do our eyes see at all?
Does a telescope or microscope or an eye-glass see anything? Do they not merely aid our vision? Does the eye really see anything? Is it not, in this respect, similar to a telescope, a microscope, or an eye-glass—merely an aid to vision? Is it not that which looks through the eye which discerns and has sight? And what is seen by it? Does it not discern the image that is imprinted on its mental looking-glass, rather than the form that is imaged?
There is an outside world, of course. But one sees it only indirectly. Mental images are impressed through the avenue or agency of the eyes, and it is these images that are visioned. The images would not be there were there no outside world, so that the world of form cannot well be dispensed with; but if it is not the eye that sees, but the vision is possessed by that which looks upon one's mental mirror, it must be of the utmost importance that one's mental mirror be clear, unblemished, and undefiled.
Human beings are so similarly constituted that, generally speaking, the vision of the outer world is the same to each; or, if not the same, at least suf­ficiently so to enable them to understand each other. But for this fact there would be no generally accepted laws or facts of physical science. Never­theless, the vision of each is individual, and different from that of all others.
Nature provides an infinite variety of everything. Each leaf is different from every other one, even of similar design. Each experience is unique. There are no exact duplications or repetitions. "History repeats itself" in a general way only. Everything is governed by cycles or laws of periodicity, but everything changes from one period to another. The earth revolves conti­nuously, but never again will it occupy the space that accommodates it today.
That one visions indirectly rather than directly is a fact of supreme in­terest. If this be true of sight, it must have similar application to one's hear­ing, tasting, smelling, and touching. If one's perception of the outside world is obtained from his consideration of mental images, it can readily be unders­tood how one person is able to see the outer world differently from another.
The image that will appear on the mental mirror of each person will de­pend upon the condition of the mirror—the degree of its sensitiveness, the texture of the mentality, or the unfoldment of the spiritual understanding. As each of these is individual and unique, it is evident that no two persons sense the outer world in precisely the same way. Not infrequently the difference is an extreme one.
In looking without one is really looking within; and what one will vi­sion outside of himself is dependent upon how he has prepared the inner self. If one's mental mirror is blurred or blemished, his vision of the outer world will take on these characteristics. If one's mental mirror be disturbed by fear or hate, his images of the outer world will seem antagonistic or conflicting. If one's mental mirror be placid or serene, in loving or peaceful quiet, the outer world will have a calming or soothing appearance.
Looking within, what does one find there? What is the character of one's prevailing thoughts? Are they constructive or destructive, optimistic or pessimistic? Are they loving or hateful, peaceful or antagonistic? Are they hopeful or despondent, full of faith or of doubt? Whatever they are, they af­fect the mirror, and to that extent determine the image of the outer world upon which one's vision will be centered.
Would one change the outer world, in so far as he is concerned? Would one gaze upon a world of form different from the one that now engages his attention? Would one change the world he lives in—his world—from the un­pleasant, uninviting, or uninteresting appearance in which it discloses itself to him? Would one see a world quite different from the one he apparently inha­bits?
There is nothing the matter with the world in itself. There are no inhe­rent discords or inharmonies. Discords are but harmonies not understood. The trouble is entirely in one's misinterpretation. The discords are within. The harmonizer is within also. After the change has been made within the without will change in appearance. There may be no outward change, for none is ne­cessary. One's mental mirror has acquired a different receptivity. Its surface vibrations have changed in their attractions. Its radio activity has acquired an affinity for different rates of vibration.
The problem is to change rightly one's mental vibrations, to alter their affinities, to elevate their attractions, or to attune to higher harmonies the ra­dio activity of one's mental mirror. The instrument whereby this is effected is one's thought. The origins, operations, activities, and results of thought are governed by universal and immutable laws; and the sciences covering this branch of knowledge are known as Applied Psychology and Practical Meta­physics. When one comprehends the universal scope of these sciences he can readily understand the intense interest with which they are now regarded.
---
---
---
Man The Master - Eugene Del Mar

---
---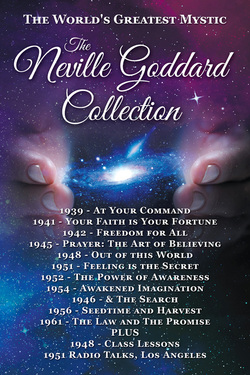 The Neville Goddard Collection - Awakened Imagination and the Search, Freedom For All, At Your Command, Feeling is The Secret, The Law and the Promise, Prayer, The Art of Believing, Your Faith is Your Fortune
---