---
Man The Master - Eugene Del Mar
---
---
---
MAN THE MASTER
BY
EUGENE DEL MAR
Copyright, 1920 by Eugene Del Mar
INTRODUCTION
THE NEW PHILOSOPHY OF LIFE
There is a king that some men never see,
A king that some men never seek;
Often indeed the lowly and the weak
See Truth more clearly than does royalty.
But whether to this king you bow the knee,
Or turn away with no desire to speak,
Or whether you be arrogant or meek,
Still he is monarch, and will ever be.
The kings of old defied him. They are dust,
Departed with their legends and their lies;
The rich today, the vain, the friends of lust
Fly from this king or turn away their eyes.
Proudly he reigns, disdaining praise or curse,
The overlord of all the universe.
—WILLIAM F. KIRK.
Convictions that would have taken many years to mature during times of peace have culminated rapidly in the suddenness and depth of the stirred emotions and the unusual character of the involved tragedies.
In the light of their new revelations as to God and Nature, men have come to realize clearly, and as in a vision, their true relationship to other men. They are now eager to test their broader outlook and put in practice the ideals of their new philosophy of life.
Political revolutions have been rampant. Political autocrats—whether emperors, kings, czars or Kaisers—have been consigned to oblivion. The divine right of hereditary kings is being transmuted into the general recognition of the divinity and kingship of each and every man.
What is taking place is a transition in world-thought. The fall of a gov­ernment or the rise of a nation is but one of its minor incidents. Back of these symptoms is the disease for which mankind has long been seeking a cure, and the causes of the racial disorders are the false conceptions of life that to this day have been persistently inculcated and enforced or accepted.
The world has been guided and governed by faulty religious interpretations, by religious truths that have been distorted by theology, by an alleged science that was true only to the interests of its institutional authors, and by a philosophy of life which was necessarily fallacious by reason of its unsound premises.
Man's nature must be appealed to and satisfied on each of its threefold aspects. Religion treats of man's Being and his relation to God or the Infinite, and appeals to his spiritual nature. But man exists in a world of form and ma­terial environment, and he must know truly the facts of existence in order to understand the experiences that confront him. He must be able to relate his spiritual and physical aspects of life by a philosophy that will harmonize the two.
As such, religion alone does not contain the full message, nor constitute a complete guide, for mankind. It is true that the designation of "religion" may be given to that which is a composite of religion, science, and philoso­phy. But a science that is deduced from theology lacks the stamp of truth, and any philosophy based on it necessarily is misleading. The world consciousness has now been aroused to this peril, and it demands immediate relief and redress.
Religion, or science, or philosophy—any one of them, alone and un­aided by the others—breeds visionaries and fanatics. It does not suffice that one floats always in the limitless ethers of space, or ever clings close to the soil, or even remains in uncertain suspension between sky and earth. Man must occupy consciously all planes of existence, or not even one aspect of his threefold nature may be completely satisfied or harmonious.
The world hungers for a religion free from theology. It demands to know the facts of life free from the travesties with which they have always been associated; and, above all, it insists upon a philosophy of life that will enable it to live fully and harmoniously.
All of these things are at hand, awaiting appropriation. The world now has a science based on solid foundations of demonstrated fact and clear gene­ralizations of fundamental principles; its ideals are in complete accord with those of the highest religious conceptions; and the accepted ideals of both re­ligion and science are sufficiently broad and noble to sustain a philosophy of life that will guide man to a harmonious consciousness on every plane of his existence. The fundamental principles of religion and science are identical.
When the lofty ideals of science meet with general acceptance and un­derstanding; when the fundamental laws of nature are simply and plainly giv­en popular circulation; when it is known by all that Nature's laws neither permit of exception nor admit of personal privilege; when it is discerned clearly that each condition, form, and institution is related to every other by a process of evolution; when unity, identity, love, and co-operation, are recog­nized as Nature's eternal methods—then will man be prepared for a practical philosophy of Brotherhood, the inauguration of an era of Mutual Service, and the worship of a God of Love.
Man must devote himself more to a study of the Living Book of God— God's Universe—a book that is always and ever logical and consistent, that never contradicts itself, and that ever sub-serves equally the interests of all of God's children. Its fundamental conception is unity, oneness, identity; its ba­sic lesson is mutuality; its inherent motive is love.
A change has come over the world. There is now in progress a gradual acceptance of the great truths of science and religion, and of a philosophy that relates them harmoniously. Even their present very limited acceptance has sufficed to precipitate tremendous changes in political, religious, social, and economic relations. Unless quick adjustments are made throughout the world, disorderly revolutions may supplant the more regular processes of evolution.
The new philosophy points a way to the solution of the world problems. While the physical aspects of these problems are plainly evident, even more are they mental and spiritual. Physical or material remedies alone will prove to be utterly insufficient to meet the present situation. What is essential is that a new attitude of mind pervade the race, a deeper knowledge of the facts of life, and a philosophy that correlates religion and science in one harmonious brotherhood of feeling, thought, and act. Then, and then only, will the Life of the Spirit shine forth from man with an effulgence that will efface the dark spots of earthly existence.
---
---
---
Man The Master - Eugene Del Mar

---
---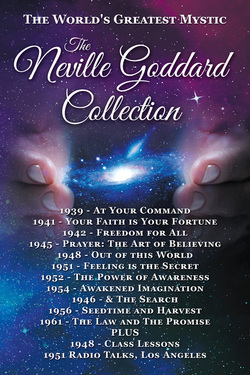 The Neville Goddard Collection - Awakened Imagination and the Search, Freedom For All, At Your Command, Feeling is The Secret, The Law and the Promise, Prayer, The Art of Believing, Your Faith is Your Fortune
---