---
Man The Master - Eugene Del Mar
---
---
---
MAN THE MASTER
BY
EUGENE DEL MAR
Copyright, 1920 by Eugene Del Mar
CAUSE AND EFFECT: KARMA
THE LAW OF FREEDOM
If ye lay bound upon the wheel of change,
And no way were of breaking from the chain,
The Heart of boundless Being were a curse,
The Soul of Things feel pain.
Ye are not bound! the Soul of Things is sweet,
The Heart of Being is celestial rest;
Stronger than woe is will: that which was
Good Doth pass to Better—Best.
—EDWIN ARNOLD. Light of Asia
MANY believe that man has no control over his fate or destiny, that he has no free will, that what shall be has long since been determined, that man is virtually an automaton, that although he may believe he has freedom of choice, all that he thinks or does are matters of absolute compulsion.
Others believe that fundamentally man is the master of his fate, that he has free will, that nothing is inevitable to him until it has actually manifested, that man creates his conditions and circumstances, that not only is he not an automaton, but, on the contrary, that he has the power of complete freedom of choice.
From time immemorial man has believed in his essential slavery, and even now this conception meets with general acceptance. But at recurrent lengthy intervals of time there has appeared on this planet a Thinker, who taught man his essential freedom; and there have always been a few who have accepted this larger vision. It is now the settled conviction of a greater number than have ever before entertained it, and the belief is becoming popu­lar.
It is plainly evident that man is as much enslaved by ignorance as he is freed by knowledge and wisdom. The more ignorant one is the greater is his bondage, and his freedom is commensurate with his wisdom. To the same degree that man was, or is, ignorant, it is conceivable that he may be wise; to the extent that he responds to slavery may he vibrate to freedom.
If man began his career in complete ignorance and utter darkness, sure­ly it may be possible that he shall reach a condition of corresponding com­plete wisdom and illumination. Who can place a limit to man's capacities? The wisest must know that their utmost attainments mark but a threshold of human consciousness and realization.
The law of karma, or the principle of cause and effect, is embedded in the very framework of the Universe. It is the Law of God! Is God's funda­mental Principle a law of slavery? Does the heart of the Universe vibrate in terms of contest and opposition? Can it be conceived that the principle of at­traction holds the world in bondage, or that the freedom of the Universe con­stitutes a human limitation? Are not God's laws the guarantees of human freedom? Otherwise were our highest conceptions of Truth but matters of egotism and self-deceit!
The mind of primitive man was overwhelmed by the wondrous work­ings of the Universe; he was filled with fear and terror at its power, majesty, and grandeur. He seemed so small and puny, and environment so vast and overpowering. He was awestruck by the seemingly remorseless sequence of cause and effect, and the apparently unpitying process of an unfeeling me­chanism. These were the necessary deductions of an immature mind with sur­face understanding only and an extremely limited experience. Under the cir­cumstances, the conclusion was inevitable that man was a slave.
As man progressed and developed, his crude emotions, passions, and selfishness developed a social order wherein definite religious, political and social ranks, and caste were created; and gradually this continued relation of ruler and ruled or master and slave crystallized from traditional habit and cus­tom into established institutions. The ruling classes combined to hold the masses in subjection, and to this end made use of every available agency with which to enslave and bind the mind of man. A patchwork of superstitions suf­ficed for man's science, philosophy, and religion.
The result of the political and social dominance of superstition was first the assumption and then the established belief that man's governmental insti­tutions were replicas of divine conditions, and that the potentates of earth were endowed with heavenly privileges and powers. It was inculcated and believed that rulers and masters were so by divine dispensation and destiny, as were also those who were ruled and slaves; both were always to be what they then were!
These conceptions became ingrained through long centuries of custom, habit, and tradition, and they were then confirmed by historical fact and expe­rience. It became the accepted belief of man that escape from these condi­tions and relations was impossible. The established religions comforted those who suffered most in this existence by the promise that they would receive proportionate recompense hereafter; and this came to be regarded as so basic a belief that great numbers of people even imposed additional voluntary suf­fering on themselves in order to increase their quota of expected heavenly reward!
The dominant institutions of political, social, and educational life echoed and reinforced these conceptions. It became the general belief that man was the slave, not only of physical environment, but also of human envi­ronment. Fate, destiny, predestination—the "Will of God"—were accepted as fundamentals. Man was a worm of the dust, a slave of environment, a servant of tradition! Moreover, the reactions of the Universe all confirmed these be­liefs, for they always accommodate themselves with wondrous exactness to each and every individual and racial conception.
Man had established definite relations with the Universe; and human laws, customs, traditions, and habits of thought all confirmed the compact he had made. Man accepted the terms of his renunciation as final and conclu­sive. He agreed that he was, and must be, a slave; and all freedom of thought or action was self-inhibited. With atrophied brain and mental vision rigidly confined by voluntary bunkers, no ordinary evolutionary development proved sufficient to free man from his self-imposed bondage. However, at long and recurrent periods the accumulated reactions of repeated limitations and re­pressions culminated in critical points of human development, and revolutio­nary outbursts shattered for a time man's self-imposed bondage.
Man has now attained mental development and spiritual unfoldment that no longer permit him passively to accept these traditional limitations. He refuses to continue the obsessions that have been handed down to him through the ages. His clearer vision pierces the fogs of ignorance and clouds of ancient superstition. He recognizes that his chains are of his own making, and he proposes to release himself from his self-imposed limitations.
If man has the powers heretofore ascribed to Deity alone, but has nei­ther knowledge of them nor belief in the self, he will continue to evidence the character of a weakling who is devoid of power. But if, in addition to pos­sessing these great powers, man has knowledge of them and faith in the self can he then direct his life to suit his purpose, alter his conditions and circums­tances, change or neutralize his karmic inheritances, and determine his fate?
That cause and result are correlated and inseparable requires no argu­ment. It is equally indisputable that action and reaction are equal, and from opposite directions. It may be conceded that in the non-conscious realms there is no possible escape from the mathematical results of causes, and that if no new direction be given to a cause its correlated result is inevitable. It may even be accepted that in the spiritual realm cause and result are one, in­separable and instantaneous. But deeper than all this lies the heart of the problem to be solved.
The real question for solution is the ability of a self-conscious soul to so influence causes already set in motion that results will manifest differently from what they would if not so influenced. If it be conceded that man has this power, then it is all-important to determine, or at least to indicate, the extent to which he may exert it. Is man to be freed by principle, or is he forever to be bound by precedent?
THEOSOPHICAL CONCEPTIONS
He—dying—leaveth as the sum of him
A life-count closed, whose ills are dead and quit,
Whose good is quick and mighty, far and near,
So that fruit follow it.
No need has such to live as ye name life;
That which began in him when he began
Is finished;
he has wrought the purpose through
Of what did make him man.
EDWIN ARNOLD: Light of Asia.
The law of karma plays an important role in theosophy, which embodies profound religious and ethical conceptions. As with all other religions, there are contrasting phrases of both esoteric and exoteric interpretation, the former leading to spirituality and freedom and the latter tending toward mate­rialism and slavery.
The law of karma is a law of nature. It is no more sacred than any other law of nature, each of which embodies a statement of conditions rather than a command, and is enabling and not compelling. It assumes a universal interre­lation, any disturbance of which necessitates a readjustment. The activities of this constitutes the karma of the disturbance; and, having a given origin, ad­justment must be made through a reaction to that point. Wisely, intelligently, and equitably, karma adjusts each result to its cause, tracing this back to its producer. It always restores harmony and preserves the balance of equili­brium.
Moreover, one does not return to existence under the exact conditions in which he left it previously. According to theosophical conceptions, one reincarnates only after more or less lengthy and eventful periods of assimila­tion and transmutation on the astral and heavenly planes, during which time freedom of choice is more restricted than it is while here in the flesh. Indeed, the theosophical conceptions of the workings of the law of karma will be but poorly understood unless the activity of the soul in the non-physical condition be studied.
The conception may be simply and briefly stated this way: Aspirations and desires in one incarnation become faculties in another, repeated thoughts become tendencies, dominant tendencies reappear as innate qualities, the will to perform becomes the capacity to achieve, experiences become wisdom, thought builds character, actions make environment, and the ideals of one life become the circumstances of the next.
The changelessness of karma is not the inevitability of effects, but of law. One is not in the grip of an iron destiny imposed upon Mm from outside; he is in a world of law, full of natural forces which he can utilize to bring about the conditions he desires. One can manipulate, hold up, oppose, and circumvent karma; and he may modify or change impending events by taking away or adding causes.
Evolution is an essential conception of theosophy, and karma is the guarantee of man's evolution into mental and moral perfection. Self-conscious evolution involves a continual "interference" with karma; and in the only sense in which one can interfere with a law of nature he is perfectly at liberty to do so.
One cannot undo the past nor destroy it, but so far as its effects are still in the future he can modify or reverse them by the new forces he brings to bear as causes. He may even work with the certainty of the scientist who bal­ances one force against another. One may inhibit or neutralize the action of forces coming out of the past by bringing against them forces equal and op­posite. He may interfere with karma as much as he likes, and should interfere with it when the results are objectionable.
There is no interference with the law of karma when we modify its ac­tions by knowledge. Without power to modify or direct, circumvent or inter­fere with results, evolution would be impossible, "and no way were of break­ing from the chain." The chains that bind one are of his own forging, and he can file them away or rivet them more strongly; the house he lives in is of his own building, and he can improve it, let it deteriorate, or rebuild it as he will.
One comes into the world encumbered with fetters of his past making; but the mind forges each fetter, wears it, and while wearing it can file it through. One can neutralize the ill results that would follow from some ill deed by bringing to bear a corresponding force for good; he can meet and shatter a malignant force with the force of love and compassion.
A beautiful conception of karma is outlined by Edwin Arnold in his Light of Asia: "Each man's life the outcome of his former living is. That which ye sow ye reap. Ye suffer from yourselves. Ye are not bound. Stronger than woe is will." Theosophy depicts a more detailed and intricate working of the law.
There are three kinds of karma: (1) The whole mass of unexhausted re­sults which still wait to be worked out; (2) The particular parts of these to be worked out in this incarnation; and (3) That which one is making constantly in this incarnation. It is said that nine-tenths of one's karma is simply the out­come of his mistaken action or foolish attitude in his present existence. The particular karma to be worked out in this incarnation is either "ripe" or "un­ripe." When the point of saturation has been reached, and the next thrill of the soul in response to a stimulus means action, then the power of choice is ex­hausted, and result from such a stimulus is "inevitable"; otherwise it may be avoided.
According to theosophical teaching, only a small and specialized por­tion of one's karma is inevitable, and then provided that the required final stimulus is forthcoming, without which even ripe karma may not manifest. It may even be that one has but little ripe karma, and therefore that few results of inevitable character overshadow his present existence. Karma may be ac­celerated or retarded, and even the sword of Damocles is harmless as long as it is held aloft, if only by a single hair.
When one knows that he is free his fetters will crumble away from his limbs, and according to the measure of his knowledge will be the illusoriness of his bonds. One is always himself the free soul in the midst of his prison house, and he can hew down the walls he himself builder. There is no need for him to wear out slowly the links of chains he forged long ago; he can file them swiftly through, and be rid of them as effectually as though they slowly rusted away to set him free. He has no goaled except himself.
One's only limitation is his ignorance, and perfect knowledge must mean perfect power. The more one knows the greater is his ability to direct and determine conditions. The cause of sorrow lies in ignorance and not in the nature of things; it lies in one's blindness and not in life itself. The deeper the ignorance the greater is one's subjugation to limitation, but one may "burn up his karma by knowledge."
Such is a brief theosophical outline of the great law of karma and of its workings, by a knowledge of which a man may accelerate his evolution, by the utilization of which a man may free himself from bondage, and become, long ere his race has trodden its course, one of the Helpers and Saviours of the world. Nature cannot enslave the soul that by wisdom has gained power, and uses both as love. In the identity of the Divine Will and the human will, and in one's realization of that identity, is perfect freedom.
IN THE REALM OF MATHEMATICS
That fixed decree at silent work which wills
Evolve the dark to light, the dead to life,
To fullness void, to form and yet unformed,
Good unto better, better unto best,
By wordless edict; having none to bid,
None to forbid; for this is past all gods
Immutable, unspeakable, supreme,
A Power which builds, unbuilds, and builds again,
Ruling all things according to the rule
Of virtue, which is beauty, truth, and use.
—EDWIN ARNOLD: Light of Asia.
ALL principles are expressed in terms of mathematics, and, fundamental­ly, the result of an operation of any principle is an exact replica of its cause. That 1+1=1+1 is self-evident; and that 1+1=2 is deemed to be equally incontrovertible. And yet it is in the discrimination between these two pro­positions that are revealed the subtleties of the law of karma.
It should be remembered that the problem to be solved is whether a self-conscious soul, having initiated a cause, may change, alter, or otherwise determine how the correlated result shall manifest. It is a basic truth that cause and result are one. so that, on the plane of reality, by no possibility may a result be avoided; but the extent to which one may influence the manifesta­tion or physical evidence of a result is an intensely practical question, in which humanity is deeply concerned.
In order that karma may be manipulated intelligently, it is essential that one realize his ability to mould it to his heart's desire, and with this under­standing exercise his creative power. This being done, it will be found that the avenues of karmic manifestation may be formulated in terms of mathe­matics. A consideration of karmic activity in realms supposedly lacking in self-consciousness will serve as an introduction to its manipulation by the self-conscious soul.
In its fundamental, the law of karma is simplicity itself. It may be ex­pressed in this form: 1=1; 1+1=1+1=2; 1-1=0; 1+1+1=3; 1+1—1=1; 1+1-1=1. Or it may be stated in this way: One Cause = One Cause = One Result; One Cause + One Cause=One Cause + One Cause = One Result + One Result, etc.
But the element of time enters into the transition from cause to manife­station; there is a process that takes place before the "formless" acquires ma­terial form; it requires time for the inner to reach the outer, for the spiritual to develop into mental expression, and for mental expression to be translated in­to physical manifestation.
While cause or—its counterpart and identity—result is in the realm of the formless and invisible, manifestation is on the plane of form and visibili­ty. The former is fluidic, plastic, subtle, sensitive, and responsive. Its signi­ficance as cause is determined by the elements of its origin; and any element injected into it before it has taken on form may affect the form it shall finally take exactly as though it constituted an original element affecting or consti­tuting the cause.
Broadly speaking, feelings, thoughts, and acts are either constructive or destructive; they either help or hinder; either encourage growth or decay; ei­ther make or mar; either assist or retard evolution; either express love or hate; either represent + or —. If one should put two causes in operation, one a plus and the other a minus, and each of the same magnitude, their combined kar­ma will be 1-1=0; one will have neutralized the other, both will have been dissipated, and neither will take form.
We know that this is exactly what takes place with sound and color vibrations, the velocities and forms of which are known as well as the laws that govern them. These vibrations are expressed in waves, having crests or humps and hollows or troughs. The crest of a wave of a vibration of light or sound and the hollow of another wave may interfere and neutralize each oth­er, so that in combination neither of them shall manifest.
Vibrations of light may be added with resulting darkness, and sound vibrations may be combined with a resulting silence. Cold may be produced by adding heat vibrations, and rest by adding vibrations of motion. In each instance the karma of the individual vibrations has been neutralized com­pletely.
Far more interesting, however, are the instances of partial interference or neutralizing. There are seven notes in the chord or color, and three of these are primary; i.e. each of the seven colors is a combination in different proportions of the three primary ones. When colors are mixed there are al­ways duplications of the primary vibrations, and their combinations conceal or bury, interfere with, or neutralize, certain vibratory factors. These are not destroyed; but, as they do not manifest, for all practical purposes they cease to exist.
The wonder of a symphony, the grandeur of an oratorio, and the beauty of a sonata, as they are interpreted by a great orchestra, reveal to the artist, as they conceal from others, the play of karmic law. The blending of notes, the interplay of chords and harmonies, the rhythmic exchanges, intermingling, interferences, and neutralizations of vibration into one grand result, serve to illustrate and exemplify the wondrous intricacies of manifested creation and the law of karma.
A merchant conducts his business throughout the year, at the end of which his business financial karma is the balance of profit to his credit as evidenced by his balance sheet, showing his stock on hand, his credits, and his debits. He may have made many losses during the year, but they were neutralized, swallowed up, and extinguished by his greater profits. His net profit is his manifested karma.
A speculator makes many purchases and sales during the year; some of them show losses, others come out even, while the remainder credit him with profits greater than his losses. His broker's statement is accompanied by a cheque for his credit balance, which constitutes the manifested financial kar­ma of his speculations.
In all of these instances nothing has been destroyed, for destruction is impossible; but new combinations have been made, and the forms of results which were inevitable have been changed from what would otherwise have obtained. When two colors are merged into a resultant combination, neither of the original colors have been destroyed; for if one of them be extracted from the resultant of their admixture, the other color will constitute the resi­due. But, although these two colors are the causes, the karma of the com­bined result manifests neither of them.
The law of karma is a statement of conditions or interrelations. With the introduction of the elements of time and space it is interpreted as a state­ment of sequences of events. These elements of time and space, and the re­sulting sequences of events, give opportunity for, and permit the interference and admixture of, causes and results, so that some are buried, hidden, con­cealed, neutralized, or interfered with in the maelstrom of their intermingling and their striving for physical manifestation.
This fact of interference finds illustration in the mineral, vegetable, and animal kingdoms; in the science and arts; and in the evolution of physical life. Exactly as the fact of repulsion is the distinguishing attribute of the mag­net and the most convincing proof of a universal principle of attraction, so the self-evident fact of interminable and never-ceasing interference with karma attests the attribute of the universal law of karma as a law of freedom.
An ordinary bar of steel has no appreciable influence on its surround­ings. When but slightly magnetized, it commences to exert power over its en­vironment, but the streams of energy flowing from its countless atoms inter­fere largely with and neutralize each other, so that most of their exertions are wasted. When the steel has been magnetized to the point of saturation, each and all of its constituent atoms act in unison in obedience to a concentrated will, and an inert mass of steel is converted into a powerful magnet that do­minates its environment.
In the life of each person there are congeries of causes and results seek­ing expression and manifestation, and until these are directed by definite ideas, and controlled by exalted ideals, they mutually interfere with and thwart each other; with resulting expressions and manifestations eminently befitting a "worm of the dust" consciousness.
When a person becomes an individual, with self-consciousness and self-will, and charged with magnetic and electrical power toward the point of saturation—a thinker, with exalted ideals and definite ideas, who realizes that he is an immortal soul possessed of creative powers of infinite potentiality— think you that such an immortal magnet in the realization of illimitable pow­ers must be held in bondage today because of his having missed the mark yesterday?
THE CONTROL OF KARMA
Trust in thine own untried capacity
As thou would trust in God Himself.
Thy soul Is but an emanation from the Whole.
Thou dost not dream what forces lie in thee.
Vast and unfathomed as the grandest sea.
No man shall place a limit to thy strength;
Such triumphs as no mortal ever gained
May yet be thine if thou wilt but believe
In thy Creator and thyself. At length
Some feet will tread all heights now unattained--
Why not thine own?
—ELLA WHEELER WILCOX.
TO what extent is man master of his conditions and the creator of his fate? I s he slave or master? Having originated a cause, can he escape its re­sult? May man control his "Karma"?
First let it be admitted that some aspects of life are inevitable. Natural principles are supreme, and beyond control by the individual. The destiny of the soul to descend into matter and to return to its source is unalterable. But the manner, method, and rate of progress, with all its attendant harmonies or discords—in fact, each and every detail of manifested life—are creations of the individual, and may always be brought within its direction and control.
To a certain point in man's development he is a creature of circums­tances, and a slave of the forces that surround him. With self-consciousness, he reaches a point where he commences to give directions to his develop­ment. With self-realization, he takes his life in his own hands, and becomes a conscious creator and a law unto himself.
Can one mould his own life, fashion it according to design, neutralize heredity, thwart environment, and control karma? Certainly he can. Not if he is content to accept traditional beliefs, inherited limitations, and popular pre­judices; not if the experience of the multitude suffices, or he is willing to be a weather-cock, responsive to every environmental change.
What is it that binds? Is it something outside of the self—is it environ­ment? One does not even know what his environment is; all he knows of it is the relation it bears to him, resulting from the attitude of mind he assumes toward it. A circumstance is exactly what he makes of it. One's environment changes with his own change of mind. While one is bound at the moment by his mental attitude, it is his own creation, and subject completely to his dicta­tion and control.
Is one bound by his past—by his karma? Karma is the law of action, of action and reaction, of equilibrium, of adjustment. "Action and reaction are equal, and from opposite directions." A certain cause necessitates a given re­sult; having set the cause in operation, can one escape its result?
Let the problem be put in this way: 1+1 always equals 2, and it can never be anything else. Then, having added 1 and 1, how can one possibly ar­rive at any result but 2? The solution of this seemingly inscrutable problem is simplicity itself. It may be answered in this fashion: Before 1 and 1 has mani­fested as 2 one may add a further 1, and the result of the combination of 1+1+1 will equal 3, and not 2. Or if, instead of adding a further 1, it is sub­tracted, then the result of 1+1—1=1, and not 2. In other words, at any time before the result has consummated one may always secure a different result by adding to, or subtracting from, the factors going to make up the combined result.
It follows that no result is inevitable until it has happened. Having hap­pened, nothing else was possible under the circumstances. If left alone, in­evitably 1+1 must equal 2; but until the result manifests it is always subject to change through the introduction of an additional cause, inducing a different aggregate result.
The blend of two stated colors results in a prescribed third color. But, before the blend is complete, if a third color is introduced the compound manifests as a color entirely different from what would otherwise have ob­tained. It is the same with light and sound vibrations, and also with life vibra­tions. Nothing in manifested life is inevitable until it has actually occurred.
It is claimed that a single accurate forecast of the future proves the in­evitability of the future, and that one is therefore the slave of circumstance rather than its master. The fact that a person can see either the past or the fu­ture as the present, and be cognizant of what a particular person has already done or will hereafter do, neither proves that it is done of necessity or by choice. It merely proves that, whether slave or freeman, that is what he has done or will do. To say that a person must do what he chooses to do simply begs the question.
Does one "interfere with karma," and place himself in conflict with eternal law, when he seeks to avoid the result of 1+1=2? Is 1+1=2 any more sacred than 1+1+1=3? No one can interfere with eternal principle, but not on­ly may he interfere with results, but this is the very essence of spiritual devel­opment. It is his "regular business" to accelerate the evolutionary process, and to expedite progress toward the realization of his divinity.
The fact is that one may do very much as he pleases with his karma. Laws are not compelling, but enabling. While they indicate the necessary se­quence of events, they may be manipulated. It lies within one's power to do­minate his environment and determine his future. What path must he follow to realize this power?
One must know, understand, and believe in the law of karma—that he is the product of his past, the creator of his present, the successor of himself, equally free to make and to unmake, and limited to the exact extent of his ac­ceptance of self-limitation.
As Mrs. Besant says: "He is limited by his past, by his wasted oppor­tunities, by his mistaken choices, by his foolish yielding; he is bound by his forgotten desires, enchained by his errors of an earlier day. And yet he is not bound, the Real Man. He who made the past that imprisons his present can work within the prison-house and create a future of liberty. Nay, let him know that he himself is free, and the fetters will crumble away from his limbs, and according to the measure of his knowledge will be the illusoriness of his bonds."
Spiritual or mental healing does not interfere with karma hi the sense that any license is taken with the law. Nor does physical healing, neither. If health + discord = disease, then disease—discord = health. Surely if one in­terferes with karma when changing from disease to health he must have inter­fered previously with karma when converting health into disease! A strange law indeed that would place a premium on discord and disease!
May one put an end to his karma from a previous incarnation? Not only may he do it, but this is exactly what the self-liberated soul is called upon to do. Creator now, and no longer an automaton, he need not wait upon the normal rate of attrition, but—as Mrs. Besant says—"will file through his karmic chains." If it were impossible to do this in any existent incarnation, he could never attain; for, if of necessity each incarnation but leads to another, never would there be one that was final!
To what extent may one exercise control? The normal rate of uncons­cious development is very slow. With self-consciousness the pace is quick­ened, and with self-realization there is a constantly increasing acceleration. Karma is then "precipitated," so that one may meet and appropriate say with­in a year the wisdom of experiences that would more than suffice for anoth­er's whole span of manifested life. "The firm soul haste's; the feeble tarries. All will reach the sunlit snows."
One may neutralize and end his karma. He may pay up, and be quits. Everything has its price; but once the debt is paid it is extinguished, and no longer binds. Not only may he pay his debts, but he need not incur fresh obli­gations. "Nothing endures; fair virtues waste with time, foul sins grow purged thereby."
With one's greater realization of unity one's vital expenses come more and more within his income; for he has become less conscious of separation, and action is less tinged with selfishness. If action is untainted by the con­sciousness of separation—action detached from fruits of action, selfless ac­tion —there is no reaction of indebtedness, and one is "nowise bound by bond of deeds." The reaction of such action constitutes a credit entry on the Ledger of Life.
One does not in one incarnation set in motion a cause which remains quiescent until another incarnation brings it to life. No; cause and result are one; result is bound up in cause; result is immediate; the two terms express merely the same thing looked at from different points of view. If left to run its normal course, a result may not manifest until a future incarnation; but it is never separate from its cause, and at any time its creator may call it in, pay up the debt, and be freed from further obligation on its account.
No one has ever exercised his full powers, or knows his limit of capaci­ty. If one accepts tradition, convention, experience, and precedent as his only guides, his self-made limitations will indeed exclude him from anything like a full realization of his powers; nor may he control karma while he confers the mastery upon these scarecrows.
But when one has buried these pretenders and laid their ghosts, when he has penetrated their disguises and torn off their masks, he finds that all li­mitations are self-made, that slavery and freedom are but synonyms for ig­norance and wisdom, that one escapes limitation as he ceases to recognize it, and creates to the extent that he realizes his creative powers. When one knows that he is free, he is free; for the realization of freedom and freedom itself are identical.
To again quote Mrs. Besant: "By a knowledge of the great law of kar­ma and its workings a man may accelerate his evolution by its utilization; he may free himself from bondage, and become, long ere the race has trodden its course, one of the keepers and saviours of the world. A deep and steady con­viction of the truth of this law gives an immovable serenity and a perfect fearlessness; nothing can touch him that he has not sought; nothing can injure him that he has not merited. Nature cannot enslave the soul that by wisdom has gained power, and uses both as love."
FATE AND DESTINY
The future works out great men's purposes:
The present is enough for common souls,
Who, never looking forward, are indeed
Mere clay, wherein the footprints of their age
Are petrified forever.
Better those Who lead the blind old giant by the hand
From out the pathless desert where he gropes.
And set him onward on his darksome way.
I do not fear to follow out the truth,
Albeit along the precipice's edge.
—JAMES RUSSELL LOWELL.
DURING recent years many wondrous scientific discoveries have opened up a vista of man's conquest of the material world that is marvelous in the extreme. In the discovery that the material world is essentially immaterial man has found that form is not only fundamentally impermanent, but is mal­leable to his desires; and he has become a conscious creator in the only sense that creation may be understood. He may transform and transmute matter; he may change one form to another; resolve the visible into invisibility; and convert into visibility that which previously was not cognizable by the senses.
At the same time, the spiritual scientists have revealed the truth that there are compartments or aspects of mind possessing powers that heretofore have not been regarded as possible to man. It is coming to be realized that the attributes and powers heretofore accorded to divinity are but visions of the potentialities in the mind of man. The discoveries of the functions of the sub­conscious and super-conscious mental activities have opened up realms of conquest that seem practically illimitable.
It is in the conjunction of these two series of discoveries that lies their great importance. The accepted fact of an essentially immaterial world would be of comparatively little value without the acknowledged ability to take ad­vantage of that fact. And this ability, without the understanding of an imma­terial world, would avail but little. Coming together, the combined ability and opportunity have opened up a new world for man's conquest, and his curiosi­ty and interest have been aroused as perhaps never before.
The reasoning faculties do not admit the possibility of their possession of infinite powers. In the light of the evidence of its own present fallibility, reason shrinks from any such conclusion when it contemplates by contrast the evident perfection of principle and the activities of the Universe and its ad­mittedly illimitable expanse. While it recognizes that the extent of man's powers are indefinite, and that one may not predicate any conceivable limita­tion, still it is quite unable to identify the powers of man and God.
Such an identification would be in derogation and contradiction of all of man's accepted definitions and interpretations. Man looks upon himself as infinite, and upon that which transcends the finite he regards as Infinite; a term which in itself denotes both a belief in separation of the finite and Infi­nite, and a confession of man's ignorance of the latter. One cannot use these two evidently contrasting terms as equally descriptive of both of them. These terms are evidences of conceptions of God and man that must be changed considerably if they are to convey any idea of a relation between, or identity of, the two.
The recent discoveries in physical and spiritual science have demon­strated clearly that man has far more control over his life than was either pre­viously admitted or even suspected. It has become clearly evident that the worm of the dust consciousness has no warrant in fact or truth; but, that, on the contrary, the victorious consciousness is the rightful and appropriate atti­tude of man in view of the powers and attributes that are his indubitable pos­session.
When a new vision opens to the mind of man he is disposed to let his imagination run riot; if he is "given an inch he takes an ell"; and not infre­quently the extension of his logic carries him into the realm of the illogical. He usually ignores the transition from the physical to the mental, and the mental to the spiritual, as well as the fact that methods are reversed in the transition from one realm to another.
From the point of view of present-day knowledge and understanding, what are the limitations in the powers of man that one must necessarily ad­mit? Are there any; and, if so, what are they? Is one bound by a predeter­mined fate or destiny? Within what confines is it possible for man to purpose­ly shape the terms of his existence?
The answers to these questions are of the utmost importance. Man will not attempt the admittedly impossible. He will not use his full strength in any attempt which he regards as futile. That would be a useless effort, and a waste of power. One can put his full force of accomplishment only into an ef­fort to secure results that are deemed possible of attainment. As man cannot accomplish beyond the confines of his beliefs, it is of the highest conse­quence that his realm of attainment be expanded to the utmost.
There is but one basic power in the world, that of thought. Taking it in its broadest definition, it includes that which is conscious and unconscious (subconscious and super-conscious), intellectual, emotional, and intuitional; embracing physical form, which is its outward show or activity, mental con­sciousness, and spiritual realization. Thought is the one instrument of the Soul and mind of man. In his power of choice, in his ability to think what and as he pleases, man has at his command, and subject to his direction and con­trol, the one universal power. In the realization of his Oneness with the Infi­nite he knows that he possesses this power and can wield it.
The belief in God, the Infinite, the Universal Spirit, and of an intimate relation between the finite and the Infinite involves the acceptance of a fun­damental and universal motive, object, and purpose. Being Infinite in charac­ter, these must necessarily be inevitable, inexorable, and eternal. Being essen­tially Good or Beneficent, they must be for the best interests of man, for their essence must be a Love that is all-inclusive and ever active.
With this understanding it becomes clear that the Principles of the Un­iverse confer freedom upon man, and that he is a slave only to the extent that either ignorantly or willfully he places himself out of harmony with Universal Principles. Then he is at discord with the laws of God, and no longer "in tune with the Infinite."
The journey of the Soul, in the life of man, is along the path of ever- increasing realization of its identity with the Universal Spirit, the Infinite, God. It is a constant, incessant, and interminable search for God. As a Soul, each man has the same origin, makes the same journey, and ultimately reach­es the same destination. He cannot forever escape the good that is essentially his. Nor may he avoid the transitional points that mark the Soul's unfold­ment.
In an eternal journey it is not difficult to realize that the Soul must reach certain "critical points" of unfoldment, where differences of variety are transmuted into permanency of species, to use the language of the physical scientist. We see analogies of this in the development of various organic forms; and even in inorganic transformation, as in the conversion of ice into water, and water into steam. The form or material changes from degrees of variety into a permanence of species, the mere intensifying of conditions converting one existence into another of apparently contrasting character.
Traveling around this world of ours by steamer, let us assume that, on the way, there are certain ports that must be entered in order that the journey may be continued. Let us suppose that we start from New York, that Liver­pool is our next port of destination, then Marseilles, etc. Pursuing our analo­gy, it is impossible for one who leaves New York to avoid Liverpool, for it is there that he secures his passport in order that he may proceed farther. There­fore one is destined to go into Liverpool. As it is a way-station on the path of his destiny, it is impossible to avoid it; and, moreover, it would be fatal to him to do so, were it possible.
But one is entirely free to choose his mode of transit from one port of destiny to another. He may take a steamer, a sailing vessel, or a row-boat; he may go by flying machine or submarine. If he goes by steamer he is free to choose the line, the particular steamer, the class of the passage, and all the other alternatives. He is free to be well or to be sea-sick, to be pleasant or un­pleasant, to enjoy himself or be miserable; in fact, each and every detail is left to his choice, so that he has the privilege of determining the health, har­mony, and happiness that he shall manifest in his journey from port to port.
The symbolic journey from New York to Liverpool—that is, the jour­ney of the Soul from port to port of its destiny—is essentially a joy-ride, of­fering advantages and benefits, but leaving the traveler completely free to ac­cept or reject any or all of the many comforts and conveniences that are of­fered. In this sense, while man may not change his destiny, he not only may but always does determine his fate.
That which is destined is related entirely to the innermost, unseen side of life. Fate is concerned with the operations of the mind and body, and with the form side of life. That which is for man's inevitable advantage does not come within the realm of his consciousness, so that he has no direct cognition of it, nor may he influence it directly. At the same time, it is influenced and affected by one's every thought and act.
"Destiny" may be considered as including all that is inevitable, and "fate" as covering that over which man has no control. So understood, posi­tively or negatively man fashions his own fate, while his destiny is predeter­mined. His fate is incidental and extrinsic, while his destiny is fundamental and intrinsic.
Destiny represents the various ports of destination, A, B, C, D, etc., which the soul must make in its journey toward the perfect realization of its divinity. Fate includes the various lines of travel, a, b, c, d, etc., which may be followed in traversing the ocean of life.
Whether one travels from port A by route a, b, c, or d, inevitably he must reach B, where all of these roads converge. One may, indeed he must, choose his route; but "there is no place to go but home," and he cannot avoid his port of destination.
The certainty of man's destiny and his control over fate are equally to his advantage. That which in any event must be evidences the zenith of love and wisdom. That which is left to man's choice responds to his measure of development. He renders it more or less pleasurable or painful, desirable or undesirable, attractive or repulsive. At all times man reveals his plane of un­derstanding in his realization and manifestation of constructive and purpose­ful creation.
Man has nothing to complain of in the Universal Plan. He is con­strained to the observance of that which is for his inevitable advantage. Noth­ing that he is destined to be can be essentially detrimental to him. Outside of this, complete freedom has been conferred upon him; and all inharmonies, pains, and sufferings, are results of his failure to act in accord with imperson­al and impartial, but inevitable and inexorable, Principle. His progress is from ignorance to understanding; and evidently he has the potential ability to de­termine his fate in complete harmony with the terms of his destiny, and it is seemingly the Divine Plan that ultimately he must do so.
This signifies that one's thoughts and acts will more and more take on the constructive and creative quality that inheres eternally in the Infinite In­telligence. He will indulge less and less in negative or destructive thoughts and acts, and increasingly he will gather a greater measure of wisdom from a narrower range of experiences. His faith and love will be intensified, and his intuitions awakened, so that he will think and act with the assurance of both intellectual and spiritual conviction.
This is accomplished as man recognizes the Truth mentally and realizes it spiritually, as his intellectual consciousness is transmuted into a spiritual realization, the content of which is the identity of the Soul with the Universal Spirit, the correspondence of his physical growth with his mental develop­ment, and the harmonious blending of Soul, mind, and body.
This involves the understanding that there is but One Life, that each form is but a vehicle for, and the habitation of, a Soul, the avenue of expres­sion of the infinite. When one realizes that the life he manifests is the life of God, that his ability to live that life is limited only by the depth and breadth of his acquired wisdom and understanding, and that there is no recognizable limitation to his expression or manifestation of the Infinite, then he becomes conscious of a dignity and grandeur of life, in the light of his glorious destiny as a son of God.
Man's fate is in his own hands. He is neither bound nor constrained by any of the Laws of God, which simply express the sequence of events and the relation of cause and effect. These are indeed the guarantees of man's free­dom, affording him guides that are consistent and invariable. He learns what these laws are through his contact with the results of their operations on the material that he supplied for them to work upon.
As he reaches a more complete understanding of these, he co-operates and harmonizes with them to a greater extent, until he realizes, in his implicit conscious obedience to the Laws of God, that they have become his servants. In his conscious harmonious co-operation with them he realizes the victo­rious consciousness, and becomes the Master of his Self.
---
---
---
Man The Master - Eugene Del Mar

---
---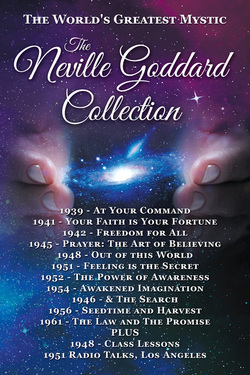 The Neville Goddard Collection - Awakened Imagination and the Search, Freedom For All, At Your Command, Feeling is The Secret, The Law and the Promise, Prayer, The Art of Believing, Your Faith is Your Fortune
---