---
The Lost Key To The Scriptures - Alvin Boyd Kuhn
---
---
THE LOST KEY TO THE SCRIPTURES
By
ALVIN BOYD KUHN, PhD


LOST KEYS RECOVERED

If the Bible is a collection of dramas and allegories of the soul's life in body, the point of next importance concerns their interpretation. Everything of value ultimately hinges on this. And because it was ever of pivotal importance, it was right here that ineptitude, unintelligence, and chicanery crept in to ruin the operation of the entire scheme of instruction divinely instituted for human benefit. The loss of the symbolic codes and the consequent failure to grasp the proper interpretation sent the entire structure of ancient sagacity crashing down in tragic wreckage.

The trap that caught ignorance in its snares and led to the fatal decline of intelligence necessary for a true interpretation of Scriptural lore is not hard to locate. It was the strange device that ancient genius employed to release truth to the intelligent and the initiated, while hiding it from the base and vulgar mind. For the Bibles were written in a language the very existence of which has hardly been known since the days of its ancient usage—the language of symbolism.

The glyphs and characters of this ancient language have been undeciphered for twenty centuries or more. Only recently have the first steps been taken toward its recovery and restoration. But already it is seen that through its light the interior true meaning of the Bible and theology leaps into glorious significance and luminous intelligibility, so that the whole volume of divine revelation embodied in the Holy Scriptures is at once redeemed from errant nonsense to sublime import and value. If this is true in any measurable degree, the announcement becomes the epochal event in two thousand years of Christian history. That it is wholly true there is no longer any sound reason to doubt.

---
End of Lost Keys Recovered
---
---
The Lost Keys to the Scriptures - Alvin Boyd Kuhn

---
---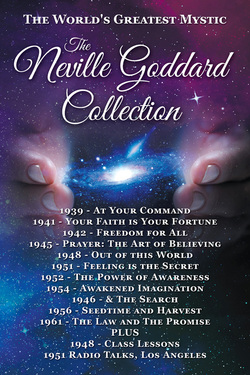 The Neville Goddard Collection - Awakened Imagination and the Search, Freedom For All, At Your Command, Feeling is The Secret, The Law and the Promise, Prayer, The Art of Believing, Your Faith is Your Fortune
---