---
Fay Adams - The Hidden Word Revealed
---
---
---
The Hidden Word Revealed
by
Fay Adams

1924

Chapter 2

Your World a Moving Picture of Your Desires and Fears

THE MYRIAD differences in all manifest form are the differences in rate of vibration — light, sound and color are of high rate, and steel, lead, earth, etc., are of low rate.

The body and mind are so constituted that they perceive through the senses the varying rates and interpret them as sound, color, form, air, liquid, etc.

Desire or fear is the motive power that sets the original substance in vibration, while the thought or word forms it. Therefore you exactly balance your Universe. For every person, object or condition that appears in your life, you have a mental counterpart. The persons nearest you are your innermost thoughts in action. The husband is the form and expression of the wife's lowest thought. If a wife in her heart has a wish to flirt, and inasmuch as she represses that DESIRE will her husband do it in actuality with all of the attendant details. She can cure that desire by loving all humanity, and her husband's interest will find a legitimate outlet.

The body, clothing and homes of people tell the story of the order and sweetness of the thoughts. What you do does not matter; it is what you like in your heart that pictures in the world about you. The manifest world about you is a moving picture of your own mind. Tell a risque story and look out through your window on the street and you will notice a slovenly man, a woman dressed in bad taste, and a number of rattletrap conveyances will pass for you to view. Feel low in mind and talk hard times, then walk the street and you will pass cripples, failures and funerals. Leave your home happy and full of enthusiasm and prosperous men and women appear. Whatever appears in your fellow man is a thought in you. What you see in others a little, is in you a great deal.

To build a new world hold everyone perfect, and admit that the imperfection you saw in another was a tendency in your own self to do the same thing, and then watch the difference in the way people treat you. If you see a man halt or blind, search your mind for a corresponding thought, either of body or affairs, and watch your conditions change. Old people are regrets and old states of consciousness. Women are love thoughts and if you are surrounded by old, inarticulate, sad women, you are repressing your love nature. If you are happy and loving, you will draw young, pretty and charming women to you. Young men show new thoughts of wisdom and power, if strong, handsome and alert.

Observe the people closely in different localities and you will see that people who are hard, grasping and bitter will gather in barren, rocky and desolate localities. The flowers, fruits and trees show the mental attitude of the people near. The entire Universe responds to your desires. Oh why repress your desires when by bringing them out into the sunshine of truth they will purify themselves, and glorify all people and things.

When Jesus was on the Mount with Peter, James and John and was transfigured before them, there was pictured the personal DESIRE (Jesus) acting through the nature or soul of man and refining the body. "This is my Beloved Son, hear him," means your natural desires are offerings of the Great Desire to express and they tell you to "hear" or listen to your desires and admit them, or "build an arc" on the mental, physical and material planes, as represented by Moses, Elias and Jesus.

To repress even the least of desires hangs a millstone about your neck, for "Whatever ye do to the least of these," you have done to the great, glorious mind expressing through you. Admit them all and trace each to its source and see what it is you really want. If they are unlovely to look at, they are a thousand times worse repressed and will picture themselves for you to view in some form or other, anyway; so let them loose where you can know and direct them. "There is nothing hid that shall not be uncovered," so you might as well uncover them yourself. Prove each one to see which is the Christ, and the mind (Father) within you will do his works. DESIRE is the "Lamb of God that is slain from the foundation of the world."

Substance

WHEN the manifest world is reduced to its original elements, we have, according to metaphysicians, spirit; and according to the physical scientists, electrons. The fact remains that there is left a substance or vibratory energy out of which all manifest form is made. Whether we say matter is held together by cohesive force or intelligence, it follows that the original substance is in everything in degree and everything has all the properties of substance in degree.

This substance is so plastic that our lightest thought makes an impression upon it. Whether the thought is sent out in fear or desire it will shape the thing feared or desired until it manifests in our world. Dwelling on a past sorrow or future hope will cause the former to repeat itself and hasten the latter's appearance. (See chapter on attachments.)

In the universal substance is anything that can be thought of, and the intelligence to bring it into tangible form. Anything that you can imagine you can create. The motive power that brings this substance into action is your word. (Desire is a silent word.) That word may be silent, written or spoken. It is the actual mold of manifestation. John uttered a literal fact when he said, The Word was all things and by it all things were made that were made. Jesus, knowing the power of the Word, cautioned against the indiscriminate use of it.

Your Word is one of God's finest gifts to you, yet like all good things it can be used adversely. Consider the multitude of adverse words being spoken into the Universal substance and you realize that it is only by the grace of God that the world exists. Only for fact that evil destroys itself and that good increases, conditions in the world would be chaos. A good word spoken must perfect itself. It never dies, but multiplies and returns to bless.

The evil word gathers conditions of its kind and since it is without intelligent foundation in the beginning, its formation must break up and the crash may take the sender along with the wreck (witness Europe) . The disturbed condition so often noticed when the mind is changing from evil to the true Word is the effect of false combinations of words falling apart. It is to be noticed in the lives of some people that they experience similar losses or sorrows again and again. This is caused by their having fallen into habits of speech. Let them have one sorrow and another will come soon, because they continually rehearse the first and all its attendant details, and the succeeding trial will be greater than the first.

Gossip and criticism bring persecution. Find fault with your environment and it will grow worse. Complain of your health and it will leave you. For such idle expressions as, "I am dying for a drink," "I am frightened to death," "such a beastly place," etc., you will give an account.

Words relating to evil subjects have an unpleasant sound and their effect is felt as in the shudder at the mention of a crime. How depressing is the doleful cry of the man buying rags! The soul knows the effect of words and warns you by these sensations to refrain. The feeling of joy we experience when in the company of cheerful people, the thrill of delight at beautiful music and the peace and comfort at the Words of Jesus, are the soul's response to its natural expression.

The Word

The life cell contains both male and female principle. "Male and female created he them," written in Genesis, means that the double nature was contained in each. With this thought in mind, mentally take a trip back to the beginning of creation. Starting with your mother, back through her mother and so on, letting each generation fall away one at a time like husks until you are Adam. Pause here a moment while you realize that you are still male and female, then take another step back into God or the original Principle and ask yourself the question, "Who is left?" and if you answer, "I am," then you are in a position to make the acquaintance of your Divinity. From this high point in consciousness you can realize that you and God are one. God being the principle (life), and you, the life principle individualized. Hitherto you have been unaware of your Godhood. You have regarded yourself as being alone, separated in thought from God.

Duty of Expression

God's first command to humanity was, "Be fruitful and multiply and replenish the earth." He gave us the substance containing the elements of every good, mental and material, and our Word to shape it in the form we wish, and he set no limit on the amount. The great first law of the universe is to increase. To refuse to increase is to invite destruction.

The law of life demands a continual increase and when this is denied by lack of activity physically or lack of interest or enthusiasm, it will draw from the physical and material and there will be a visible lack of strength of mind and body and failure in affairs. Witness the change in a man's health and affairs after he retires from business. It follows then that to live according to the law of the Word is not only to bring forth enough for a small need, but to desire greatly. Since desire is prayer the meaning of the statements of Jesus, "Man ought always to pray," and "Ask that your joy may be full," is clear. In other words, to DESIRE continually is to express abundantly.

To work according to law is easy and harmonious. The reason people fail to realize wishes is because they desire something that belongs to somebody else, instead of desiring that their own should manifest. "You ask and receive not because ye ask amiss." Speak your desires into the original substance instead of longing for the things of your neighbor. Anything you can name you can possess. If you can ask the same for the rest of the world it is not only your right but your duty to bring it into expression. Desire is the promissory note payable on demand.

Agreement

WHEN WE make an error in a mathematical problem we discard the incorrect result and begin again at the beginning. We must do the same in mental action. To force new ideas into a mind already filled with mistaken ideas will cause distress.

The subconscious mind contains all memory, not only of this present life but from the beginning of time. In it are the crimes of the Ancients and the holiness of the Saints. In it also are the three primal urges: First, is the ego urge which knows we are gods and gives us dominion over all things; second, is the sex urge whose purpose is to create, and third, is the protective urge. The conscious mind is the Reason or Will. The superconscious mind contains all knowledge. Detailed studies of same by Christian Larson will be found inspiring.

The ego knows we should have absolute dominion and is forcing us to progress, to be more God-like; misdirected, it makes us overbearing and conceited; repressed, it creates a fear complex which spells failure. We must restore it to its rightful place in the soul. This is done by agreeing with it. Admit that the ego has dominion over limitation and set it to work clearing your world of all obstacles to your progress. This refers to your own affairs, not to your family's or neighbor's. (See book Three Primal Urges by Fay Adams.)

To dissipate the sex urge is wrong and weakens the body, to repress it brings on nervous disorders. Lift it up to its place in the soul by purifying it. Agree with its high purpose which is not only to reproduce another body but to rebuild your own body. It will supply abundant life mentally and physically and will develop your talents, paint your pictures and build your houses. Agree with your protective urge the same way and it will protect you from ills to your body or folly in judgment. It knows the end from the beginning and will lead you in pleasant paths.

There is no evil in reality. Anger is only energy misused. Electricity is a blessing, yet it will destroy you, and so also with fire and water, both are good, but can be used incorrectly. Every discord in your life has been because you have used some good thing wrongfully.

Take your mind off of other people. You want them to manifest what they are, not what you think. If they are doing wrong they will learn their lesson and you have no right to interfere with their progress. The spirit is caring for them and while they may appear to be riding for a fall, they need that particular lesson to round out the character, and you must not deprive them of their ultimate good.

Distressing conditions and environment will change for the opposite or vanish the moment you agree with them. Agree with your adversary quickly, be it person, condition or thing.

---
END OF Chapter 2
---
---
---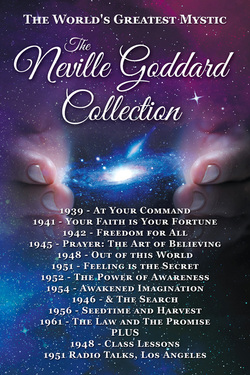 The Neville Goddard Collection - Awakened Imagination and the Search, Freedom For All, At Your Command, Feeling is The Secret, The Law and the Promise, Prayer, The Art of Believing, Your Faith is Your Fortune
---
Popular search terms - Fay Adams, The Hidden Word Revealed, law of attraction, Neville Goddard, Fay Adams The Hidden Word Revealed