---
Fay Adams - The Hidden Word Revealed
---
---
---
The Hidden Word Revealed
by
Fay Adams

1924

Chapter 1

Now

Do not sigh for the days of old,
Though many were pleasant, too;
Happily wait for the days of gold,
Each morning a jewel new.
Lay yesterday's joys and sorrows to rest,
Content yourself with today,
And strive just now to do your best,
Rejoicing in struggle or play.
Live each day as the flowers do,
Perfect from blossom to stem;
The loving Father who cares for you
Has shown you his will through them.
A shadow only, are olden days,
A curtain carefully drawn;
Today is pointing to better ways,
A guiding hand to the Dawn.

The days of old are a memory sweet,
No more for them Til allow,
But we have today a joy to meet,
In the present Eternal Now.

The Circle of Mind

In the beginning chapter of Genesis, God said, "Let there be;" that was the desire of energy to express itself in form and action. When He saw "it was good," gives us the key or working principle of bringing a perfect universe into manifestation.

The rest of the Bible is the tracing of the intellectual or conscious mind through its endless wanderings back to the original Infinite Mind.

Abraham was the father of conscious, intelligent, individualized thought. When God appeared to him, or in other words when he had his inspiration that it was possible to think separately from the group consciousness, he tried to make over the old thoughts. He feared for any great results because of old conditions and habits, as signified by Sarah being too old, much as we do today by saying, "It never has been done." Then another inspiration came which told him to go out, or rather let loose of his former habits of thought. He then would be able to control multitudes of thoughts in an intelligent manner.

When Abraham began to relinquish the animal cravings he had a mistaken idea that he must deprive himself of all pleasant emotions as well. This is told in his willingness to sacrifice Isaac or joy, but the ram that he found shows that it was only the beastial passions and not the human affections he should relinquish. Later he realized that the intellect was not all and that there was a larger mind of which he was conscious but could not use intelligently. He sensed that it was possible to use this mind and that it was infinitely larger. He hoped that joy (Isaac) would open the way to conscious contact with it, but here he also fell short.

Jacob thought that to raise the intellect would contact this larger mind, but he could only picture the ladder and could not use it.

Noah realized that man had within himself all evil, but was also capable of all good. The name Noah means both rest and wandering. When his mind was at rest it was not evil, but when it wandered it was distressed, so he decided to use seven good thoughts every time he had two unclean ones and thought to overcome the evil with the good. But he could only use his mind on the material, physical and intellectual planes, as pictured by the ark of three floors, and sending the dove three times from the window and the last time it "returned not again."

Moses felt that to bring all good thought out of the animal cravings and to destroy all tendencies to evil was the way to perfection, but he only succeeded in repressing them for a time. Again and again the repressed passions broke through at the least opportunity and would set his laws of conventional conduct at naught. He found that reason alone would not connect him up with this larger mind, which he could use wonderfully at times and failed to use at others.

David believed great love would use this larger mind, but while he had great ecstasy he also had great distress and longed for peace or Solomon. Solomon in turn, as peace, had great wisdom and riches but he could not redeem the life force, as pictured in the house apart from the temple where his foreign wife or double nature was kept. He realized that his super mind would, could and did do all things and that all he needed to do was to burn incense—or in other words acknowledge that it did exist in him and had the power and knowledge to accomplish all things.

Isaiah thought that to idealize the intellect would form this mind connection. He could see the wonderful possibilities of continual conscious use of this mind in body, mind and affairs, but he could not put this mind to practical use. He knew that someone would find the means by which the human would be lifted up and all evil tendencies redeemed. He realized one must refine and not destroy, for he pictured it in his chapter on "from silver I will give thee gold," and "The wolf also shall dwell with the lamb, and the leopard shall lie down with the kid; and the calf and the young lion and the fatling together; and a little child shall lead them." He told what would happen to the body when the war between the better tendencies and the evil longings was at an end. Health would spring forth spontaneously and all harmonious conditions along with it.

John the Baptist symbolizes the memory and the crystallized states of consciousness resulting from wrong thinking. His baptism showed how to release the past from consciousness so that it might make room for the larger mind to work without hindrance from all the old attachments and limitations. He could not use the superconscious mind himself, but he cleansed the personality, as signified by the baptism of Jesus, so that it could manifest itself.

Jesus, when he stood up to read the prophecy from Isaiah stating that someone would find the means by which this mind would be put in action, said: "This is finished," and closed the book. In other words, I can do it, I am that mind made manifest. I can do all that that mind can do, (here is the greatest message to mankind), by admitting my desires and asking this mind, or Father, of whom I am the son or expression, to do it for me. "Of myself (or the little intellect), I can do nothing; but the Father (or original desire of Spirit to express itself in action and form) doeth the works."

Jesus is the personal desires and Christ is the ultimate of desire perfected. In his beatitudes he shows that a pure desire will perfect itself or see God. The thoughts that tell you to cease from struggle and be at peace are of the mind in action or children of God. The meek who inherit the earth show the manner in which the super mind manifests in the perfect form of your desire realized. Therefore be quiet and let this mind bring you the desires of your heart.

He told his disciples that it was not necessary to have a fancy name or a reason for a desire, that you wanted it was sufficient. You need not put two cloaks on it, you need not refine it, or have gold in your purse; neither need you work for it, as symbolized by the brass. It is unnecessary for you to keep your mind on your DESIRE, for he said plainly that they were to rejoice when he left them, for "I go to prepare a place for you ... I will come again, and receive you unto myself; that where I am, there ye may be also"—or, the desire will manifest itself to you. But in the meantime "I will not leave you comfortless," for "the Holy Ghost (inspiration which I will send in my name—DESIRE), he shall teach you all things;" or in other words, follow your hunch and it will lead you into your desire.

"You ask and receive not because you ask amiss." We ask for what we think we might get or should want instead of what we really want, and get neither. We lie to ourselves by ignorance and intent. A desire seemingly evil on the first thought really has its foundation in good and will perfect itself once it is admitted.

Trace all desires back and see what you really want. You may desire to criticize, which is an atrocious habit and carries all manner of evil conditions with it. When once admitted and looked at in the open it will show you that you are really looking for perfection in others and are annoyed because they fall short of it. Jesus said, "Whosoever shall confess me (desire) before men, him shall the Son of man also confess before the angels of God;" or in other words, that the desire cannot manifest unless you are willing for the Father or superconscious mind to get it for you.

The Sabbath is the time between the admission of the desire to the superconscious mind and the coming of the inspiration telling where to get it. Keeping it Holy is trustful waiting for the way to open to the gratification of your desire, and also joyful attention to the things at hand, for they are wishes previously granted, even though you may not recognize them as such.

Every time you move the mind up the scene changes. You have the crank to throw on the screen anything whatsoever you desire. This crank is the admission of your desire and the acknowledgment of the power of the God-mind within you to manifest in the form of the thing or condition desired.

---
END OF Chapter 1
---
---
---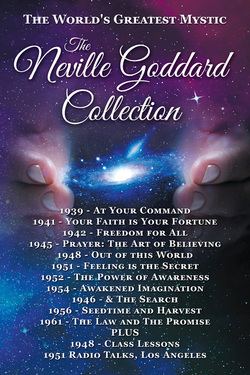 The Neville Goddard Collection - Awakened Imagination and the Search, Freedom For All, At Your Command, Feeling is The Secret, The Law and the Promise, Prayer, The Art of Believing, Your Faith is Your Fortune
---
Popular search terms - Fay Adams, The Hidden Word Revealed, law of attraction, Neville Goddard, Fay Adams The Hidden Word Revealed