---
Anthony Norvell - Think Yourself Rich - Norvell's Secrets of Money Magnetism
---
---
---
THINK YOURSELF RICH - Norvell's Secrets of Money MagnetismAnthony Norvell

Copyright © 1975Chapter 7

10 WAYS YOU CAN MAGNETIZE MONEY AND BECOME A MONEY MAGNET
In my study of 10,000 men and women who have magnetized money and become enormously rich, I discovered that they act­ually used certain techniques to magnetize money. You can use these same techniques and magnetize money, or money equiv­alents in houses, land, jewels, cars, furs, or other material treasures.
I once visited the U.S. mint in the days when they were still turn­ing out gold pieces. The tour director showed us a series of machines which were busily turning out pennies, nickles, dimes, quarters, half-dollars and dollars. In the penny machine a steady strip of copper was converted into pennies by a die that was especially made to press out pennies. In the dollar machine, a steady strip of silver was converted into bright, shiny silver dollars. One machine, however, was being fed a strip of glistening, yellow gold and it was turning out brand-new $20 gold pieces. This was the machine that interested me most.
What was the difference, I asked myself, between the penny mach­ine and the $20 machine? The machines were the same, but the imprint on the die of each machine was different. Also, the type of metal being fed into the two machines was entirely different. One was copper, the other was solid gold.
YOUR MIND IS A MONEY-MAKING MACHINE!
From that simple discovery I evolved my theory that the human mind is actually a money-making machine. You involve into your mind certain concepts and these evolve as your destiny. Some peo­ple magnetize their minds with copper-plated ideas; they turn out mediocre talents and they attract small salaries and cheap destinies. Other people have learned how to involve the golden ideas in cons­ciousness that magnetize their minds with value and importance.
Your brain, the machine that helps you magnetize money, is the same as the brain of an Onassis or Rockefeller. The only thing that is different is the value that you are stamping on that brain, the golden ideas or the copper-plated, penny ideas that bring a shoddy destiny and poverty. If you know how to program your higher mind centers with the pure gold of creative thoughts, you will produce from your life experiences money, fame, success, friends, love, happiness—all the treasures of life that man requires to have a happy destiny.
There are 10 ways you can magnetize your mind to turn out the shining, golden ideas that can bring you a fortune. This is done by programming your higher mind centers with certain verbs of action that communicate golden ideas to your sympathetic nervous sys­tem. These ideas are then evolved in your daily words and actions, leading you to achieve that which you have first conceived.
HOW A WOMAN MAGNETIZED HER MIND WITH FAILURE
A woman who came into my lecture in Los Angeles complained that she was poverty-stricken. She said, "Everything I touch turns to brass. Other people buy property and it goes up in value. I bought land and sold it. Now its worth millions. I married and thought it was true love; it ended in divorce. I invested money in the market; it went down and I lost it all. I seem to be on the losing end all the time!"
It took me only a few moments to analyze why this woman was on the losing side of life instead of the winning side.
She was negatively programmed to defeat, disaster and despair. Her every word showed she involved only thoughts of loss, lack and limitation. I gave her the 10 magnetizing statements for money, which she began to use at once. The first week she re­ported to me that she received $1,000 from a source she had thought was lost. A man who borrowed money to go into business had a big success and gave her back the $500 he had borrowed, with a $500 bonus! She had changed the polarity of her higher mind from nega-tive to positive and money began to flow from unexpected sources!
THE TEN MAGNETIC PROGRAMMERS THAT CAN MAKE YOU RICH
1. I desire money or its equivalents
When you desire food something drives you in the direction where that food may be obtained. This follows the well-known law of self-preservation.
When you desire love fulfillment, you magnetize the mind centers with love and attract your soul mate.
The same law of magnetism applies to money and its attraction. The key words "I Desire" help program your higher mind centers with whatever you wish to attract.
Sit quietly and involve this magnetic programming statement in your consciousness. Repeat the following statement at least 10 times, saying the words to yourself slowly.
I desire money or its equivalents to achieve the following objectives in my life. I wish to have an income of $50,000 a year so I may do the things I want, take trips, have leisure time for cultural pursuits, help my family, educate my children, buy a home of my own in which to entertain my friends. I desire money so I may buy a new car that I need for my work and pleasure. I desire the sum of $2,000 within the next three months so I may clear up my bills and pay on my mortgage. I desire beautiful clothes, fine jewelry, a color TV set, and furnishings for my home. I have faith the money will come to me to have all these things.
When you do your mental programming with the key words "I Desire," you can read any of these programming statements to yourself, or make up your own to signify the things you want money for.
You can make this mental programming more forceful by writing down the specific desires you have for money and then reading them over each morning and each night. As you go to sleep at night, keep repeating the desires to yourself until they are firmly lodged in your subconscious mind.
HOW A WOMAN MAGNETIZED EXTRA INCOME
Betty J. was a young woman of 25 and had been married and divorced before she was 23. She had a big ambition to become a writer but she had no spare time to write. She began to program her higher mind with the "I Desire" statements.
She added to the list of programming statements, "I desire an income as a writer of fiction and articles." She put this down on a sheet of paper and began to read it every morning and night, saying it often during her day, while she worked as a secretary in a manu­facturing concern.
Within two weeks time Betty was talking to a friend who told her that a big apartment house where she lived needed a manager. Something clicked in Betty's mind. If she were an apartment house manager she knew she would get an apartment and a small salary, giving her enough leisure time for writing.
She applied for the job and got it. The apartment was large and comfortable and her duties simple—she showed vacant apartments. A janitor did all the work and a gardener took care of the spacious gardens. She had a beautiful environment in which to dream up her ideas for articles and stories. The first month she was on her new job she wrote an article on how young divorcees could successfully manage their lives and it sold for $400. From this beginning she went on to write the novel which she had been laboring over for three years. It was finished in six months; her agent sold her first novel to a publisher; and the galley proofs were sold to a motion picture company for $85,000! Betty J. is now on the way to beco­ming one of our most important young writers!
2. I become successful and important.
If you are struggling to win recognition and feel constantly discouraged and defeated, use this subconscious programmer. It will help program your higher mind centers with thoughts of your value and importance. It will change your self-image from failure to success. It will help raise your self-esteem and give you the confidence you may need to meet life's challenges with courage and faith.
The verb to be is one of dynamic action. The moment you state "I am," you start a flow of creative action in your higher mind cen­ters. When you state, "I am important; I am successful; I become rich through my creative efforts," you are expressing dynamic mind power along the lines of success.
Contrarily, when you state "I am a failure; I am only worth $150 a week; I am not worthy of the better things of life," you short-cir­cuit the magnetism of your brain cells and become that which you believe and express.
Use this mental programmer to give yourself the mental boost you require to raise yourself from ordinary levels of creative action to extraordinary ones. The only difference between geniuses and ordinary people is that geniuses do not ask how to become great.
A young boy of 10 approached the great composer Mozart after a concert and said, "Maestro, how can I become a great composer like you?"
The genius replied, "I'm sorry, but I do not know how to tell you to become a great composer."
The boy persisted, "But Maestro, when you were 10 you were composing symphonies."
Mozart replied, "Yes, my boy, I was, but I did not have to ask any­one how to."
So too in your own life, you can program yourself with the state­ment "I become successful and important," and you will be guided by your higher mind to the unfolding of the exact talent you have to make you great.
Repeat the following programming statements of dynamic action to elevate yourself to the right level of creative effort.
I become successful and important. I raise my level of creative action from mediocre to superior quality. I change my self-image from one of failure to one of success. I become original in my thinking and project new ideas that can make me a million dollars.
3. I attract money or its equivalents.
This powerful programming statement actually stirs the psycho- neuro centers of your brain with dynamic, creative action. You make your mind a magnet by involving in it the thoughts that magnetize money. You project the following statements with the "I Attract" programmer:
I attract money or its equivalents. I know that money is important to have, for with it I can do much good. I attract work that will give me a chance to make a bigger salary.
I shall be guided to a business of my own, or a creative idea that can make me rich. One invention has made a million for some people. One song or novel can make a million dollars. One creative impulse can guide me to my fortune.
I project something of value to the world and I expect to receive adequate rewards in terms of money or money equivalents.
I attract important people and they recognize my worth and help me achieve my money goals. I attract opportunities through people of wealth and position and I become elevated to my proper place in life.
HOW A YOUNG GIRL ATTRACTED MONEY
A young girl of 20 came to New York City from Greece. She had learned to speak English and attended some of my lectures and classes. She began to program herself to attract some rich person who could help her find her right place where she could make a good salary and improve her situation socially.
She met a young doctor who told her he knew of an elderly woman who was a semi-invalid, who needed someone to be a companion and secretary. The elderly woman was a wealthy Greek, the mother of a very famous ship owner. The girl applied and got the job. She stayed with this woman five years and was able to live in the most luxurious environments, travel, and accumulate money. The old woman often gave her extra bonuses at Christmas and other special occasions. The girl finally had several thousand dollars in the bank and she kept programming her higher mind with the thought she would meet a suitable mate and marry. One day the nephew of the elderly woman came for a visit from Greece. He met the young girl and fell in love with her. They had a big wedding and the girl became a member of the wealthy ship owner's family! Your good will seek you out if you program your higher mind centers with the "I Attract" programmer.
4. I win success and riches in the game of life.
This positive mental programmer can be used to change the polar­ity of your magnetism from losing to winning, from failure to suc­cess, from poverty to riches. Magnetism has two polarities—one negative, the other positive.
Some people are on the negative polarity of magnetism; they push their luck away from them. They lose friends, they discourage love, they polarize failure instead of success.
A young man came to me for counselling. His life story was a dis­mal one of failure, defeat and unhappiness. He showed me a tattoo which he had had engraved on his right arm which said, "BORN TO LOSE." He said this was truly prophetic of his life. He was always on the losing end, never the winning side of life.
This young man had actually inscribed on his mind the words "BORN TO LOSE." The constant repetition of that unmagnetic statement, every time he saw it on his arm, actually impressed his subconscious mind with the negative thought of failure.
I knew another man who had something tattooed on his chin when he was a young man and became intoxicated. He had one star on each side of his chin, and he told his sailor companions that he was going to one day become a two-star admiral. The other sailors laughed and after the tattooing job was finished they went back to their ship and forgot the entire incident. But the young sailor who had the two stars tattooed on his chin never forgot this drunken prank, and to cover up his mistake he grew a small goatee. Years later this man actually became a two-star admiral in the United States Navy!
To utilize the "I Win" magnetic statement, repeat the following statement and imprint it on your subconscious mind. When it is once programmed there for good, you simply state the words "I Win" whenever you want to invoke its magnetism for attracting money or winning out in any situation in life.
I win out in the game of life. I imprint my higher mind with success thoughts. I win friends, I win love, I win money and its equivalents. I am playing for high stakes in the game of life and I want to be on the winning side. I win out in my right work for a good salary, promo­tions and benefits. I invest money and win security for my future. I hold the winning concept in my mind and I attract positive experi­ences, helpful friends and constructive ideas that will make me rich.
5. I believe in myself and my future great destiny.
The "I Believe" programming helps you overcome doubt and fear. It removes self-consciousness and feelings of inferiority that might have been programmed in your consciousness when you were young.
To erase this type of negative programming, use the above positive programming statement as follows:
I believe in myself and my future great destiny. What others have done I also can achieve. I now program my subconscious mind to thoughts of riches and success. I can and will overcome all limitations in my life. I rise above my limitations of education and environment. I release the power of my subconscious and super-conscious minds and possess adequate knowledge to achieve my great destiny.
I once met a young veteran who returned from war with both arms shot off. He was very bitter and viewed his future prospects with hopelessness. I gave him the mental programming that he could still find himself and achieve success.
He told me he had planned on becoming a writer, but how could he write without arms? I gave him some programming statements to use, telling him that his higher mind would find a way to release his creative talents if he really believed in himself. When I returned to visit him two weeks later this armless man had bought an elec­tric typewriter and was laboriously learning how to type with his toes! The astounding thing is that he finally achieved this miracle and wrote a book, which was accepted and published! Motion pictures bought the book and now this veteran is on the way to achieving his dream of becoming a writer.
The newspapers carried an account of another veteran who was without arms. He learned how to paint by holding a brush in his te­eth! Some of his paintings have been exhibited in a big gallery and he has sold everything he has painted to date.
6. I command and control my mind, my environment, other people and my destiny.
This positive mental programming statement should be used when­ever you want to gain complete control of yourself and your des­tiny. Order and harmony exist when you are able to assume control of your mind, your body, your habits, and your environment.
Use the following positive programming statements to put your mind under control. Then project this same power to your environ­ment. When you meet other people you can use this power to cause them to do your bidding by making your silent statements of com­mand and control.
I now command and control my mind and my body. I possess a center of power within myself that yields to my desires and aspi­rations. I wish to magnetize money and success. I realize that all my success will come to me through other people. I now project the power of my personality to everyone I meet, reflecting charm, cour­tesy, goodness, peace, poise and quality.
7. I enrich my mind with money concepts and my life becomes prosperous and successful.
This programmer can be used whenever you want to increase the flow of money or its equivalents in your life. Because this dynamic verb of action encompasses the word rich, it will soon penetrate deep in your consciousness releasing other related ideas about money and success that will drive you in the direction of a fortune.
Use the following "I Enrich" programmer to start the flow of crea­tive mental energy in the direction of money power and success.
I enrich my mind with money concepts and my life becomes pros­perous and successful. I enrich my mind with knowledge from many sources. I magnetize the centers of my consciousness with money power and I attract money and its equivalents. I enrich the world with my flow of constructive and creative ideas and the world com­pensates me according to my true worth. I am in the flow of money, success, happiness, love fulfillment and all the true riches that make life worthwhile.
8. I overcome obstacles, problems and obstructions in my path­way to success.
This powerful mental conditioner will program your higher mind centers with the drive and determination to overcome the difficul­ties that often arise on the pathway to riches and success.
When you realize that most great people have had to overcome tremendous handicaps on their rise to fame and riches, you can be encouraged to know that you too can overcome whatever obstacles fate places in your path.
The late President Roosevelt had polio and yet he was able to become one of the world's most influential men, winning presi­dential office four times, when other people might have given up the moment that crippling disease struck them.
Edison was deaf and instead of accepting this as a curse that bligh­ted his entire life, he turned it into a blessing. He claimed he could concentrate better on his work because of this affliction.
Shakespeare was the uneducated son of a butcher, yet he was able to overcome these limitations and become one of the world's grea­test playwrights.
George Washington Carver was born to slave parents, and yet he overcame the circumstances of his early environment to become one of the nation's greatest agricultural experts and scientists.
Always we find in a study of the lives of the great that there was a tremendous obstacle that had to be overcome in their triumphant rise to fame, fortune and achievement.
Use the following mental programmer when you want to overcome some situation in your life that is hindering you on your pathway to power and riches.
I overcome obstacles, problems and obstructions in my pathway to success. I grow stronger with every challenge. I build character from the challenges of life and grow stronger mentally and spiritually. I overcome my negative habits and am able to concentrate more thoroughly on success and money power. I overcome the influences of discouraging people who try to hold me back and rise to my true stature of greatness and achievement.
POINTS TO REMEMBER
1. Your mind is a money-making machine, stamping out in dollars and cents your true worth. Learn how to make it stamp out a for­tune through magnetism.
2. A woman magnetized her mind with fear and failure and attract­ed these things until I showed her how to re-cycle her mind with positive ideas of riches.
3. The magnetic programmers can make you rich, by using the emotion of desire for money and its equivalents.
4. A young woman used this magnetic programmer and sold her first novel to a motion picture company for $85,000.
5. A young Greek girl came to New York and used this money magnetizer to attract a wealthy employer and through this woman she met and married the son of a shipping tycoon.
6. Change your polarity of mind from a poor, negative one, to a rich, positive one that brings you a fortune.
7. An armless veteran used this secret to become a writer, using his feet to operate an electric typewriter.
8. Use the art of command and control to program yourself into mental habits of success.
9. Use this power of magnetism to overcome obstacles and solve problems and obstructions that stand in your way to riches.
10. Great men have overcome their afflictions by using this mag­netic programmer and have achieved fame and immortality.
---
END OF Chapter 7. 10 Ways You Can Magnetize Money and Become a Money Magnet

---
---
---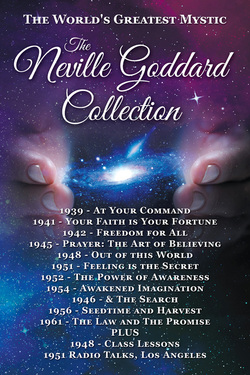 The Neville Goddard Collection - Awakened Imagination and the Search, Freedom For All, At Your Command, Feeling is The Secret, The Law and the Promise, Prayer, The Art of Believing, Your Faith is Your Fortune
---
Popular search terms - Anthony Norvell Think Yourself Rich, Money, Secret, Norvell's Secrets of Money Magnetism, Anthony Norvell - Think Yourself Rich Norvell's Secrets of Money Magnetism, Money Secrets, Success Secrets, Magic of Believing