---
Anthony Norvell - Think Yourself Rich - Norvell's Secrets of Money Magnetism
---
---
---
THINK YOURSELF RICH - Norvell's Secrets of Money MagnetismAnthony Norvell

Copyright © 1975Chapter 2

HOW TO RELEASE THE GOLDEN NUGGETS OF YOUR MIND THAT CAN MAKE YOU RICH
Your mind possesses a creative power that can convert your thoughts into a stream of Golden Nuggets that can make you successful, famous and rich. The power to change your creative thoughts into outer material riches and success lies within your own subconscious mind.
This higher intelligence knows everything there is to know about you and your hidden potentials for greatness. It can guide you unerringly to the fulfillment of your big money goals and bring you financial security and fulfillment of your every wish.
This chapter reveals this secret power for releasing the Golden Nuggets of your mind that can make you rich.
If you tell your subconscious mind, "I want you to bring me ideas to make a million dollars," your subconscious will know whether you actually possess that ability or not. If you do not have the ca­pacity for making a million dollars it will send through ideas that can bring you as much money as you are capable of visualizing.
You can build your creative mind power to encompass as much money as you want, but you must first be sure that you have the capacity to understand how much you really need and can honestly produce.
This is the reason why most people are limited in their ability to attract a fortune. They have had little or no business training; sometimes they are uneducated and ignorant, and they consciously know that they cannot attract the large fortune they desire. Such people are doomed to disappointment when they try to become rich. They soon give up trying and fall back into their old habit pat­terns of thinking in terms of small salaries and limited luxuries.
HOW TO PROGRAM THE SUBCONSCIOUS MIND WITH GOLDEN NUGGETS
You have undoubtedly read the fairy tale about the goose that laid the golden eggs. The farmer was delighted at first to receive these golden eggs each day, but as time passed, his greed got the best of him and he thought instead of taking only one egg a day, why not kill the goose and get all the golden eggs at one time. Of course, when he did, that was the end of the golden goose and there were no more golden eggs!
Your subconscious mind can be programmed with Golden Nuggets of thought that will produce a perpetual stream of golden ideas that you can turn into cash or its equivalents.
Your subconscious mind can be programmed with these golden ideas each day, until it actually becomes a rich repository of money-making ideas that bring you instant cash or the equivalents of money.
The power of your higher mind is stupendous. It knows all secrets; it knows things you do not know. In research done recently by scientists, it is now found possible for your higher mind to reach out, even when you sleep, and contact some higher mind, which mystics call Cosmic Mind, and learn secrets that have been hidden for years.
A young woman had such an experience recently. She had taken care of her invalid father for five years. When he died suddenly, she was left without money on which to live. She was confident, however, that she would be taken care of. She went to bed one night and her father appeared to her, as in a dream, and talked to her, "I know you are worried about money," he said. "But I left you well provided for. In the old chest of drawers in the living room you will find a hidden compartment. Put your hand in there and you will find money I have hidden over the years to take care of you."
The girl awakened, and went to the old chest of drawers. She put her hand in the secret compartment and there found a big roll of bills in denominations from $20 to $100. Her father had not trusted banks, having lost money in the Depression days and he had depo­sited $15,000 in cash in that chest of drawers! The girl's subcons­cious mind had been told, in a dream, of this secret hiding place!
Golden Nugget No.1:I will make $100,000 or more.
When you have programmed this golden nugget into your subcons­cious mind by repeating it at least 10 times, you will then program the following statements into your higher mind.
I desire $100,000 or more to fulfill my money goals in the im­mediate future. I wish to receive some big idea that will reveal to me the method by which I can begin the flow of gold immediately to meet all my needs.
Write this subconscious mind motivator down on a filing card. Keep this card where you can read it every day, morning noon and night, preferably in your pocket. You may also tape it on your wall where you can see it frequently, reminding your subconscious mind that you expect to receive vital money information that will guide you to the sums of money you desire.
Golden Nugget No.2: I shall become a big success in my own business, in which I shall make $50,000 or more a year.
Then write on a filing card the following subconscious motivators:
I wish to be shown what talent I have and how I can commercialize on this talent by going into my own business where I can create something valuable and useful to the world. I project my own office, my own staff of workers and I see my efforts being rewarded with big success.
Note: If you wish some specific business you must name the type of business. Examples include: I wish to become a big interior decorator. I wish to be a successful landscape architect. I would like my own beauty parlor. I would like to open my own resta­urant, or bar, or barber shop. Whatever it is you feel you should do, tell your subconscious mind specifically in simple words and the subconscious mind will program it within the computer like structure of its higher mind, and release the information to your conscious mind that will lead you into the exact type of business you desire.
If you do not know the type of business you would like to open, leave it up to your own subconscious mind, for it knows even better than you do your unique talents and how you can find the path-way to riches through your subconscious mind. An example from my files will prove this point fully.
A woman who was working as a secretary for a big manufacturing concern grew tired of working for a small weekly salary. After learning how she could program her subconscious mind through my classes in New York City, she began to use this method to go into her own business. But what could she do? She knew of no specific talent she had, and had only been trained for secretarial work.
This woman wrote down on her programming sheet the following Golden Nugget and fed it into her subconscious mind every day for four weeks, using only 5 minutes three times a day for her subcon­scious programming work.
I wish to be shown how to go into a productive business. I want to make the sum of $15,000 or more a year. I wish to have enough money to take care of my two children, to buy a new home in the country, to own a new car, and to have security for the future.
After writing down these Golden Nuggets and putting them into her subconscious mind, she awaited results confidently, expectant of success.
One day when she was taking a trip on an airplane going to Chicago on some business for her company, she sat next to a man who began talking to her about his work. He was a traveling sales representative for a large manufacturing concern specializing in house-hold products. His company was opening up new offices in different cities and needed responsible representatives that could interview employees, apportion districts for salesmen, and act as agents in certain localities. Before they had reached Chicago, this man was so impressed by the young woman's ability that he hired her to take charge of the new office in her New York area. From that be-ginning she went on to making commissions and salary that brought her more than the $15,000 a year she had programmed her subconscious mind for! Now this woman has embarked on a sales training program, where she instructs hundreds of salesmen for her company on the principal points to stress in selling their products. From this new venture she hopes to soon be in the $50,000 a year class!
Golden Nugget No.3: I wish to be shown how to make money through real estate, stocks and bonds, or other investments.
Many big fortunes have been built through investments in real estate, the stock market, gold mines, oil wells and other invest­ments in natural resources. This type of subconscious program­ming should be started early in life and continued until you achieve the fortune you desire. Here is the form of subconscious condition­ing that this requires. Say these words over several times, and then write them down on a filing card looking at them at least two or three times a day, until your subconscious mind is programmed with these golden nuggets for money.
I wish to become a successful real estate operator, or to be shown how to invest in the right stocks or other resources that can bring me a fortune in the future.
A man who used this type of subconscious programming in Los Angeles, California, was guided by his higher mind to buy land in San Fernando Valley before it had become so expensive. From his early investment in corner lots, he later made two million dollars!
A woman lecture member in New York City used this same sub­conscious mind programming technique to secure her future. She put down that she wished to have $100,000 or more through land development and through stock market investments. She had little money to start, but one day she went on a vacation to the Bahamas, and there she found a land development that she could invest in with only a little money and payments each month, which she could afford. She bought property overlooking the waterfront. The Grand Bahamas became a big tourist attraction a few years later and she realized $50,000 from that investment! This same woman did the same thing with property in Arizona and Albuquerque, New Mexico, investing in corner lots, with small down payments. She held these five years and realized a profit of more than $25,000 on each investment! But her subconscious mind, the goose that lays the golden eggs had not finished giving her rich dividends for her mental work; she had also asked that she be shown how to invest in stocks that would make her successful.
One day a man who was concerned with selling her some of the land in Arizona, which she bought, told her she should buy a particular stock. It was selling for only $2 a share. She bought one thousand shares and held it a short time; this stock had a phenom­enal rise, going up to $60 a share. She sold it just a little under the peak and made thousands of dollars more! Now this woman has retired in her beautiful home near Phoenix, Arizona, to enjoy the financial security she won through subconscious mind program­ming!
Golden Nugget No.4: I wish to develop some great creative talent that will permit me to give something special to the world.
Most of the world's talented people started out in life with ordinary goals. Only when they programmed their subconscious minds with extraordinary ideas did they begin to discover the special talent they possessed which could bring them fame and fortune.
To program this golden nugget into your subconscious mind write down the following conditioner on a filing card and look at it sev­eral times a day, until it automatically triggers some reaction from your higher mind which will start you on the road to fulfillment of your desire.
I would like to become an artist. (Here it is important that you write down the specific talent you want to develop. You may select as many as four or five, for generally, when your subconscious mind releases one gift, it automatically triggers other talents you possessed, but which you had not yet recognized.) You may select any of the following gifts, or make up your own list:
Writing stories or poetry or TV dramas. Interior Decorating. Invent­ing. Composing music. Advertising. Singing, acting or dancing. Play­ing an instrument. Dress designer. Architect. Public speaking.
After you have chosen the talents you want to develop write down the following subconscious conditioners:
I know that my subconscious mind can give me guidance as to how to develop this special talent. I ask that I be shown how to release the golden nuggets of creative thought that can make me famous, rich and successful.
When you have completed this subconscious conditioner, read it over several times a day, and then sit daily and wait for instruc­tions from your higher mind as to what steps you should take to bring your creative talents to full maturity.
A top dress designer for Hollywood movie stars was once a student of mine when I lectured in that city. She is now a top dress design- ner, having been nominated three times for an Oscar for best desi- gnner. This young lady had worked as a waitress until she learned how to project the Golden Nugget of thought that she could be­come a great designer. She now makes a salary of $50,000 a year!
Golden Nugget No.5: I wish to receive money or its equivalents in rewards, jewels, houses, cars, land or other things of value through the use of my present abilities.
Very often you can program your subconscious mind to release money or its equivalents instantly, wherever you are, and with whatever abilities you now possess. This means that you do not need to wait for some future, distant day to be a success, nor do you need to develop an unusual talent. Using the tools of mind you now possess, your subconscious mind can show you how to start the instantaneous flow of riches into your life with this Golden Nugget of thought.
Sit quietly and concentrate your mind power on the following sub­conscious conditioner when you desire the rewards just given.
I wish to now trigger instant action from my subconscious mind. I want the sum of $500 for my immediate expenses. (Here you may substitute the sum that you actually have faith in and that you really need at once.) I desire a beautiful home of my own in the immediate future. I wish to own a car, beautiful clothing, jewels, and household furnishings that I need. I want to have a color TV set, air conditioner, a hi-fi set, tape recorder, a big refrigerator and other material objects.
After you have programmed your subconscious mind with these conditioners, read the list over every day until you begin to see results. Do not become discouraged and give up! You may not have any money in the bank and you may not know how you could possibly receive the items you have put down on your Golden Nugget Ledger, but believe that somehow you will be the recipient of the gifts you have requested from your higher mind.
A student of mine in New York City put down on her list that she wanted a beautiful mink coat. It was cold in winter and she decided she should own a warm coat, but she had no money with which to buy such a coat. However, she wrote it down on her subconscious list of things she desired and confidently awaited results.
Within one week a very wealthy woman called an agency and asked for a practical nurse to be sent to help in her home. Her aged husband was very sick and required constant medical attention. This student of mine had taken a course in practical nursing and worked on special cases, but she did not make much money. She responded to the call from the nursing agency, who often sent her out on cases. She was delighted to find that her employer lived on Park Avenue in a luxury apartment. One cold February night, as the nurse was putting on her cloth coat to go home, the wealthy woman said to her, "Why, it's bitter cold out; you'll freeze with that thin coat!"
She went to a closet in her bedroom and returned with a beautiful mink coat that must have cost $5,000 when new. She said, "Here, I want you to have this coat. It's like new, as I seldom wear it. My husband bought me a new one for Christmas and I want you to have this."
The nurse had her fur coat that she had projected in her subcons­cious mind conditioner and it had not cost her a cent!
Golden Nugget No.6: I have a desire to help my family, to educate my children, to give them a beautiful home environment and security for the future.
This Golden Nugget can be programmed into your subconscious mind and it will serve as the motivating force in back of your every act to make money or be successful.
Thousands of new inventions, creative ideas and money-making discoveries have been released from the subconscious mind under the impetus of this subconscious conditioner.
Write down the following words on a filing card to trigger this automatic action for bringing your family benefits.
I wish to help my family live a better life. I desire for them a higher education and opportunities to become successful. I wish to receive inspiration for ideas that will bring me monetary and other forms of success so I may give them financial and emotional security in the future.
A man was watching his wife open a can in the kitchen one eve­ning. The can opener, one of the old-fashioned kind, slipped and cut her hand. The man searched for a piece of cloth with which to bind the wound. Finally, he fashioned a clumsy bandage and applied it, realizing, however, that it could easily infect his wife's hand.
He found himself thinking: If only there were some ready-made, sterile bandage that could be instantly applied, what a lot of suffer­ing it would save.
He had released a Golden Nugget of creative thought to his sub­conscious mind, without being aware of it. Within a few days he suddenly got an idea to create a simple, sterile bandage that could instantly be applied by even a child. In that moment was born the bandage known as a Band-Aid and its creator, Robert W. Johnson went on to make a multimillion-dollar-a-year business out of the Golden Nugget that he had fed into his subconscious mind!
POINTS TO REMEMBER
1. The power to change your creative thinking into solid golden nuggets that can bring you money, fame, power, or anything else that you desire is yours.
2. The goose that lays the golden eggs releases a Golden Nugget a day from your subconscious mind for money, your own business, or building some great creative talent.
3. A young woman released the Golden Nuggets of her mind to bring her the sum of $15,000 that her dead father had hidden in a chest of drawers.
4. A woman who worked for a big manufacturing concern progra­mmed that she would come into big money. She met a man on a plane who made her a district representative and she was soon making $15,000 a year from sales and commissions.
5. The Golden Nugget concept can show you how to make money through real estate, stocks and bonds or other investments.
6. A woman who used this subconscious mind programming asked for $100,000 or more through land investments. She bought pro­perty in the Grand Bahamas, Arizona and New Mexico and in a few years she realized that sum from her investments.
7. The golden nugget can help you develop a great creative talent to become an artist, writer, inventor, composer, a singer or actor or dancer, or anything else you choose as your talent.
8. A top Hollywood dress designer programmed that she would build a big income. She has had three Oscar nominations and is now in the $50,000-a-year income class.
9. Trigger instant subconscious Golden Nuggets to bring you money or jewels, clothing, TV sets, hi-fi sets, refrigerators or any other material object you desire.
10. A woman instantly obtained a $5,000 mink coat when she didn't have a penny in the bank.
11. You can trigger subconscious gold from the mental conditioner to enable you to help your family, educate your children and give them financial security for the future.
12. A man built a multimillion dollar a year business through this subconscious Golden Nugget and developed Band-Aids.
---
END OF Chapter 2. How to Release the Golden Nuggets of Your Mind that Can Make Your Rich

---
---
---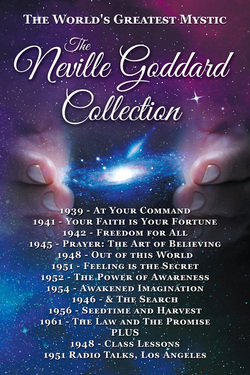 The Neville Goddard Collection - Awakened Imagination and the Search, Freedom For All, At Your Command, Feeling is The Secret, The Law and the Promise, Prayer, The Art of Believing, Your Faith is Your Fortune
---
Popular search terms - Anthony Norvell Think Yourself Rich, Money, Secret, Norvell's Secrets of Money Magnetism, Anthony Norvell - Think Yourself Rich Norvell's Secrets of Money Magnetism, Money Secrets, Success Secrets, Magic of Believing