---
Anthony Norvell - Think Yourself Rich - Norvell's Secrets of Money Magnetism
---
---
---
THINK YOURSELF RICH - Norvell's Secrets of Money MagnetismAnthony Norvell

Copyright © 1975Chapter 17

7 DYNAMIC MONEY MAGNET LAWS THAT CAN MAKE YOU RICH
Money responds to universal laws that are as fixed as the stars in their courses. Once you know how these laws work in relation to money, you can implement them in your own life and start the flow of riches in your direction with greater ease than when you are not aware of these laws.
In this chapter we shall explore the seven dynamic money laws that can make you rich. These are not usually given in courses on economics but they are basic laws that must be understood and used, if you want to increase your flow of riches.
A woman I once knew suffered perpetually from a shortage of money. She told me one day, "I just hate money and the whole economic system that capitalism represents. Why can't people just use God's resources without putting a money value on them?"
Then I explained to her that money was only a symbol of some­thing of value, and used only for exchange. Instead of carrying a bag of potatoes to a market place and exchanging it for a calf that someone else had to carry, it was much easier to carry a piece of folded paper called money, and give it to someone for the bag of potatoes or for the calf.
By seeing money as a medium of exchange, I told her, she would realize that its possession was not evil but something desirable. I changed her entire viewpoint about money and when she next saw me she told me that she had now begun to make more money and to use it with a totally different sense of its value.
THE SEVEN DYNAMIC MONEY LAWS YOU CAN USE TO MAKE YOU RICH
No.1: The law of magnetic attraction
This dynamic law works in the realm of nature. In the spring the sun's rays draw the sap of the trees from the roots up into the bran­ches, where flowers and fruit soon appear.
In the soil a kernel of corn attracts to itself, by this law of mag­netism, the elements it needs to form a stalk of corn. When you consider what a miracle this is, you realize that magnetism is the secret, invisible power in back of all life.
Magnetism works in the same way in your mind, to attract to you that which you put into your brain centers. If you negate this force of magnetism and project the repulsion side of magnetism, it will drive people and fortune away from you.
This is one reason why many people live in poverty all their lives. They short-circuit the magnetism of their minds by constantly thin­king and talking about poverty, failure, sickness and misery. We attract what we magnetize our minds with.
To strengthen money magnetism in your mind and attract a big fortune, do the following things to build money magnetism:
A. Each day devote time to keeping a money record of all you make and all you spend. This helps imprint on your subconscious mind some idea of what you are doing with your money.
B. Each time you spend money mentally magnetize it by blessing it and telling yourself it will come back to you tenfold.
C. When you hear people crying poverty, or telling you about how inflation or recession will take your money, mentally affirm to yourself that supply and abundance exist in the universe and that you will always attract what you need.
D. Build money power by studying the lives of those who have magnetized and attracted vast fortunes. Learn how they did it and what they thought and did to achieve their fortunes. You can study the lives of these rich men in the books published about them and carried in your library.
E. Study publications like The Wall Street Journal, Forbes, and Fortune Magazine. These give facts about industry, finances and investments that might show you how to apply techniques for accumulating wealth in your life.
F. Each day when you start your day, give yourself the following magnetic statement for money:
All day today I am conscious that my mind is a money magnet. I shall be aware of what money is. Money is frozen energy, crystallized ideas, a medium of exchange. I now magnetize money and attract all I need to give me everything I want in life.
G. See money as a symbol of value, but of no value in itself. Do not see it as something to hoard and hold but as something to use intelligently to purchase the things you need in life.
H. Do not love money, but respect money and want money for the good you can do with it.
I. Magnetize your mind with thoughts of money each day for at least half an hour. You do this by thinking about money, how to make more, how to increase its flow to yourself from others, and how you may obtain money-making ideas from your higher mind centers.
J. Use the money and possessions you now have intelligently, without waste and extravagance.
K. Sit down and write out 10 good reasons why you want large sums of money. Then intensely desire the things you would do if you had money, and you will magnetize enough money to do everything you desire.
No.2: The law of reciprocity
If you want to become wealthy and have fame and success, use the cosmic law of reciprocity. Be willing to give something of value to the world for everything you expect to obtain from life.
No one ever gets something for nothing. This is a fallacy that many people have. Gamblers think they will win at Las Vegas or at the race track. They don't realize the odds are against their winning many times.
Even the stock market is a form of gambling, but at least in the stock market you have a chance to hold your stock when it goes down, and wait until it goes up again.
Money obeys this law of reciprocity. The rich rewards of life are given to those who earn them. The soil is ready and willing to give back an abundant crop of wheat, oranges, melons or potatoes, but first it must receive the seeds that will produce these crops. If you with old the seeds, the soil is powerless to give you the things you need to sustain life.
To implement this dynamic money law do the following things:
A. Be willing to give something of value for the money or poss­essions you are trying to magnetize and attract.
Hilton is worth millions because he uses this dynamic money law of reciprocity. He gives the best service he is capable of giving; he furnishes his places in the best taste; he locates them around the world so travelers may avail themselves of his facilities whether in Istanbul or Hawaii.
Ford has always given value to the public with his cars and this, under the law of reciprocity, has given him a vast fortune. The Ford Foundation is still giving to the public, in grateful apprecia­tion for what the world gave Ford. Before the first Ford died he said, "One day it will be considered a sin for any man to die rich. He will give back his fortune to the world."
Many people who have made millions do this. They endow their money to charitable, educational, or research foundations that ben­efit millions of people.
B. Each day strive to use this law of reciprocity. Give your time, labor and effort, with the knowledge that you will be paid for your work. But if you try to skimp on what you give, life very quickly will repay you by giving you less and less of material value.
Like the town lazy man, when the farmer approached him with work in a busy season. The lazy man asked, "What will you pay me?"
The farmer replied, "Exactly what you're worth."
The man replied, "I'll be darned if I'll work for that little."
Life does pay us exactly what we're worth, even though we may not believe this.
C. Do everything you can to increase your value to the world, not diminish it. When you leave college and have your diploma, do not sit back on your laurels and think you need never again make any effort and that success will come to you.
Be a perpetual student and keep advancing the frontiers of know­ledge, so you can keep up to the modern scene and learn all the latest scientific techniques that you can apply to your own chosen profession.
D. If you are interested in making a big fortune, stop and evaluate what you have to give for this fortune. It does not always depend on the labor you do, for sometimes one idea can make you a mil­lion dollars. They say a man is only worth a few dollars a day from the neck down, but from the neck up, in the realm of the intellect, he can be worth millions of dollars.
Ask yourself the following questions:
How can I improve the product I am selling and make it better?
What can I do to give better service to my customers?
Am I overcharging for my goods or my services?
Do I try to please people by having a smiling and charming person­ality so they will come back to me?
How can I make it easier for people to do business with me and not go to a competitor?
A man I once knew had a small concession selling newspapers, cigarettes and magazines in the lobby of a hotel. He had a surly personality and growled at his customers. Soon the guests at the hotel stopped buying things from him and his business got worse and worse, until he was forced to close. He grumbled, "I worked like a slave to serve those people and they didn't appreciate me."
Another man went into the same location, and made a tremendous success of the business. He greeted people with a friendly smile; he learned a few words of French, German and Spanish, so he could greet people in their own language, as this was a big tourist hotel in midtown. This man is making enough money to send his two sons through college. The other man who failed is now on welfare!
No.3: The law of supply and demand
The law of supply and demand is an economic factor that is vitally important in any business. Try to get into some business where you believe the demand is going to be greater than the supply and you will soon become rich.
When wheat is in short supply, the price of bread goes higher, and the price of wheat rises, bringing greater wealth to the farmers. We have seen the result of oil shortages recently, and the spiraling prices of gas and fuel oils.
To work with this economic law, find out what fields are going to be in demand, and which are going to be in short supply, and then start to handle the products for which there will be a bigger dem­and. This requires a study of the current markets and an under­standing of the working of this law in business, which many people have used to become rich.
A man I know was in the commodities field a few years ago. He told all his friends to buy up cocoa futures. In a few months time those who bought them made fortunes. The same thing happened with soy beans. If you can be a prophet and know intuitively which fields will be best to invest in, you can make your fortune in the stock market or the commodities markets.
The big businesses of the future are the following: substitutes for coal, oil and gas. Cars that will run on batteries or with steam will no doubt be in demand. Plastics will still be a growing business. Building of homes and apartments to care for a growing population will also be another good business. Furnishings and kitchen and bathroom supplies will also be required for the growing populat­ion. All related businesses, such as electrical and plumbing and lumber supplies, will be needed. Road building will take more cement, asphalt, and other related products. Air conditioning, refrigeration, computers—all these will be in demand in the future, to meet the growing requirements of an expanding economy. Steel will no doubt come back into its own on the stock market of the future, as the building of subways in big cities continues to meet the gasoline crisis.
There are certain other fields in which you can make a fortune, which will always be in demand--clothing, food, and cosmetics. People will continue to use products in these three categories, no matter if there is a depression or recession. Shelter, of course, is also a necessity, and real estate sales and construction should all boom in the years ahead.
No.4: The law of usage
To increase your riches you must learn to use the law of usage intelligently. God has given man everything he will ever need to survive on this planet. But if we waste nature's resources and violate this law of usage, we will soon suffer from man-made shortages. This applies to our food products as well as to our natural resources of oil, coal, steel and other products that come from the earth.
"Waste not, want not" is an adage that applies to this universal law of usage. Use your time wisely and do not waste it on useless pur­suits. Waste of time is like throwing money away. You may say you need rest and relaxation, and this is true, but most people waste three or four hours of their precious time every day on tele­vision, where they seldom receive anything worthwhile. If one hour a day were taken from TV viewing and put to constructive use learning a new business, a language, or something else of posi­tive value, one could soon achieve proficiency in whatever field he chose.
Waste of money and goods is even worse. You will always have enough of everything if you learn how to conserve what you already have. Many people throw furniture away after a few years wear, when it could be easily upholstered and repainted and made to last a few more years. Use that money for other things that might be important, such as saving to go into a new business or obtaining enough capital to create some product you can put on the market.
E. Knight said of waste: "Waste not the smallest thing created, for grains of sand make mountains, and atoms infinity. Waste not the smallest time in imbecile infirmity, for well thou knowest that seconds form eternity."
No.5: The law of the harvest
This cosmic law states that you will receive the crop back that you have planted. The Bible gives it clearly: "As ye sow, so shall ye reap."
If you plant no seed in the garden of destiny in the springtime of life, you will certainly not be able to reap a harvest in the fall. No matter how young or how old you may be, there is still time for you to use this cosmic law of the harvest.
Each day put mental seed into your consciousness of the supply and abundance you want in the future. Concentrate a few minutes of each day on how you can start a bigger flow of money in your direction. Perhaps it can come through extra work; you may have some gift or talent you are not using that you could commercialize on.
Write down on four pieces of blank paper the sums of $1,000, $5,000, $10,000 and $100,000. Then for one week concentrate on the $1,000. Tell your higher mind, "I want to materialize $1,000 extra for my use in the next three months."
When you have grown more confident and have faith in your power to demonstrate $1,000, graduate to the $5,000, and then to the $10,000 and the $100,000. It may not come all at once, but this money magnetizing process will begin to implant in your consc­iousness a sense of value and your subconscious will gradually release ideas that will bring you the sums you have planted in your higher mind.
Do not be afraid to give more than you receive, for the law of the harvest decrees that whatever you give to life, it must come back increased in value. Some people stint on their services and think by working less they are being clever and getting a salary for little work. Actually, they are cheating themselves, for by robbing others of time or money, we actually rob ourselves. It furnishes the sub­conscious mind with a deceptive master motive, and the sub­conscious then releases less creative intelligence and energy, so the person becomes deceptive in other areas of life and cheats himself in love, friendship, talents and character.
A man I once knew boasted how he worked half as much as the others on his job. He found many ways to shirk his responsibilities and throw his work on others. Soon he was called into the front office and shown a record that had been kept about him and his work. The supervisor had been aware of this man's deception and gave him his notice of dismissal. This man grumbled that life was unfair and that he was deserving of something better. Actually, he was a cheat and a thief, for when you steal someone's time you steal his money, and life was getting back at him for his deception.
No.6: The law of growth
This law applies to money as well as to other things in life. It is a universal law. In the soil this is known as the law of capillary attraction; the seed is able to attract to itself the necessary elements it needs to grow and evolve.
When you establish what salary you want, what work you wish to do, and how rich you wish to become, you will be using this law of growth in your own life. Somehow you will be able to attract the elements you need to fulfill the destiny you have chosen.
To work this law of growth in relation to attracting riches and abundance, never stop learning and expanding your intellect. Acquire new facts about your business; grow in your knowledge about the world of business and finances. Study books that keep you abreast of the times, especially in relation to money matters.
If you do not have sufficient education to succeed in the field you have chosen, go to night school and take a course that will prepare you for the better job or bigger business opportunity.
A man who came into our work in New York City was in insur­ance, but he wanted to go into another field, for which he was untrained. This was fashion designing. He had an artistic and creative mind, so I advised him not to give up his well paying job, but to go to fashion designing school in the evenings. So he enrolled in one of the biggest of such fashion schools in the city. In two years time he was proficient in his new vocation, and when he applied for a job with one of the big fashion houses in women's wear, he qualified. He gave up his insurance office job, and is now making big money in his new profession.
No.7: The law of dynamic action
Action is the first law in the universe. It is what keeps the entire universe operating. It also works in the realm of finances and you cannot really become rich until you invoke this law of dynamic action. You may have action in your life now, in the sense of going to work each day and doing your daily tasks with a minimum amount of effort. But this is not dynamic action.
To have dynamic action, there must be consistent effort along one line of activity. The magnificent obsession of your life must be featured prominently each day. You must think, talk and dream about your work. If you can arouse this type of enthusiasm you will be using dynamic action in your thinking. Then the sym­pathetic nervous system communicates this dynamic action to your nerves and muscles, giving you that type of dynamic energy that is called genius.
Thomas Edison said of genius, "Genius is 1 percent inspiration and 99 percent perspiration." Dynamic action is the force that carries out your ideas in physical form.
D. G. Mitchell said, "There is no genius in life like the genius of energy and industry."
You can become as rich as you want to be, if you use this law of dynamic action in your life and apply yourself with energy, enthu­siasm and persistence.
Dynamic action also applies to your money; it must be made to work for you. This can be done through savings banks, where you earn a certain rate of interest on your money, or it may be done by putting money to work, in what is known as invested capital. A man once invested a few dollars in a street vending ice cream cart. No one would ever think that this was the building of a multi­million dollar fortune. The man never stopped working on his idea to expand and grow and become rich.
Soon he had expanded to three vending carts, and had others work for him. In a year's time he had enough capital to buy a small truck and his ice cream vending was expanded to stores and ice cream parlors.
A man by the name of Howard Johnson needed someone to dis­tribute ice cream to his growing chain of stores. He signed a co­ntract for this man to furnish trucks for this purpose. As Howard Johnson's chain became bigger and bigger, he found he was spen­ding thousands of dollars for the trucks he was leasing. He wanted to own his own fleet of delivery trucks, but he had an iron-clad agreement with the man who had started as a street vendor. Howard Johnson finally bought out this man's contract at a cost of $7,000,000! The ice cream vendor then went into other big busi­nesses where he made millions of dollars.
E. B. Hall said of this dynamic quality of action: "Remember you have not a sinew whose law of strength is not action; not a faculty of body, mind, or soul, whose law of improvement is not energy."
Action produces that dynamic energy which you require to carry you on to fame and fortune.
Each day take some action that will make your goal come closer than the day before. Have an active imagination, and create within your mind the mental pictures of yourself doing great deeds, per­forming noble actions, and winning high goals. As you mentally activate your imagination you will be adding to your strength and energy to carry out the big goals you have set for yourself.
HOW TO USE THIS BOOK TO BECOME RICH
In using this book to help inspire you to the achievement of fame and fortune, do not merely read it over once and then lay it aside. Take one chapter each week and apply the principles in that chap­ter to your life. Make mottoes of some of the instructions given and put them on small filing cards which you can look at several times a day. As you absorb the principles of each chapter, go on to the next chapter, applying the principles given there, until you have mastered them fully.
By the time you have studied the entire book in this way, you will have programmed your subconscious mind with the knowledge given in each chapter, and you will then be able to change your patterns of thought and action in regard to making a fortune. When you have built the new habit patterns in regard to thinking of money as being easy to obtain, you will automatically be guided to doing those things that will make you rich. You will have created a money magnet in your mind that will bring you untold wealth!
POINTS TO REMEMBER
1. Use the magnetic law of attraction to bring you money and in­crease your riches.
2. You can use 11 points to increase money magnetism within your mind and attract your riches and abundance.
3. Use the law of reciprocity to bring you fame and fortune.
4. Use the secret power that made a success of Conrad Hilton, Henry Ford and other millionaires, who used the law of recipro­city.
5. A man lost his business by failing to obey this cosmic law; another man in the same location made money by utilizing the law of reciprocity.
6. The law of supply and demand works in economics, and you can use it to bring you riches.
7. A man I knew made a fortune in buying commodities because he studied this law of supply and demand.
8. Choose the big businesses of the future, and make your millions through this dynamic law of supply and demand.
9. The law of usage has made millions for those using it, and it can make you rich, when you apply it.
10. The law of the harvest can be used to bring you a crop of riches and abundance in your future.
11. Plant the seed money in consciousness of from $1,000 to $100,000 and invoke the law of the harvest to bring it to you in the shortest possible time.
12. A man cheated himself out of a fortune by violating this law of the harvest, giving less than he received on his job.
13. The law of growth can bring you money and other treasures when you grow and evolve mentally.
14. One man left the insurance field to study art, and became a big fashion designer through this law of growth.
15. You can use the law of dynamic action to increase your riches and achieve your every goal in the future.
16. An ice cream street vendor, with a pushcart, went from a small business to the building of a $7,000,000 fortune.
---
END OF Chapter 17. 7 Dynamic Money Magnet Laws that Can Make You Rich

---
---
---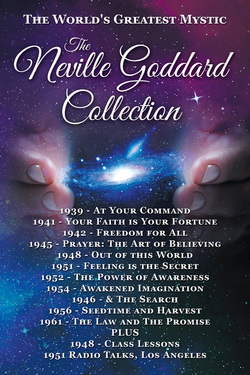 The Neville Goddard Collection - Awakened Imagination and the Search, Freedom For All, At Your Command, Feeling is The Secret, The Law and the Promise, Prayer, The Art of Believing, Your Faith is Your Fortune
---
Popular search terms - Anthony Norvell Think Yourself Rich, Money, Secret, Norvell's Secrets of Money Magnetism, Anthony Norvell - Think Yourself Rich Norvell's Secrets of Money Magnetism, Money Secrets, Success Secrets, Magic of Believing