---
Anthony Norvell - Think Yourself Rich - Norvell's Secrets of Money Magnetism
---
---
---
THINK YOURSELF RICH - Norvell's Secrets of Money MagnetismAnthony Norvell

Copyright © 1975Chapter 14

20 MAGNETIC MONEY ENERGIZERS THAT CAN TURN YOUR THOUGHTS INTO GOLD
Everything that has ever been created by man was first a mental image. This includes all the buildings, transportation, clothing, ornaments such as jewelry and home decorations, food processing and conserving, television and radio, airplanes and automobiles— all these things were first held as mental images and then released to the outer world through creative action.
Your mind can turn your thoughts into the shimmering gold of success by using 20 simple magnetic money energizers. These help align your conscious and subconscious minds, forming an unbeat­able team that can win fame and fortune in the game of life.
You can program your mind each day with magnetic money ener­gizers that will act upon your subconscious mind and drive you to do the things that make you successful and rich.
If you have been negatively programmed by education, by your parent's negative suggestions, or by the thought that you are limited because of heredity or environment, you will break that mold of negativity and supplant it with these positive magnetic energizers for riches and abundance.
HOW TO USE THE 20 MAGNETIC MONEY ENERGIZERS
First read over the entire list of Magnetic Money Energizers. Grasp the meaning of each programming statement. Realize that under the law of action and reaction you will be programmed to react to certain mental commands you will give your subconscious mind.
The best time to do this mental programming is at night, just before you go to sleep. Read the entire list through once only and then go to sleep, confident that these magnetic energizers are wor­king in your subconscious mind all night while you sleep. They are being programmed into the sympathetic nervous system. When you have done this exercise for a period of two weeks, they will have become a part of your automatic habit patterns of thinking and acting, and you will be guided by your subconscious mind to do the things that can turn your thoughts into the gold of success and riches.
1. I now imprint my subconscious mind with the will to succeed, to become famous and rich. I project my golden ideas in a radiant stream of mental and physical energy that can magnetize and attract money, possessions, power, friends, and success in every department of my life.
Whenever you want to activate this particular magnetic money energizer you need only use the two words of dynamic action I imprint, and you will flash the entire message to your subconscious mind. This process is similar to the programming that is done on a computer. When you want certain facts released from the compu­ter, you punch a certain key and it automatically triggers all related data pertaining to the subject you wish information about.
Several times a day you might release this magnetic money energi­zer by thinking or saying the key words I imprint.
2. I invoke the law of the harvest and know that there are riches and abundance in the universe which are rightfully mine. The universe teems with treasures and I now attract my share of money and pos­sessions.
The key words to trigger this magnetic energizer are I invoke. Think or say these two words whenever you want to use this ener­gizer.
A man of 45 came to my lectures once and told me after the lecture that he considered himself a failure. He had two children and could never give them a college education. He lived in a small, crowded apartment, and saw no chance of ever buying his own home. He complained bitterly, "It sounds good when you tell us to go out and conquer the world and become rich, but how can we ever compete with Rockefellers, Onassis, and Vanderbilts, who have gobbled up all the wealth and resources?"
This man was suffering from the failure syndrome that keeps millions of Americans from attracting their share of supply and abundance. I told him to activate his mind with positive program­ming, that there was sufficient wealth to go around, and that no person had a monopoly on money and nature's resources.
Two weeks later this same man sought me out. He told me that he had lost his job and since programming his subconscious mind, as I had told him to, things had gone from bad to worse. "Now, I don't have a job and my savings are dwindling," he lamented. "What shall I do now?"
I then explained to him that his subconscious mind was pushing him out of a limited situation so he would be forced to find a more lucrative position. "A mother bird will push her fledglings out of the nest to teach them to learn to use their own wings and fly," I told him. "Your subconscious mind is now being activated to force you into a situation where you can increase your income and be independent."
Sure enough, two weeks later, he returned and told me that he had gone to a competitive firm who knew of his work, and applied for a position as a manager of a department. Because of his years of experience with his firm, he was given a position as manager of a department at a substantial increase in pay! He grinned as he told me this and said, "I guess my subconscious mind knew it had to push me out of that old rut to give me a chance to try my wings at something new!"
3. I elevate my consciousness into the realm of creative ideas and dare to dream big. I realize that I can achieve anything which I con­ceive and I now expand the horizons of my mind to encompass my own business, more money and greater good in every department of my life.
The key words to trigger this magnetic money energizer are I elev­ate.
Each day strive to program into your subconscious mind some new information about your work. Learn new techniques, study trade journals and keep up to date on the latest sales methods for your product or services. Put into your higher mind centers useful infor­mation, wisdom and knowledge that will add to your intellectual growth. You can do this by going to your library and getting books on the lives of great men who have achieved success in their chosen fields. In this way you will be expanding your horizons and ad-ding to your mental and intellectual enrichment.
4. I command the higher forces of the universe to bring me fame, fortune, happiness, love fulfillment, and all the good things of life that I desire.
Sometimes a weak and neutral mental attitude will bring a person defeat and disappointment. Fortune favors the bold. Use your key words I command every day when you face challenges that might normally make you feel defeated and distressed.
A woman I know was brought up to think of herself as being weak, inferior and incapable of competing with men. She was told that women were created from the rib of Adam, and that they were to occupy an inferior position in life.
When I met her in our work she was a timid, shy person of 35 and had never married. She worked as a secretary in a big manufactur­ing concern and supported her crippled mother.
I had to recycle this woman's mental programming from earliest childhood to rid her of all her inferior concepts. Then I gave her this regimen for training her subconscious mind, told her to make demands on life and people, and not to accept second best.
It took two months of hard work to undo the results of 35 years of negative programming. But at the end of that time the change in this woman was remarkable. She began to dress differently, wear­ing more colors, and she fixed her hair in a long bob that gracefully framed her face, giving an illusion of great beauty and femininity. She actually began to change from the first week of her program­ming.
At the end of the two months period of training and programming her subconscious mind, she became so confident that she quit her old job, where she was underpaid, and applied for a new position as an executive secretary to a very big man in an insurance com­pany. She got the job at a big increase in salary. But the program­ming did not stop there; she had been given magnetizing state­ments to attract love and marriage, and soon she was being dated by salesmen she met. One day Mr. Right came along and, she told me later, she knew instantly this was the man who would one day be her husband! A year later this young lady was married happily and is now on her way to the fulfillment of her great destiny.
5. I recognize the cosmic law of imagination that shapes and creates all things from a star to a snowflake. I release the mental images through my subconscious mind of that which I wish to project to the outer world, creating for me and mine riches and abundance.
Use the key words I recognize to program this entire magnetic money energizer into your subconscious mind. Each day exercise your imagination, and see how many new things you can dream up. Visualize the type of home you want to live in; see the new car in your garage; imagine what it would be like to win a lottery for $100,000; and experience the thrill you would actually receive from such an experience.
6. I build the million-dollar consciousness within my subconscious mind here and now, realizing that each day I use a million dollars worth of good without being aware of it. I am conscious of public parks; they are my estates. I use the buses and subways; they are my limousines and cost many millions. I turn on my TV set and have at my command several million-dollar programs that I can view free. I listen to radio and a million-dollar Stokowski symphony thrills me without cost. I use my public library, with its millions of dollars worth of priceless books and enrich my mind without cost. I go to the art galleries and museums and see history's priceless objects, and they enrich my mind and inspire my soul with beauty. The vast petroleum plants process fuel for my use; the food processing plants and the farmers are busy, by the millions, planting, harvesting and producing meat, eggs, vegetables, coffee, sugar and butter for my body's health and nourishment. I am living like a millionaire! I pos­sess the universe and all therein.
To build this million-dollar consciousness, you simply use the key words I build when you want to trigger the awareness of the riches you already do possess. This helps magnetize your mind centers with opulence and abundance so you never feel poor or deprived again.
7. I align my higher mind with great creative thoughts from the minds of geniuses throughout history. I take on their talents and qualities as I emulate their patterns of thought and action.
If you have a desire to become rich through inventions, study the lives of those who have invented and discovered great things. These might include Benjamin Franklin, Edison, John McCormick, or Leonardo da Vinci, whose creative genius first visualized a flying machine. The Wright brothers, who perfected da Vinci's idea, and made it practical.
If you want to become rich through composing songs, study the lives and works of geniuses in the field of classical and modern music.
If you wish to make your fortune through writing great stories, study the works of the authors you most admire.
If you wish to become a businessman and make a fortune in Indus­try and finance, learn the secrets used by the great industrialists of our modern age.
If you wish to achieve fame and fortune in state, city or govern­ment politics, study the lives of our great statesmen, and learn their secrets of success.
If you want to make your mark as a lawyer, doctor, engineer, architect or educator, look up books in the library on the lives and accomplishments of great men and women in your chosen field, and let their philosophies and achievements be an inspiration in your own career.
To trigger this magnetic energizer in your subconscious mind sim­ply use the key words I align, or I emulate.
8. I acculturate my mind to higher intellectual levels, knowing that as my mind is enriched, it will project a sense of value to the outer events of my life and bring me riches and abundance.
To be worth more to the world, and to receive greater rewards and riches, add to your knowledge about the world in which you live. "Knowledge is power." When you know a little something about art, music, literature, psychology, philosophy, religion, politics, industry, finances, and investments, you are better able to raise your level of income and increase your flow of riches. You can keep on studying all your life, adding to your storehouse of knowledge, until you have built the type of mind that can easily manage to attract abundance.
To trigger the preceding programming statement use the keywords I acculturate. Repeat this as often as you think of it, until you are able to motivate yourself to go into a process of acquiring true culture.
9. I correct all negative and limiting ideas that I may have about money and success. Money is not evil; it can be used for good. Rich people are not all wicked; many help the world with their philanth­ropy. I now magnetize my mind centers with a desire to attract more money so I can do greater good.
To start the subconscious mind working on this programming statement, simply say the keywords I correct several times a day.
10. I utilize nature's resources wisely and intelligently at all times. I avoid wasting money, food, time or energy. I realize that there are sufficient resources for all and I now conserve nature's products and try to protect the air, water and forests from pollution and waste. I increase my good when I wisely use the products of the earth and sea.
Today we hear a great deal about ecology and pollution, and we know that man is destroying nature's delicate balance and impover­ishing the earth by his carelessness in the use of nature's resources. In your daily life, to enrich yourself, conserve your good; don't waste food, don't throw away goods when there is still use in them. Use the law of conservation, and utilize everything you can in a careful and intelligent way.
To motivate this positive programming statement, simply say the key words I utilize several times each day.
11. I release the positive emotions each day that can charge my sub­conscious mind with energizing power to drive me in the direction of fame and fortune. I express the emotion of faith and it gives me confidence in myself. I project the emotion of expectation and I expect my good. I charge my mind with the emotion of intense desire for money and possessions, and I attract these things. I radiate joy in my personality, and I attract friends who help me achieve my goal. I dwell in the positive emotion of love and bless everyone I meet.
You can release this subconscious programming statement by sim­ply saying the key words I release several times a day.
12. I change the limitations set on me by birth, heredity, education and environment. What others have done I also can do. I can be­come as rich as others have become.
This positive magnetic energizer will remove the fear from your mind that you may not be worthy of riches or fame because of the lowly circumstances of your birth. Many millionaires in America did not have a college education. They programmed themselves to believe they could be successful by using their minds to acquire adequate knowledge about their work to achieve great success.
To release this powerful energizer in your subconscious mind sim­ply say the key words I change several times each day.
A man who was a junk dealer, and who had very little education beyond grammar school, made up his mind he would be a million­aire before he was 40. He began exporting scrap metal to foreign countries after the second world war. Then, in the same ships he used to export his scrap metal, he began to import products from the foreign countries, until he had built a business over 10 years that grossed him $7,000,000 a year. He now lives in a mansion in San Francisco, has a chauffeur-driven limousine and hob-nobs with the socially elite. His money has removed all barriers created by his early environment and lack of education.
13. I inspire my mind to high levels of idealism, truth and honesty, knowing that money is a responsibility. I shall do good with my money, helping those who need assistance, and evolving the world to higher levels of civilization.
You can release the power of this money energizer by repeating the key words I inspire whenever you want to invoke the principles of idealism, truth and honesty in your life. I have found, upon research, that most wealthy people accumulated their fortunes by hard work and they were generally honest and high-principled. Most of the men who have made great fortunes have generously endowed charitable organizations or foundations, which have con­tinued to help the public long after the donors were dead.
14. I express faith in myself, my talents, my country and my God, knowing that with faith I can achieve all things. I magnetize my mind with the magic power of belief, and this spiritual contagion now spreads to every person I meet, causing them to believe in me and my works.
To release this magnetic energizer use the key words I express or I believe. Repeat it several times daily until you have programmed the entire statement of faith in your subconscious mind. It will then work automatically to give you that extra push in the direction of success which can assure you that you will achieve riches and happiness.
15. I radiate enthusiasm and joy in my work and my achievements. I know that my mind and body are given extra energy from my sub­conscious mind when I live in a success atmosphere. I enthusia­stically greet each day, and recognize it as an opportunity to achieve greatness, fame and fortune.
Enthusiasm for your daily work helps you overcome boredom and indifference. Be sure you are in work you enjoy and then greet each day with the key words I radiate, and you will program a very powerful magnetic money energizer that will create the chemistry conducive to riches and success.
A scientist who won the Nobel prize once said that he owed his success to the fact he had an assistant who awakened him every morning at seven with the enthusiastic remark, "Wake up! There's great work to be done today!" This gave him the spark that ignited his genius for that entire day.
The other five magnetic money energizers I shall give in brief form, and you may use them whenever you feel you need to stimu­late your subconscious mind with new creative energy for achiev­ing fame and fortune.
16. I dream the big and impossible dream, having faith that my dream can come true. As man once dreamed he would one day walk on the moon and grow wings that caused him to fly, so too, I now grow wings of the spirit and I reach the highest goals.
17. I recognize my inherent divinity and greatness. I have inherited the universe and all therein by divine right, and I strive to be worthy of this largesse.
18. I dare attempt to scale undreamed heights, to give the world beauty, joy, good, peace and love, and in so doing enrich the world as well as myself.
19. I bless my good and multiply it under the divine law of abun­dance, and know that as I give out, so too, shall it be returned to me a hundredfold.
20. I thank God for the gift of life, the gift of mind and body, attuned to His light of infinite intelligence and good. I thank him for giving me this resplendent star, called earth, upon which I ride in golden glory into infinity, joy and spiritual treasures of peace, love and immortality.
POINTS TO REMEMBER
1. Your mind can turn your thoughts into the shimmering gold of success by using magnetic money energizers.
2. Negative mental programming leads to failure, poverty and un­happiness.
3. Imprint your subconscious mind with the will to succeed, to be­come famous and rich.
4. A 45-year-old man programmed himself to a change of jobs at a big increase of salary when he had long thought himself a big fail­ure.
5. Use the key words I elevate to raise your consciousness into the realm of creative ideas and big money.
6. A woman used the key words I command to bring her out of a 35-year cycle of failure and frustration.
7. You can build the million-dollar consciousness that instantly makes you feel, think, act and live like a millionaire. You can inherit the universe through this simple magnetic money energizer.
8. You can use a magnetic money energizer to reach undreamed of creative heights of genius and compose, write, invent, paint, or achieve business success through the inspiration of great geniuses of history.
9. You can break the mold of negative programming and correct all negative and limiting ideas about money and success, attracting as much money as you desire.
10. You can utilize the positive emotions of confidence, faith, joy and love to give you magnetic money power to attract a fortune.
11. A man built a fortune of $7,000,000 a year and now lives in a mansion in San Francisco because he learned how to change the limitations of heredity, education and environment.
12. The magic of faith can energize your subconscious mind and drive you towards wealth, power and success.
13. You can harness five other magnetic money energizers to scale impossible heights and achieve fame, fortune and riches.
---
END OF Chapter 14. 20 Magnetic Money Energizers that Can Turn Your Thoughts Into Gold

---
---
---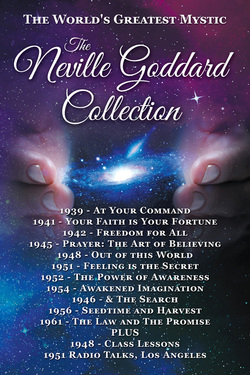 The Neville Goddard Collection - Awakened Imagination and the Search, Freedom For All, At Your Command, Feeling is The Secret, The Law and the Promise, Prayer, The Art of Believing, Your Faith is Your Fortune
---
Popular search terms - Anthony Norvell Think Yourself Rich, Money, Secret, Norvell's Secrets of Money Magnetism, Anthony Norvell - Think Yourself Rich Norvell's Secrets of Money Magnetism, Money Secrets, Success Secrets, Magic of Believing